President Barack Obama - leader of the free world, Nobel Peace Prize winner and leader of the Democratic Party - has taken a swipe at Fox News.
Speaking at a Georgetown University conference about poverty, Obama addressed topics including family, the media, the economy and budgets.
On top of the serious talk, Obama made a pretty decent gag about the right-wing news station and giving away "free Obamaphones".
"There's always been a strain in American politics where you've got the middle class and the question's been: who are you mad at - if you're struggling? If you're working, but you don't seem to be getting ahead," he said.
Highly Improbable, But Definitely Real, Famous Friendships
Highly Improbable, But Definitely Real, Famous Friendships
1/12 Barack Obama loves to let his hair down occasionally with a B ball game and a quick blast of hip-hop. Which is probably why he gets on famously with...

AFP

Getty

2/12 ... Jay-Z, who even admitted he gets texts from the president occasionally. The true mark of friendship. That and a Cuban holiday. Although Obama denied any involvement in the couple's approval to vacation in the embargoed country.

Rex

Rex Features

3/12 It seems unlikely that many famous faces would admit to being friends with North Korean dictator Kim Jong Un, thanks to his appalling human rights track record. But one man loves him above all others...

Reuters

REUTERS/Kyodo

4/12 ... Dennis Rodman. "He's my friend and I love him," the former NBA star told a group of journalists at Beijing airport. He was on his way to N.Korea for the dictator's birthday B ball game.

Getty

Getty

5/12 Wikileaks founder Julian Assange has many a celebrity admirer. But there is one UK-based musician who he lunches with at the Ecuadorian Embassy more than most...

AP

AP

6/12 ... Rapper MIA. In fact, Assange recently introduced the star via a web link to her audience during a recent gig in New York.

Getty

Getty Images

7/12 Elton John's a popular man, with one of the most enviable address books in the entertainment industry. But you may be surprised to know...

Getty

Getty Images

8/12 ... About his highly unlikely but definitely real friendship with Chris Brown. "I met Elton about a year ago, and he's been a good friend to me," he told Page Six in March 2013.

Reuters

Reuters

9/12 Equally surprising? Former presidential candidate Senator John McCain's random kinship with...

AFP

AFP

10/12 ... Snooki. Yes, as in Jersey Shore star Snooki. "How's my friend Snooki?" he asked an MTV reporter in 2012... Before he added: "Congratulations again to her on the addition to the family and I still agree with her that we should never, never tax tanning beds. That was one of the worst things about Obamacare that could possibly have happened." Tactical friendship perhaps?

Getty

Getty

11/12 Bette Midler is a Hollywood legend. So many were surprised to learn that she had forged an unlikely friendship with...

Getty

GETTY IMAGES

12/12 ... Erm, rapper 50 Cent? "He has really made my life worth living. 50 has been with me through thick and thin," she told MyParkMag. The pair met during a restoration project in Jamaica Queens.

Press
"And over the last few years, sadly, I think there's been an effort to either make folks mad at folks at the top or be mad at folks at the bottom. And I think the effort to suggest that the poor are sponges, leeches, or don't want to work, are lazy, are undeserving, got traction.
"And look, it's still being propagated. And I have to say, if you watch Fox News on a regular basis, it is a constant menu. They will find folks who make me mad. I don't know where they find them! Like: "I don't want to work, I just want a free Obamaphone!" And that becomes an entire narrative.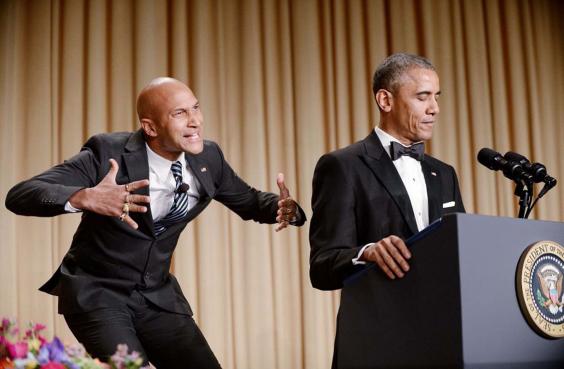 "It's happening. Rarely do you hear an interview of a waitress - which is much more typical - who's raising a couple of kids and is doing everything right but still can't pay the bills."
This is by no means Obama's first brush with comedy. At the White House Correspondents Dinner last month, he performed a Key and Peele sketch - and it was actually pretty funny.
Gags included: "Some people say I'm arrogant, condescending and aloof. Some people are so dumb." He also joked that Vice-President Joe Biden had "gotten so close in some places in Indiana they won't serve us pizza anymore".
Reuse content