Stephen Hawking was among the first to congratulate Eddie Redmayne on his Best Actor win for his portrayal as him in The Theory of Everything.
"Well done Eddie, I'm very proud of you," the physicist posted on Facebook.
Benedict Cumberbatch, it seems, isn't sure Alan Turing would have been quite so receptive to the idea of being featured so prominently at the grandiose event. "He would have shrunk with horror at all this furore and noise," he told the BBC.
"It's not who he was, and I'm not at all either, but it's part of my exterior as my job as an actor."
Cumberbatch was nominated for his role as the Enigma codebreaker in The Imitation Game.
Asked how he felt sat in the audience and learning he hadn't won the Academy Award for Best Actor, he answered, "fantastic".
"Oh, I won," he continued. "We all won. Everyone who's sitting in that audience won. There is no such thing as 80 per cent of losers when it comes to being nominated for an Oscar, which is what you're basically looking at if you don't win an award. Probably more than that, my maths ain't great. Unlike the character I played.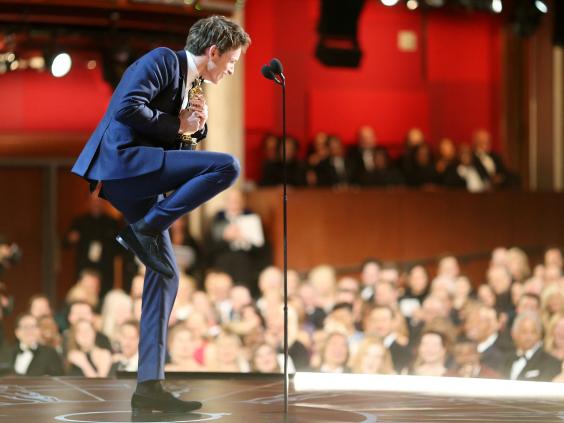 "So the point is I'm there to be acknowledged for performing (the role of) a man who is exceptionally important to all of our lives, who is dealt an incredibly unjust blow in his life, and who met the end of his miseries with suicide, and we're there saying things that he wasn't able to."
He went on to hail the win of The Imitation Game screenwriter Glenn Moore, who picked up the award for Best Adapted Screenplay. He was also honoured with a standing ovation for his moving acceptance speech admission.
Oscars 2015 winners
Oscars 2015 winners
1/15 Best Actor

Eddie Redmayne picks up his award for Best Actor (Robyn Beck AFP)

2/15 Best Actress

Julianne Moore picks up her award for Best Actress for her role in Still Alice (Robyn Beck AFP)

Getty Images

3/15 Best Picture

The cast and crew of Birdman accept their Best Picture Oscar on stage

Getty Images

4/15 Best Supporting Actress

JK Simmons

Getty Images

5/15 Best Supporting Actress

Patricia Arquette

Getty Images

6/15 Best Director

'Birdman': Director Alejandro Gonzalez Inarritu accepts the Best Director Award for Kevin Winter/Getty Images)

7/15 Best Screenplay

Birdman: Director Alejandro G. Irritu, Nicolas Giacobone, Alexander Dinelaris, Jr. & Armando Bo (ROBYN BECK/AFP/Getty Images)

8/15 Best Documentary Feature

CitizenFour: Laura Poitras (2nd L) embraces The Guardian journalist Glenn Greenwald (C), as Mathilde Bonnefoy (R) and Dirk Wilutzky (L) (ROBYN BECK/AFP/Getty Images)

9/15 Best Adapted Screenplay

The Imitation Game: Graham Moore (ROBYN BECK/AFP/Getty Images)

10/15 Best Production Design

The Grand Budapest Hotel: Adam Stockhausen (Production Design) and Anna Pinnock (Set Decoration) (ROBYN BECK/AFP/Getty Images)

ROBYN BECK/AFP/Getty Images

11/15 Best Visual Effects

Interstellar: Paul Franklin (2ndL) , Andrew Lockley (R) , Ian Hunter (L) and Scott Fisher (ROBYN BECK/AFP/Getty Images)

12/15 Best Animated Feature

Big Hero 6: Don Hall (C), Chris Williams (R) and Roy Conli (ROBYN BECK/AFP/Getty Images)

13/15 Best Cinematography

Birdman: Emmanuel Lubezki AFP PHOTO / Robyn BECK (ROBYN BECK/AFP/Getty Images)

14/15 Best Sound Editing

American Sniper: Alan Robert Murray (R) and Bub Asman (ROBYN BECK/AFP/Getty Images)

15/15 Best Foreign Language Film

Ida (Poland): Pawel Pawlikowski (ROBYN BECK/AFP/Getty Images)
"So, here's the thing," Moore said on the podium. "Alan Turing never got to stand on a stage like this to look out on all these disconcertingly attractive faces, and I do. And that's the most unfair thing I think I've ever heard
"When I was 16 years old, I tried to kill myself because I felt weird and I felt different and I felt I did not belong. And now I'm standing here I would like this moment to be for that kid out there who feels she's weird or she's different or she doesn't fit in anywhere - yes, you do. I promise you do.
"Stay weird, stay different and when it's your turn, and you are standing on this stage, please pass the message on to the next person who comes along."
Moore adapted Andrew Hodges' book Alan Turing: The Enigma for screen.
He is currently working on The Devil in The White City, which will star Leonardo DiCaprio. 
Reuse content