Bill Cosby has expressed his gratitude to Eddie Murphy for turning down the opportunity to impersonate him in a sketch for Saturday Night Live's 40th anniversary.
The embattled comedian has faced a string of sexual abuse allegations, which he denies, resulting in the postponement of several scheduled shows.
"I am very appreciative of Eddie and I applaud his actions," Cosby told NBC through a spokesperson.
Kenan Thompson portrayed Cosby in the skit eventually aired last weekend but former cast member Norm Macdonald has since revealed Murphy was the writers' initial choice.
He tweeted behind the scenes stories from the week at Saturday Night Live's (SNL) Studio 8H for two hours on Wednesday, including chronicling how he, Lori Jo Hoekstra, and Steve Higgins wrote the Celebrity Jeopardy segment.
The "video daily double" part would have been taped six months earlier and left out direct references to the Cosby scandal, instead featuring him as a bartender mixing cocktails.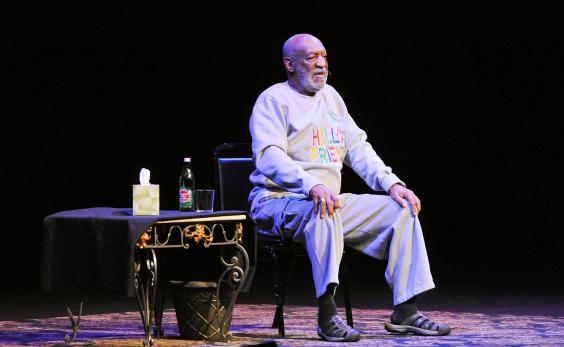 Murphy, who was a regular SNL cast member from 1980 to 1984, reportedly refused to do the impression because he "didn't feel comfortable".
Macdonald wrote on Twitter that he was given the job of convincing the film star to do Jeopardy.
"We talk in his dressing room a good hour," he wrote.
"When it's over, I'm convinced he'll do it. He doesn't.
Eddie Murphy is the coolest, a rockstar even in a room with actual rockstars.

— Norm Macdonald (@normmacdonald) February 19, 2015
"He knew the laughs would bring the house down. Eddie Murphy knows what will work on SNL better than anyone.
"Eddie decides the laughs are not worth it. He will not kick a man when he is down.
"Eddie Murphy, I realise, is not like the rest of us. Eddie does not need the laughs."
Bill Cosby: Career in pictures
Bill Cosby: Career in pictures
1/20 Bill Cosby

Winner of his first Emmy for 'I Spy' is Bill Cosby being congratulated by his wife Camille held at Americana Hotel, 1966

2/20 Bill Cosby

Bill Cosby in 'I Spy', 1960s

3/20 Bill Cosby

Bill Cosby in July 1973 in Perth

4/20 Bill Cosby

Bill Cosby and Richard Pryor in 'California Suite', 1978

5/20 Bill Cosby

Bill Cosby and Elmo in Sesame Street, 1989

6/20 Bill Cosby

Bill Cosby poses for a picture with Florence Griffith-Joyner in June 1989

7/20 Bill Cosby

Comedian Bill Cosby back in 1992

Rex Features

8/20 Bill Cosby

A scene from a 1992 episode of 'The Cosby Show'

AP

9/20 Bill Cosby

US Monica Seles breaks into laughter as she jokes with comedian Bill Cosby during a celebrity match in the stadium at the US Open for the Arthur Ashe AIDS Challenge on 27 August 1995

10/20 Bill Cosby

Bill Cosby meets Toronto Blue Jays' All-Star Joe Carter after the Stars played the Stripes in the Celebrity All-Star game which preceded workouts for the 67th All-Star Game at Veterans Stadium on 8 July 1996 in Philadephia

11/20 Bill Cosby

Co-hosts Oprah Winfrey and Bill Cosby joke with each other during the opening of the 2000 Essence Awards 14 April 2000 at Radio City Music Hall in New York City

12/20 Bill Cosby

Bill Cosby jokes with baseball great Hank Aaron after they both received the Presidential Medal of Freedom Award from U.S. President George W. Bush during a ceremony on 9 July 2002 at the White House in Washington

13/20 Bill Cosby

Bill Cosby poses backstage after winning the 'Bob Hope Humanitarian Award' during the 55th Annual Primetime Emmy Awards at the Shrine Auditorium on 21 September 2003 in Los Angeles

14/20 Bill Cosby

'Tonight Show' host Jay Leno and comedian Bill Cosby laugh during a surprise visit by Cosby to sign a Harley-Davidson motorcycle that Leno is using to raise money for the victims of Hurricane Katrina at NBC studios on 9 September 2005 in Burbank, California

15/20 Bill Cosby

Bill Cosby speaks during a taping of 'Meet the Press' at the NBC studios on 14 October 2007 in Washington

16/20 Bill Cosby

Bill Cosby at the 12th annual Mark Twain Prize for American Humor at the John F. Kennedy Center on 26 October 2009 in Washington

17/20 Bill Cosby

Bill Cosby speaks at the National Action Network's 20th annual Keepers of the Dream Awards gala in New York on 6 April 2011

Reuters

18/20 Bill Cosby

Bill Cosby during the 100th anniversary celebration of the Beverly Hills Hotel & Bungalows supporting the Motion Picture & Television Fund and the American Comedy Fund, 2012

Getty Images

19/20 Bill Cosby

Bill Cosby speaks onstage at the Thurgood Marshall College Fund 25th Awards Gala on 11 November 2013 in Washington

20/20 Bill Cosby

Bill Cosby performs at the Treasure Island Hotel & Casino on 26 September 2014 in Las Vegas
Macdonald, who appeared on SNL for five series starting in1993, went on to describe the comedian as the "coolest - a rockstar even in a room with actual rockstars".
Murphy did eventually appear in the  40th anniversary special but made brief speech following a tribute by Chris Rock rather than doing sketches.
Reuse content