The heroic staffer held up a jacket to curtain Boris Johnson off as he changed into his new shirt while sitting in his airplane seat.
"Bloody hell," said someone nearby as the curtain fell. The Mayor's new shirt was ripping. It was so horrendously loud, it could have been interfering with the aircraft's navigation systems.
But shouting, waving, gesticulating and performing is what the Boris Johnson circus is all about. A show which turns heads wherever it goes. If it's not what he's wearing, it's what he's doing; riding a rickshaw, chasing a lizard, dissecting a cow.
When the heads turn the Mayor can show whatever he wants and for this trip, the briefing said it was British business. The firms riding Johnson's coat tails to the Far East were impressed by access he gained them with at least two of them making deals during the week. One entrepreneur said he was granted a meeting with a CEO, but only after saying he was part of Johnson's delegation.
From the other side, Malaysia's money-men were as eager to lap up Johnson's oratory as they were to hear his plans for spending their millions.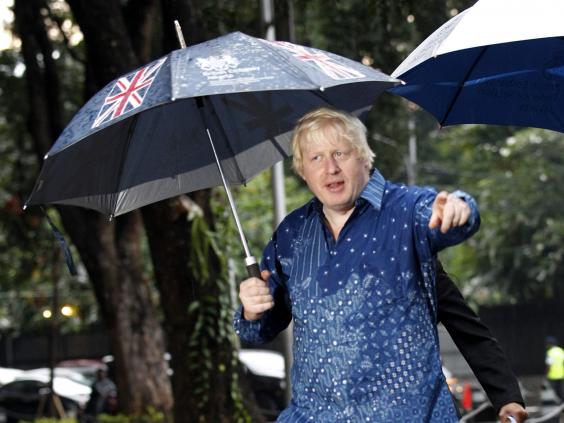 Only once was the positive buzz surrounding the whole trip threatened, at an event celebrating the huge Battersea Power Station development.
In front of a hall of potential investors and dignitaries, I asked if he was working to make sure enough of the 3,500 homes went to ordinary Londoners. There were 600 affordable flats, he said bullishly, and the "gloomadon poppers" could "put that in their pipe and smoke it". The business crowd cheered. In the Far East after all, brand Boris is unrestrained by UK politics and its policy issues. In Kuala Lumpur his face was plastered across electronic billboards for his arrival. In Jakarta he was introduced at one event as "His Excellency".
Across the region brand Boris also reaches beyond the political and business heads, as it does in the UK. People enjoy the cartoon character; the blond mop and cheeky smile, the mumbling and eccentric intellect, the self-deprecating humour.
It was also in Jakarta that he squeezed into an overly tight "Britain is Great" T-shirt and rode a Brompton bike through town to meet the President on Car-Free Sunday.
On Central Avenue's main roundabout Sunday walkers quickly formed into a selfie-hungry mob. When the much-loved President Joko Widodo arrived, it suddenly felt like a dangerously overcrowded boy-band concert.
Boris hopes to emulate the president, a former governor of his country's capital who went on to win a national election, by presenting himself as the charismatic outsider.
When the two eventually arrived at the Presidential Palace they held formal talks over breakfast. But while Mr Widodo sat grandly flanked by elephant tusks, Johnson remained in his T-shirt as they discussed how to build ties between their countries.
"I wish that happened to me," he said to the President, referring to the adoration Indonesians had shown. "When I ride through London they shout 'Tory Tosser'."
The frenetic pace, thousands of miles travelled and endless events, all take their toll. After the hot bike ride, presidential talks, a run to the airport, changing clothes on the plane, business meetings and interviews on touch down, Johnson looked relieved to find himself in a quiet room.
The only people with him were his communications chief Will Walden, myself and one other journalist. He was waiting for the BBC to call. His new shirt was still going strong, but the man wearing it was tired. Rubbing hands over his face and hair, Johnson sighed: "What's this going to be about then?"
The phone rang, he picked up and from nowhere the energy sprung forth from its apparently bottomless well.
If anything the trip highlighted that the mystery of Boris is not a gap between his public and private persona. In Singapore's botanic gardens, for example, where he enjoyed running after a lizard for the photographers, I waited till he was away from the cameras to ask what he thought of the orchid they'd named after Margaret Thatcher. "It was small and inoffensive," he said, unable to miss the chance for some irony even if only one or two people heard it. It did, however, have "spiralling horns".
Boris Johnson's defining moments
Boris Johnson's defining moments
1/32 2016

Boris Johnson swings from a bus as Northern Ireland Secretary Theresa Villiers (left), Northern First Minister and DUP leader Arlene Foster and Minister of Enterprise, Trade and Investment Jonathan Bell (second right) look on during a visit to Wrightbus Chassis plant in Antrim

PA

2/32 2015

Boris Johnson takes down 10-year-old Toki Sekiguchi during a game of Street Rugby with a group of Tokyo children

Reuters

3/32 2015

Boris Johnson planting flowers at the Royal Botanical Gardens in Kew

PA

4/32 2015

A commuter gesturing to Boris Johnson as he cycles across Vauxhall Bridge

PA

5/32 2014

Mayor of London Boris Johnson boxes with a trainer during his visit to Fight for Peace Academy in North Woolwich

6/32 2014

The Mayor of London Boris Johnson wears a traditional headdress during a visit to the Shree Swaminarayan Mandir, a major new Hindu temple being built in Kingsbury in London

7/32 2014

Many Conservative Party members gagging to have Boris Johnson as their MP

PA

8/32 2014

Boris Johnson prepares to deliver a speech in Bloomberg's European headquarters on Britain's involvement in the EU. Mr Johnson also announced his intention to become an MP again at the 2015 general election, whilst serving out the remainder of his term as mayor.

Getty Images

9/32 2014

The Mayor of London Boris Johnson during a speech and Q&A session at Bloomberg, London, where he has said that 'in all probability' he will seek to stand for Parliament in next year's general election.

PA Wire

10/32 2014

London mayor Boris Johnson helps shear a sheep held by New Zealand's most successful competition sheep shearer, David Fagan (L) on a visit to Lister Shearing Equipment in Stonehouse

11/32 2013

Mayor of London Boris Johnson takes a helicopter ride over Hong Kong as part of week long visit to China to promote trade between the far east and London

PA

12/32 2013

Boris Johnson explains why he's such a hit with female voters

PA

13/32 2013

Boris Johnson celebrates after a wildly successful interview with Eddie Mair

PA

14/32 2013

Mayor of London Boris Johnson sits in the operator's cab of a crane on the quay at DP World London Gateway Port in Stanford-le-Hope

15/32 2013

Boris Johnson shoots a basketball

Getty Images

16/32 2013

The Mayor of London make a strong pose in what appears to be a particularly bad tourism advert for Asia

PA

17/32 2013

Boris Johnson meets saltwater crocodile George, which was named after the royal baby

EPA

18/32 2013

Perhaps the only person ever who has ridden on the Emirates Air Line

Getty Images

19/32 2012

Boris Johnson's encounter with a zip wire only served to prove how adept the London Mayor is at defying political gravity in 2012

Getty Images

20/32 2012

Boris Johnson playing tennis

Getty Images

21/32 2012

Aside from his mayoral duties, London Mayor, Boris Johnson, is looking displeased at his seven appearances

Rex Features

22/32 2012

Boris goes for a bounce in one of favourite places... (the Olympic village obviousy)

Reuters

23/32 2011

London Mayor Boris Johnson on the streets of Clapham

REUTERS

24/32 2011

Like a raging bull, Boris Johnson challenges a statue to a duel

AP Photo/Rajanish Kakade

25/32 2010

Boris Johnson embraces a member of the public in Ealing, west London, who seems to have taken a shine to him

FACUNDO ARRIZABALAGA

26/32 2009

Frothy top? Boris Johnson visits Starbucks in Mayfair

PA

27/32 2009

Johnson tries on one of his favourite pink and sparkly hats

Getty Images

28/32 2008

Johnson smiles smugly as he thinks of his fine mop of hair, worthy of a L'Oreal advert

PA

29/32 2008

Boris Johnson tries his hand at policing the capital - primarily by wearing a new hat

PA

30/32 2008

The hippie world welcomes a new member to the fold in Boris Johnson

Reuters

31/32 2004

Boris Johnson jogs on the streets of London

PA

32/32 1980's

Boris as a young'un. He was fired from his first job as a trainee reporter at The Times for making up a quote about the Plantagenet King Edward the II and his gay lover

BBC
The joker people see hanging from a zip-wire on TV is not far from the man you get in the flesh. It's why, unlike David Cameron, he is seen as having authenticity.
However, the Mayor has a particular talent for using metaphor to craft a political position, which is useful because it means he can avoid the pain of overtly stating it.
Take immigration. He would avoid being so crass as to deliver a speech on net figures. In the Far East he talked about rubber instead, lauding it as the product of a process stretching from Brazil to Malaysia, proving the superiority of a global outlook.
He would see it as tactless to define himself by talking technically about how immigrants should use the welfare system. In Asia he opted to speak on Athens and Sparta; how the former still thrives today because it embraced outsiders, while the latter is wiped from existence. Point out that his tone on immigration is therefore more positive than the Prime Minister's and he is able to deny it, because he has only really spoken about rubber and classics.
Yet on the day David Cameron made tackling benefit tourism the foundation of his EU agenda, Johnson mentioned in passing in Singapore that benefit abuse only involved a "small number".
He also chose that moment to casually complain of "xenophobia" in the UK's debate.
Now is apparently not the right time politically for Johnson to draw clear dividing lines within his party. But when the moment comes he'll be doing it on a canvas that was cut and prepared on trips like this one.
Reuse content