It is an unexpected union, even for newlywed Sarah Begum, who recently married a tribal warrior.
The British filmmaker travelled to the Ecuadorian rainforest to document the lives of the Huaorani tribe and to see how she might survive in the jungle.
She spent two weeks with the tribe and had known her 'husband' Ginkto for a few days before her 'marriage' – a symbolic alliance union.
Begum was told that a ceremony was being organised in order for her to be fully integrated with their culture – a decision made by the tribe's elders. She admits the experience was somewhat nerve-wracking, especially as she hadn't realised that she was, in fact, being married off. She was 21 at the time.
Begum was asked to strip naked, as were other attendees at the ceremony held in a hut, and was presented with a crown made from macaw feathers.
"I wasn't really concerned but went from shocked to honoured," she told The Independent.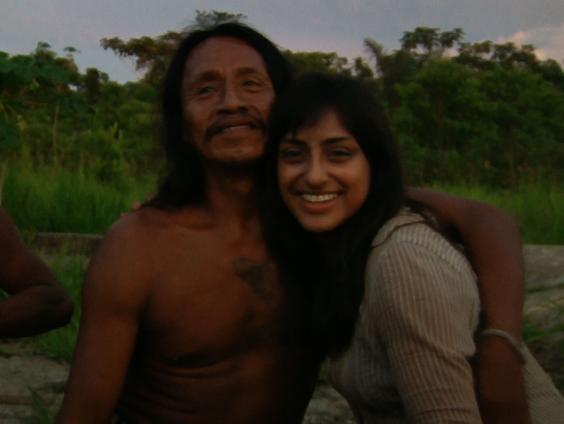 "I had never done anything like this before and arranged marriage was never in my books. Little did I know I would fall into one, in a way I never imagined.
"So I was very nervous at first but as the ceremony intensified and people chanted, laughed, projecting positive energy, I relaxed and fully immersed myself."
Consummation of the marriage was not required. Begum is now seen as a messenger to spread the tribe's message about protecting their land through her documentary, Amazon Souls, which was shown at Cannes Film Festival last year.
Ginkto speaks in his tribe's language and Begum communicates with him through his family members who visit nearby towns in order to use the internet to contact her.
"Ginkto is very popular in the tribe," she said. "He makes everyone laugh; he works very hard to hunt and gather and has a certain charm that the ladies fall for."
She admits her family and friends were 'shocked' to hear her news. In fact, she recalls that her mother's 'eyeballs nearly popped out' and asked her not to tell anyone.
However, Begum isn't too worried about how she'd tell prospective boyfriends.
"I'm sure they'll see the positive side of it and understand that it was a symbolic marriage for a greater purpose," she said.
Reuse content