Cher has donated 180,000 bottles of water to a city in Michigan after its water supply became so contaminated with lead residents were unable to drink it.
President Barack Obama declared a federal emergency in Flint in the west of the state on Saturday over corrosive water leaking from old pipes in the Flint river.
The city had been drawing on reserves from the river since 2014 to keep costs down but the local government did not treat the corrosive water properly and it began to erode the old lead pipes.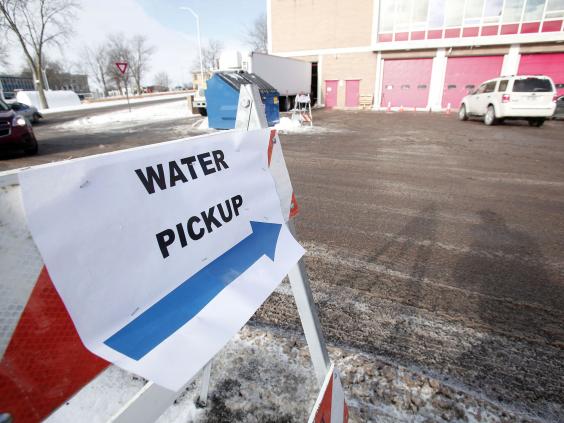 In a statement on Saturday, the singer said the bottles are due to arrive in the city on Wednesday.
She said: "This is a tragedy of staggering proportion and shocking that it's happening in the middle of our country."
The city's 100,000 residents have reported vomiting fits, rashes and hair loss as a result of drinking the foul-smelling water. 
Lead poisoning can also led to learning disabilities and behavioural problems in young children. 
Dr Mona Hanna-Attisha, the director of pediatric residency at the local Hurley Children's Hospital, first exposed the problems after state authorities initially dismissed her concerns. 
She said: "It has such damning, lifelong and generational consequences.
"It was frustrating that it went on for so long".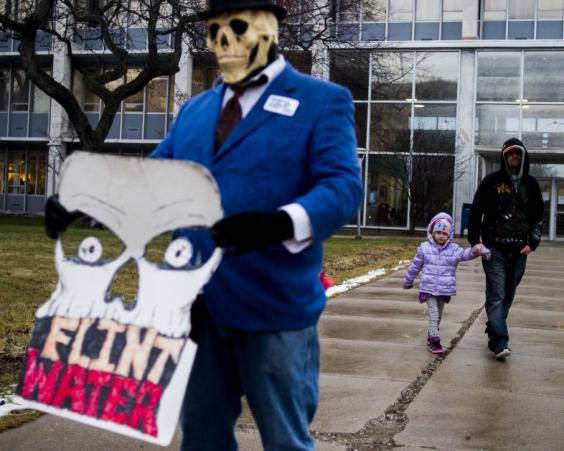 Currently parents are relying on bottled water and regular blood tests at local schools. 
Sherri Millter, who has taken her son Jameer to be tested, said: "It really is a scary situation to know that we can't get clean drinking water.It really is scary to think someone knew about this and did nothing".  
People news in pictures
People news in pictures
1/27 31 August 2016

Chinese Premier, Li Keqiang (R), shakes hands with Canadian Prime Minister Justin Trudeau following a joint news conference at the Great Hall of the People in Beijing

AP

2/27 30 August 2016

Turkey's President Tayyip Erdogan greets people as he attends a ceremony marking the 94th anniversary of Victory Day at the mausoleum of Mustafa Kemal Ataturk in Ankara

REUTERS

3/27 29 August 2016

Suspended Brazilian President Dilma Rousseff answers to questions during the impeachment trial, at the National Congress in Brasilia. Rousseff who testified for the first time at her trial, urged the Senate to vote against impeaching her, denying charges that she fiddled government accounts

AFP/Getty Images

4/27 28 August 2016

Drake presents Rihanna with the Michael Jackson Video Vanguard Award during the 2016 MTV Video Music Awards in New York

REUTERS

5/27 25 August 2015

Dwayne Johnson aka The Rock tops Forbes' 2016 Highest Paid actors list after earning $64 million over the past year

Getty

6/27 24 August 2016

Nigel Farage speaks about Brexit at a Donald Trump rally in Jackson, Mississippi

Getty

7/27 21 August 2016

Gold medallist Helen Glover celebrates during the Olympics closing ceremony

Getty

8/27 20 August 2016

Mo Farah wins the 5,000 metre race in Rio

Julian Finney/Getty Images

9/27 17 August 2016

Laura Trott, right, kisses her fiance Jason Kenny, left, both of Britain, after he won the men's keirin cycling final at the Rio Olympic Velodrome during the 2016 Summer Olympics in Rio de Janeiro

AP

10/27 16 August 2016

Democratic presidential nominee Hillary Clinton welcomes Vice President Joe Biden as he disembarks from Air Force Two for a joint campaign event in Scranton, Pennsylvania

REUTERS

11/27 15 August 2016

Indian Prime Minister Narendra Modi gestures as he addresses the nation from the historic Red Fort during Independence Day celebrations in Delhi

REUTERS

12/27 14 August 2016

Jamaica's Usain Bolt (Top) poses with fellow athletes for a selfie photo as he celebrates after winning the Men's 100m Final during the athletics event at the Rio 2016 Olympic Games at the Olympic Stadium in Rio de Janeiro

AFP/Getty Images

13/27 13 August 2016

Former Cuban President Fidel Castro (2nd L), sitting between Venezuelan President Nicolas Maduro (3rd L) and Cuban President Raul Castro (L), is seen attending the celebration of his 90th birthday at the Karl Marx theatre in Havana

AFP/Getty Images

14/27 12 August 2016

Britain's Prime Minister Theresa May walks in a forest with her husband Philip at the start of a summer holiday in the Alps, in Switzerland

Reuters

15/27 11 August 2016

Pope Francis smiles as he browses through drawings at the Vatican. Pope Francis had lunch with a group of Syrian refugees who were brought to Italy from the Greek island of Lesbos thanks to the pope's intercession. The Vatican said that the pope brought toys and other gifts for the children, who, in turn, gave him a selection of their drawings

AP

16/27 10 August 2016

Turkey's President Tayyip Erdogan addresses his supporters in front of the Presidential Palace in Ankara

REUTERS

17/27 9 August 2016

Cast member Salma Hayek takes a selfie with co-stars (L-R) Nick Kroll, Paul Rudd, Seth Rogen, Michael Cera and Danny McBride at the premiere for the movie "Sausage Party" in Los Angeles

REUTERS

18/27 19 July 2016

Turkey's Prime Minister Binali Yildrim addresses members of parliament from his ruling AK Party (AKP) during a meeting at the Turkish parliament in Ankara

REUTERS

19/27 18 July 2016

Melania Trump, wife of Republican U.S. presidential candidate Donald Trump, waves as she arrives to speak at the Republican National Convention in Cleveland

Reuters

20/27 18 July 2016

Britain's Foreign Secretary Boris Johnson listens to Spain's Foreign Minister Jose Manuel Garcia-Margallo (L) during an European Union foreign ministers meeting in Brussels

REUTERS

21/27 17 July 2016

Turkey's President Recep Tayyip Erdogan reacts after attending the funeral of a victim of the coup attempt in Istanbul

Getty Images

22/27 16 July 2016

Republican presidential candidate Donald Trump, introduces Gov. Mike Pence, during a campaign event to announce Pence as the vice presidential running mate, in New York. Trump called Pence "my partner in this campaign" and his first and best choice to join him on a winning Republican presidential ticket

AP

23/27 15 July 2016

French President Francois Hollande looks on as he speaks to journalists at the Prefectoral Palace the day after a gunman smashed a truck into a crowd of revellers celebrating Bastille Day in Nice, killing at least 84 people

AFP/Getty Images

24/27 14 July 2016

Newly appointed British Foreign Secretary Boris Johnson leaves his home in north London

AP

25/27 13 July 2016

Queen Elizabeth II welcomes Theresa May at the start of an audience, where she invited the former Home Secretary to become Prime Minister and form a new government, at Buckingham Palace. Former Home Secretary Theresa May becomes the UK's second female Prime Minister after she was selected unopposed by Conservative MPs to be their new party leader

Getty Images Europe

26/27 13 July 2016

Outgoing British Prime Minister David Cameron is accompanied by his wife Samantha and their children as they hug on the doorsteps upon their departure from No. 10 Downing Street for the last time

EPA

27/27 12 July 2016

Pakistani Nobel Peace Prize laureate Malala Yousafzai arrives to celebrate her 19th birthday at the Dadaab refugee camp near the Kenya-Somalia border

REUTERS
Flint - which is an hour's drive north of Detroit - has suffered from a declining population in recent years with the collapse of the Midwest car manufacturing industry leading to an exodus of people.
An estimated 41 per cent of the population lives below the poverty line. 
Additional reporting by AP
Reuse content