Cher has donated 180,000 bottles of water to a city in Michigan after its water supply became so contaminated with lead residents were unable to drink it.
President Barack Obama declared a federal emergency in Flint in the west of the state on Saturday over corrosive water leaking from old pipes in the Flint river.
The city had been drawing on reserves from the river since 2014 to keep costs down but the local government did not treat the corrosive water properly and it began to erode the old lead pipes.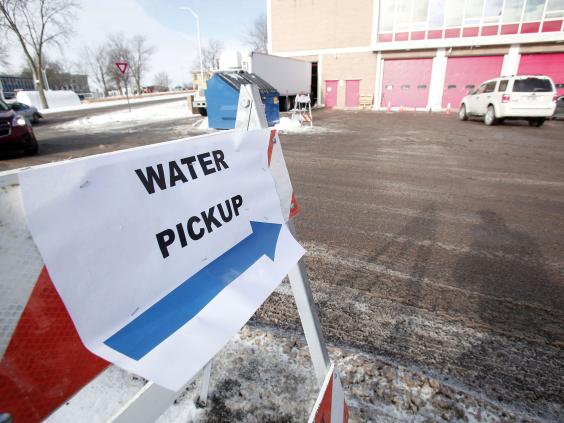 In a statement on Saturday, the singer said the bottles are due to arrive in the city on Wednesday.
She said: "This is a tragedy of staggering proportion and shocking that it's happening in the middle of our country."
The city's 100,000 residents have reported vomiting fits, rashes and hair loss as a result of drinking the foul-smelling water. 
Lead poisoning can also led to learning disabilities and behavioural problems in young children. 
Dr Mona Hanna-Attisha, the director of pediatric residency at the local Hurley Children's Hospital, first exposed the problems after state authorities initially dismissed her concerns. 
She said: "It has such damning, lifelong and generational consequences.
"It was frustrating that it went on for so long".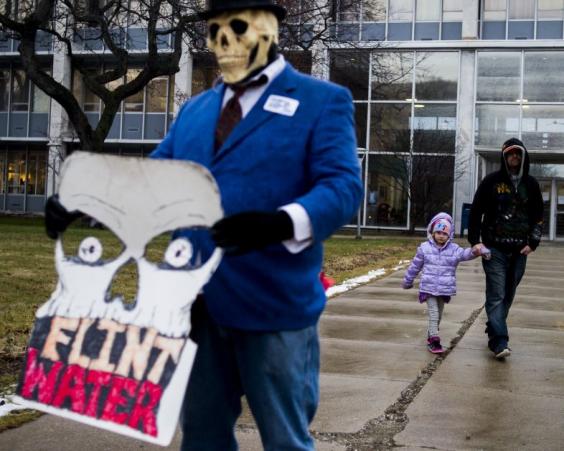 Currently parents are relying on bottled water and regular blood tests at local schools. 
Sherri Millter, who has taken her son Jameer to be tested, said: "It really is a scary situation to know that we can't get clean drinking water.It really is scary to think someone knew about this and did nothing".  
People news in pictures
People news in pictures
1/30 29 September 2016

Former US president, Bill Clinton pays his respect in front of the coffin of former Israeli president Shimon Peres at a plaza outside the Knesset, Israel's Parliament, in Jerusalem. Israeli leaders and crowds of mourners are gathering outside parliament to pay last respects to ex-president and Nobel Peace Prize winner Shimon Peres, whose body is lying in state. The former US president had helped usher in the Oslo peace accords of the 1990s, which resulted in the Nobel prize for Peres, who died on 28 September, aged 93

AFP/Getty Images

2/30 29 September 2016

French printing company's director Michel Catalano (R) and former employee Lilan Lepere (L), who were both held hostage by the two brothers who killed 12 people in an attack on French satirical newspaper Charlie Hebdo on January 2015, pose with French President Francois Hollande (C) after been awarded of the Chevalier de la Legion d'Honneur (Knight of the Legion of Honour) during a visit for the inauguration of Michel Catalono group's refurbished premises in Dammartin-en-Goele. Elite French police stormed a printworks and a Jewish supermarket on 9 January, killing two brothers wanted for the Charlie Hebdo attack and an apparent accomplice who had taken hostages in two separate sieges that traumatised France

AFP/Getty Images

3/30 28 September 2016

Britain's Prince William and his wife Kate, the Duke and Duchess of Cambridge, walk through the steam of a steam train in Carcross, Yukon

AP

4/30 28 September 2016

Former England national football team manager Sam Allardyce speaks to the press outside his home in Bolton. Sam Allardyce's reign as England manager came to a humiliating end as he departed after just 67 days in charge following his controversial comments in a newspaper sting

AFP/Getty Images

5/30 27 September 2016

Democratic nominee Hillary Clinton and Republican nominee Donald Trump leave the stage after the first presidential debate at Hofstra University in Hempstead, New York. Polls declared Clinton the winner after she branded rival Trump a racist

AFP/Getty Images

6/30 26 September 2016

US President Barack Obama wears a traditional blanket and hat given to him during the 2016 White House Tribal Nations Conference at the Andrew W. Mellon Auditorium in Washington

AFP/Getty Images

7/30 26 September 2016

French President Francois Hollande meets with officers of the French Gendarmerie during a visit to the Gendarmerie of Calais. Hollande said on a visit to the port of Calais that the sprawling "Jungle" migrant camp there would be "completely dismantled"

AFP/Getty Images

8/30 26 September 2016

Azerbaijan's President Ilham Aliyev casts his vote during a referendum on extending presidential terms in Baku, Azerbaijan

REUTERS

9/30 25 September 2016

Prince Charles, Prince of Wales meets mounted police officers and their horses after the the National Police Memorial Service at St Paul's Cathedral in London

Getty Images

10/30 24 September 2016

Canadian Prime Minister Justin Trudeau, center, kneels to talk to Prince George as his father, Prince William, The Duke of Cambridge, speaks with Governor General David Johnston, right, and Kate, The Duchess of Cambridge, holds their daughter Princess Charlotte upon arrival in Victoria, British Columbia

AP

11/30 24 September 2016

US actor Richard Gere and his girlfriend Spanish publicist Alejandra Silva, pose during a photocall after the screening the film "Time out of mind" at the 64th San Sebastian Film Festival, in the northern Spanish Basque city of San Sebastian

AFP/Getty Images

12/30 24 September 2016

(L-R) Former US First Lady Laura Bush, former US President George W. Bush, First Lady Michelle Obama, and President Barack Obama attend the opening ceremony for the Smithsonian National Museum of African American History and Culture in Washington

AFP/Getty Images

13/30 24 September 2016

British opposition Labour Party leader Jeremy Corbyn (C) waves following his speech after being announced as the winner of the party's leadership contest at the Labour Party Leadership Conference in Liverpool

AFP/Getty Images

14/30 23 September 2016

A statue of the movie boxer Rocky stands near the stage entrance as Republican presidential nominee Donald Trump holds a rally with supporters in Aston, Pennsylvania

REUTERS

15/30 22 September 2016

Priscilla Chan embraces her husband Mark Zuckerberg while announcing the Chan Zuckerberg Initiative to "cure, prevent or manage all disease" by the end of the century during a news conference at UCSF Mission Bay in San Francisco

REUTERS

16/30 21 September 2016

British Foreign Secretary Boris Johnson reads before a meeting of the United Nations Security Council during the 71st session of the U.N. General Assembly at U.N. headquarters in New York

REUTERS

17/30 20 September 2016

Britain's Prince William sits in the cockpit of his East Anglian Air Ambulance (EAAA) H145 helicopter, in London

REUTERS

18/30 19 September 2016

Model Cara Delevingne poses for photographers upon arrival at the Burberry Spring/Summer 2017 fashion show at London Fashion Week

AP

19/30 19 September 2016

Cuba's former leader Fidel Castro, right, shakes hands with Iranian President Hassan Rouhani, center, in Havana. Rouhani is on a one-day official visit to Cuba

AP

20/30 18 September 2016

French far-right Front National (FN) party's President, Marine Le Pen, gestures as she delivers a speech on stage during the FN's summer congress in Frejus, southern France. Marine Le Pen's slogan reading "In the name of the [French] people" is seen on the rostrum

AFP/Getty Images

21/30 17 September 2016

Pope Francis holding an infant during his visit to the neonatology ward of San Giovanni Hospital in Rome

AFP/Getty Images

22/30 16 September 2016

Outgoinng leader Nigel Farage embraces new leader of the anti-EU UK Independence Party (UKIP) Diane James as she is introduced at the UKIP Autumn Conference in Bournemouth Diane James was announced as UKIP's new leader on September 16 to replace charismatic figurehead Nigel Farage. Farage made the shock decision to quit as leader of the UK Independence Party following victory in the referendum on Britain's membership of the European Union. / AFP PHOTO / DANIEL LEAL-OLIVASDANIEL LEAL-OLIVAS/AFP/Getty Images

AFP/Getty Images

23/30 15 September 2016

Musicians and members of the Beatles, Paul McCartney, right, and Ringo Starr pose for photographers upon arrival at the World premiere of the Beatles movie, Ron Howard's 'Eight days a week-the touring years' in London

AP

24/30 15 September 2016

Hillary Clinton boards her plane to return to campaigning after her bout with pneumonia at Westchester County Airport in White Plains, New York

AFP/Getty Images

25/30 15 September 2016

Japan's main opposition Democratic Party's new leader Renho (C) raises her fists with her party lawmakers after she was elected party leader at the party plenary meeting in Tokyo

REUTERS

26/30 15 September 2016

Secretary of State John Kerry listens as actor and activist Leonardo DiCaprio speaks at the Our Ocean, One Future conference at the State Department in Washington. The conferences focus on marine protected areas, sustainable fisheries, marine pollution, and climate-related impacts on the ocean

AP

27/30 14 September 2016

North Korean leader Kim Jong Un provides field guidance to Farm No. 1116 under KPA Unit 810, in North Korea

REUTERS

28/30 13 September 2016

Britain's Prime Minister Theresa May greets Myanmar's State Counsellor, Aung San Suu Kyi in N10 Downing Street. Aung San Suu Kyi is on an official visit to London

EPA

29/30 12 September 2016

Lindsay Lohan making a trade at BGC Annual Global Charity Day at Canary Wharf in London

Getty Images

30/30 11 September 2016

Hillary Clinton waves to the press as she leaves her daughter's apartment building after resting in New York. Clinton departed from a remembrance ceremony on the 15th anniversary of the 9/11 attacks after feeling "overheated," but was later doing "much better," her campaign saidImages

AFP/Getty Images
Flint - which is an hour's drive north of Detroit - has suffered from a declining population in recent years with the collapse of the Midwest car manufacturing industry leading to an exodus of people.
An estimated 41 per cent of the population lives below the poverty line. 
Additional reporting by AP
Reuse content