Courtney Love and Frances Bean Cobain are urging a Seattle court not to release pictures and records from the scene of Kurt Cobain's death that a lawsuit claims will prove he was murdered.
Richard Lee, a Seattle-based journalist, is suing the city and the Seattle Police Department under the state Public Records Act for access to documents he believes will prove Cobain did not die of a self-inflicted gun-shot wound, The Seattle Times reports.
Lee, who runs the public-access show Now See It Person To Person: Kurt Cobain Was Murdered, claims the images and documents from the death scene, including a picture of Cobain's body, will show he was killed as part of a conspiracy. 
Seattle Police has already released images showing evidence found at the scene of his death after several rolls of undeveloped film that were taken at his home were discovered ahead of the 20th anniversary of his death.
The images showed a box containing a spoon and needles on the floor alongside half a cigarette and a pair of sunglasses.
Iconic Images: Kurt Cobain Remembered
Iconic Images: Kurt Cobain Remembered
1/10 Kurt Cobain live in 1991

2/10 Taking to the stage at Reading Festival, UK in 1992

3/10 Guitarwork on stage in 1993

4/10 With Courtney and daughter Francis Bean at the MTV VMAs in 1993

5/10 All about the time shirt in 1990

6/10 Live with Nirvana in 1993

7/10 Taking to the stage in Italy in 1994 - just months before his death

8/10 With Nirvana bandmates in 1992

9/10 In the studio in 1991

10/10 Cobain live in 1990
Cobain had a lethal amount of heroin in his system at the time of his death.
Superior Court Judge Theresa Doyle will hear arguments on Friday from Lee, who is representing himself, and the city, who argue releasing the pictures would be harmful to Cobain's widow and daughter.
Frances, who was two-years-old when her father took his life, released a statement describing the harmful effect publishing the documents could have on her.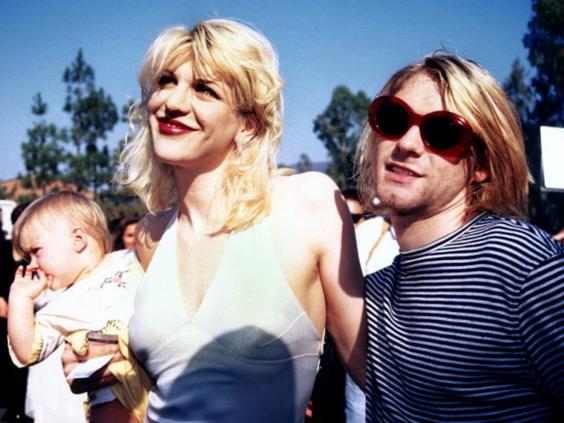 "I have had to cope with many personal issues because of my father's death," she wrote. "Coping with even the possibility that those photographs could be made public is very difficult. Further sensationalising it through the release of these pictures would cause us indescribable pain."
She cited concerns that the release of such information could also spur obsessive fans, recalling an incident where one broke into her home and waited there for three days because he believed the spirit of her father lived on inside her body.
Her statement added that neither her nor Love had seen pictures of Cobain's body. In her own statement, Love said making the documents public would cause her family "permanent — indeed, endless and needless — pain and suffering".
Reuse content