Sarah Vine has been criticised for comparing feminists to Nazis in a recent column commenting on a female lawyer's decision to publicise sexist behaviour on a professional networking site.
The Daily Mail's banner for Thursday's edition ran: "A glam lawyer and the Feminazi's who hate men who praise their looks" by Ms Vine, alongside a picture of barrister Charlotte Proudman.
Thursday's Daily Mail: Alzheimer's link to blood transfusions #tomorrowspaperstoday #bbcpapers pic.twitter.com/FEqgD9UQhF

— Nick Sutton (@suttonnick) September 9, 2015
The 27-year-old lawyer tweeted an image of the message she received from senior solicitor Alexander Carter-Silk, 57, complimenting her on her LinkedIn photograph on 7 September.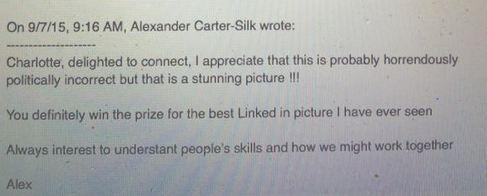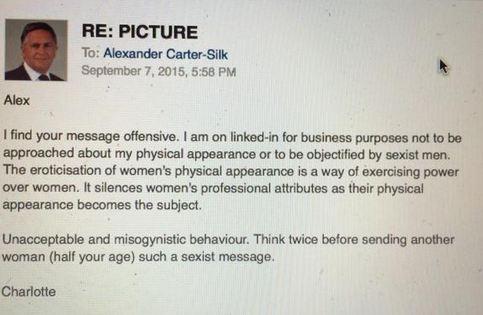 In a controversial column Ms Vine claimed the women who supported Ms Proudman on social media sites were "Feminazi's, permanently stationed at their computers ready to pounce at the slightest hint of politically incorrect utterance".
The column has not been well received on Twitter.
Hey @MailOnline / Sarah Vine, I'm glad you think you can equate the striving for gender equality with the holocaust. Stay classy. #feminazi

— Charlotte (@charlottefaulkz) September 10, 2015
@DailyMailUK @MailOnline @SarahVine Feminazis? From the 'newspaper' that adored Adolf Hitler? Really?

— Copito (@copito61) September 10, 2015
Sarah Vine has derided somebody for saying something to bring themselves attention. Satire is dead.

— John-Paul Kesseler (@jpkesseler) September 10, 2015
Ms Vine's 1,400 piece went on to say said Ms Proudman's "hysterical and laughably pompous reaction" to a "trivial" remark made her look "weak and pathetic."
On Mr Carter-Silk's comment, the columnist claimed "most normal women would have thought: 'What a nice man.'"
She added Ms Proudman's motivation to create her "very own media storm" was "not really about helping other women overcome sexism" but instead "about Ms Proudman making sure she's the absolute centre of everyone's attentions."
Ms Proudman defended her actions and said although she was "prepared for the misogynistic response" she hoped her decision "empowers at least one other woman to feel that she doesn't need to sit back and take sexist 'banter'."
Reuse content