They met at a dinner party in Los Angeles in 1990, became officially an item just two weeks later and enjoyed 24 years of marriage before his sad passing on Sunday. 
Iman and David Bowie were one of the few high-profile couples who managed to keep their relationship private and endure the pressure created by both fame and the media. 
As the first black supermodel and a pioneering, heavily influential singer, Iman and Bowie were the ultimate trendsetting power couple.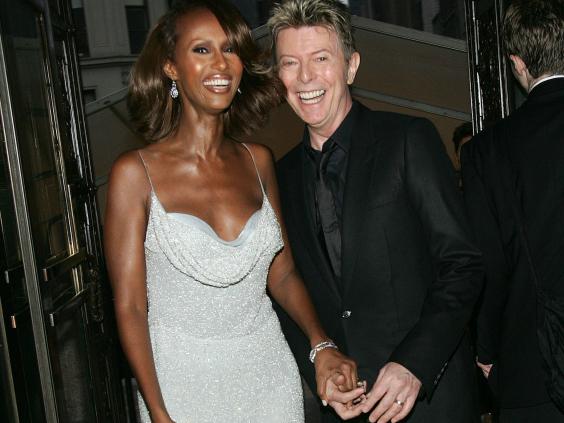 They had a daughter together, Lexi, in 2000. They often appeared in public together but rrarely spoke about their relationship or domestic life. When they did, it was always with deep admiration for each other, with Bowie reportedly once saying: "You would think that a rock star being married to a supermodel would be one of the greatest things in the world. It is."
Iman was equally affectionate in her descriptions of married life. 
"David doesn't fight," Iman told Harpers Bazaar in 2010. "He is English, so he just stays quiet. I'm the screamer. Then he always makes me laugh. It's like cabaret. I keep him entertained too. I still fancy him—totally!—after all these years."
In his final days, Iman dedicated her Instagram page to her husband by sharing pictures of Bowie's most iconic personas throughout the decades. 
In 2014, Iman admitted that while Bowie was overwhelmed by his feelings for her almost immediately after meeting her, she had no intentions of entering into a relationship with a "rock star", yet soon found herself falling in love. 
David Bowie: Life in pictures
David Bowie: Life in pictures
1/30

David Bowie in 1960s

2/30

Davy Jones; life before David Bowie

3/30

David Bowie in 1964

4/30

David Bowie 'In Mime' at the Middle Earth Club, London, 1968

5/30

David Bowie in 1969

6/30

David Bowie performing his final concert as Ziggy Stardust at the Hammersmith Odeon, London, 1973

7/30

David Bowie in 1973

8/30

David Bowie, with his wife Angela (Angie) and his son Zowie, after receiving an award for his latest record "Ziggy stardust" in Amsterdam, 1974

9/30

David Bowie in the 1970s

10/30

David Bowie's son, Duncan Jones, confirmed his death on Twitter

11/30

David Bowie in the 1980s

12/30

David Bowie gives a press conference presenting the Japanese movie 'Merry Christmas Mr. Lawrence' directed by Nagisa Oshima, during the 36th International Film Festival in Cannes, 1983

13/30

David Bowie performs on stage during a concert in La Courneuve, 1987

14/30

David Bowie during his concert in West Berlin, Federal Republic of Germany, 1987

15/30

David Bowie shakes hands with Princess Diana, 1993

16/30

David Bowie autographs copies of his newest album 'Outside' at the grand opening of a Herald Square music store 26 September 1995 in New York

17/30

David Bowie performs at the Panathinaikos stadium in Athens during a rock festival, 1996

18/30

David Bowie and his wife, supermodel Iman smile as they pose for photos after Bowie received a star on the world famous Walk of Fame 12 February in Hollywood, 1997

19/30

David Bowie getting ready to perform 'Earthling' at the Phoenix Music Festival in 1997

20/30

David Bowie on stage performing during the Tibet House Benefit Concert in New York City, 2001

21/30

David Bowie Meltdown concert at the Royal Festival Hall, London, June 2002

22/30

David Bowie performing during his concert at the Stravinski hall stage of the Montreux Jazz Festival, in Montreux, Switzerland, 2002

EPA

23/30

David Bowie in 'Last Call with Carson Daly' TV programme taping in New York, 2003

24/30

David Bowie walks with his with wife Iman and daughter Alexandria (2) in New York, 2003

25/30

David Bowie performs on stage on the third and final day of 'The Nokia Isle of Wight Festival 2004' at Seaclose Park, in Newport, UK

26/30

David Bowie poses with a pig, 2004

27/30

David Bowie and Kate Moss at the 2005 CFDA Awards dinner party at the New York Public Library in New York City, 2005

28/30

David Bowie and model Iman arrive to the Metropolitan Museum of Art Costume Institute Gala, Superheroes: Fashion and Fantasy, held at the Metropolitan Museum of Art in New York City, 2008

29/30

David Bowie anf Tilda Swinton at the MoMA's 6th Annual Film Benefit in New York, 2013

30/30

Flowers are left below a mural of David Bowie on the wall of a Morley's store in Brixton on 11 January 2016
"I was not ready for a relationship," she told The Guardian. "Definitely, I didn't want to get into a relationship with somebody like him.
"But as I always said: I fell in love with David Jones. I did not fall in love with David Bowie. Bowie is just a persona. He's a singer, an entertainer. David Jones is a man I met."
Of all of the quotes from and about the couple circulating again, there is one from Iman during a conversation with Nate Burkus in 2011 that perhaps best encapsulates their union:
 "My marriage is exactly as fabulous as you all would think."
Reuse content