David Bowie told the driver to stop when they got to the house where he was born. He was weeping. "It's a miracle," he said quietly to himself, looking out of the tour bus, which was squeezed into a tight back street in Brixton, south London. "I probably should have been an accountant instead." 
This very private moment happened in 1991, when Bowie was almost at the height of his powers, and was observed only by a member of his band, according to Paul Trynka's biography, Starman. But in the hours after Bowie's death at the age of 69 last on 10 January, it emerged that he had made another, even more secret trip back to the places where he was brought up, shortly after being diagnosed with liver cancer. What did he see when he came here with his then 13-year-old daughter, Lexi, in the summer of 2014? 
Now that Bowie has been cremated, with no family or friends present at all, I'm following his trail back through the years to understand him, the life from which he emerged to become a global superstar, and what we are really left with now. 
It's a god-awful huge affair to the Girl with the Mousy Hair (as she signs herself, taking inspiration from "Life on Mars") on the note she left outside the Ritzy cinema. "I will miss your mind-bending music and your beautiful, beautiful face. You were my whole world when I was a teenager and the main musical link between me and my husband. He died five years ago, so I've lost both of my Davids now."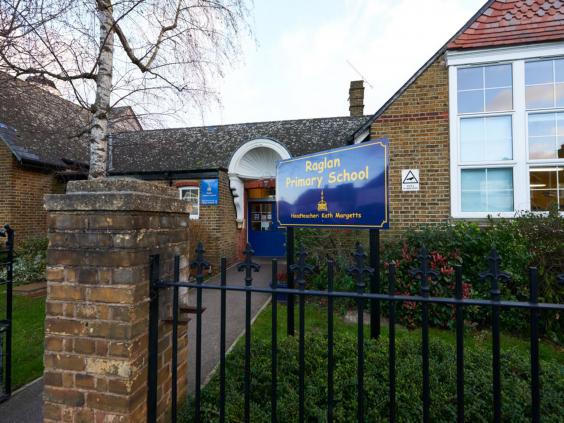 Fans gathered there to sing his songs on late on 11 November. It's a short walk to 40 Stansfield Road, the three-storey, Victorian terrace house where David Robert Jones was born on 8 January 1947. The yellow brickwork has been steam-cleaned, the fine porch painted white; a white wooden shutter has been closed across the downstairs bay window. 
Three families lived here in those immediate post-war years, when Brixton was a racy place but bombed out houses made the streets resemble a mouth full of rotten teeth. Haywood Jones, his father, had blown all his money owning a theatre troupe and a nightclub. He was going for respectability with a job at Dr Barnardo's. Peggy, David's fragile mother, was a waitress.
David Bowie: Life in pictures
David Bowie: Life in pictures
1/30

David Bowie in 1960s

2/30

Davy Jones; life before David Bowie

3/30

David Bowie in 1964

4/30

David Bowie 'In Mime' at the Middle Earth Club, London, 1968

5/30

David Bowie in 1969

6/30

David Bowie performing his final concert as Ziggy Stardust at the Hammersmith Odeon, London, 1973

7/30

David Bowie in 1973

8/30

David Bowie, with his wife Angela (Angie) and his son Zowie, after receiving an award for his latest record "Ziggy stardust" in Amsterdam, 1974

9/30

David Bowie in the 1970s

10/30

David Bowie's son, Duncan Jones, confirmed his death on Twitter

11/30

David Bowie in the 1980s

12/30

David Bowie gives a press conference presenting the Japanese movie 'Merry Christmas Mr. Lawrence' directed by Nagisa Oshima, during the 36th International Film Festival in Cannes, 1983

13/30

David Bowie performs on stage during a concert in La Courneuve, 1987

14/30

David Bowie during his concert in West Berlin, Federal Republic of Germany, 1987

15/30

David Bowie shakes hands with Princess Diana, 1993

16/30

David Bowie autographs copies of his newest album 'Outside' at the grand opening of a Herald Square music store 26 September 1995 in New York

17/30

David Bowie performs at the Panathinaikos stadium in Athens during a rock festival, 1996

18/30

David Bowie and his wife, supermodel Iman smile as they pose for photos after Bowie received a star on the world famous Walk of Fame 12 February in Hollywood, 1997

19/30

David Bowie getting ready to perform 'Earthling' at the Phoenix Music Festival in 1997

20/30

David Bowie on stage performing during the Tibet House Benefit Concert in New York City, 2001

21/30

David Bowie Meltdown concert at the Royal Festival Hall, London, June 2002

22/30

David Bowie performing during his concert at the Stravinski hall stage of the Montreux Jazz Festival, in Montreux, Switzerland, 2002

EPA

23/30

David Bowie in 'Last Call with Carson Daly' TV programme taping in New York, 2003

24/30

David Bowie walks with his with wife Iman and daughter Alexandria (2) in New York, 2003

25/30

David Bowie performs on stage on the third and final day of 'The Nokia Isle of Wight Festival 2004' at Seaclose Park, in Newport, UK

26/30

David Bowie poses with a pig, 2004

27/30

David Bowie and Kate Moss at the 2005 CFDA Awards dinner party at the New York Public Library in New York City, 2005

28/30

David Bowie and model Iman arrive to the Metropolitan Museum of Art Costume Institute Gala, Superheroes: Fashion and Fantasy, held at the Metropolitan Museum of Art in New York City, 2008

29/30

David Bowie anf Tilda Swinton at the MoMA's 6th Annual Film Benefit in New York, 2013

30/30

Flowers are left below a mural of David Bowie on the wall of a Morley's store in Brixton on 11 January 2016
A flat next door has been sold. They go for more than half a million now. Let's hope the new owners don't mind people hanging about outside, laying flowers, leaving gifts, although it is not entirely clear for whom. What will happen to the small brown horse on which a child can ride? 
"I was four years old and my sister was about 14 and I sat there listening to Bowie albums in my romper suit," says Ian Weller, 44, a big man in a long black coat, explaining why he has taken the day off from his work with the council and promoting new bands in Liverpool to come south and pay his respects. 
"I kept on listening my whole life. He was part of my life when I was sad, when I was happy, when I was in love or out of love. I made my wife a mixtape of his songs when we met, when I was 16. He has just always been there."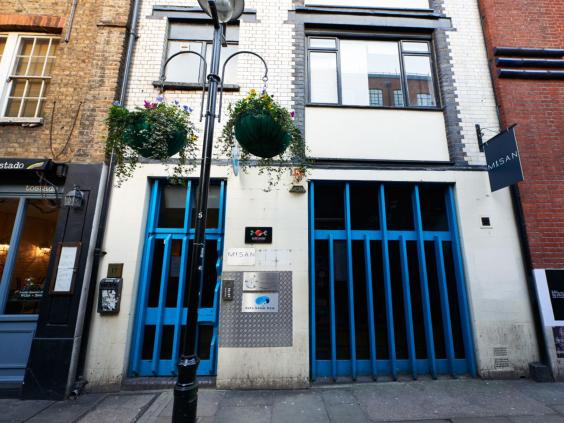 As he speaks, another man is leaving a tribute on behalf of a friend in Australia. What song is Mr Weller thinking of right now? "I can't get 'Kooks' out of my mind."  
Bowie wrote that in 1971, to mark the arrival of his son Zowie, later to become the film director Duncan Jones: "And if the homework brings you down/ Then we'll throw it on the fire/ And take the car downtown..." But it was with his second child, Lexi, he came here in 2014. They had flown by private jet from New York to Luton airport with his second wife, Iman, and been taken to stay at the Jumeirah Carlton Tower hotel in Knightsbridge, where rooms can cost up to £1,800 a night. They acted like tourists, visiting the Tower of London and the London Eye. "It's absurd, this idea that celebrities can't be anonymous," said Iman in an interview that July, the only public reference to the trip.
Bowie knew he was sick. The few friends he told say he was afraid of dying, until just before the end. Typically, he made art from the experience: the beautiful, disturbing last album, Blackstar. That was after the trip to London, in which the car carrying this veteran, ailing rock star and his young teenage daughter drove south to Brixton. 
They must have seen the mural on the wall of Morley's department store, showing his Aladdin Sane persona with a red mullet and a lightning bolt across his face. It has become a shrine since 11 January, when the death was announced. Next to it is a poster for Iman's range of cosmetics. Somebody has drawn a lightning bolt on the face of one of the models. 
The mourners step back to allow a party of primary-school children to form a quiet half circle around the shrine, and their teacher tries to explain what is happening here. Dressed in identical navy caps and coats, they don't look the sort of children who would be allowed to throw their homework on the fire. 
The Jones family moved away in 1954, by which time Haywood was a public relations man; his wife saw herself as on the up, according to Trynka. Their new home was a pretty but compact two-up, two-down in quiet Plaistow Grove in Bromley, Kent, a couple of train rides away. Now it has a white picket fence, a string of white Christmas lights still over the door and only a handful of floral tributes placed by fans. 
This is where the young David first heard Little Richard, on a single brought home from work by his dad in 1955. "It filled the room with energy and colour and outrageous defiance. I had heard God." But his youth remained conventional, at Scouts or in the church choir. That's how it was for future rock hell-raisers Keith Richards and Jimmy Page, also born in the London suburbs. 
They grew up hearing their elders sing Victorian music-hall songs. "War babies," Richards called them. The anger and energy of wartime lingered in the air, bomb sites were their playgrounds, adults were skinny from rationing, hungry for a new and better life. 
Crucially, not having to scrabble for survival, the suburban kids had the means to chase their dreams. They could get their hands on instruments and were even encouraged to do so by parents and teachers. And the stifling conformity of the suburbs gave them something to kick against.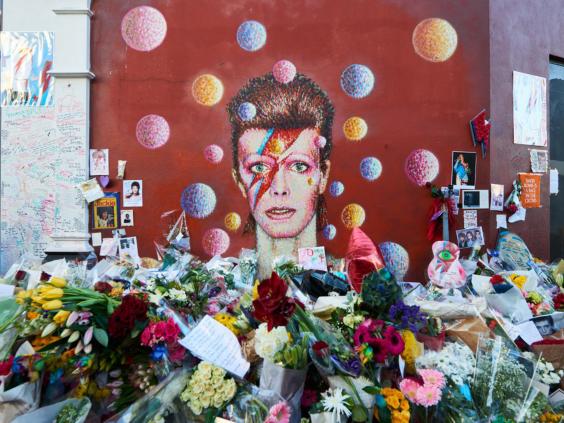 Bill Wyman of the Rolling Stones was nearby in Penge. Later, Billy Idol and Siouxsie Sioux would rise from the so-called Bromley Contingent following the Sex Pistols to become stars. Then there were Kate Bush, Squeeze, Boy George, Fatboy Slim, all born in chippy, entrepreneurial south London. Bowie lost his accent, but got it back as he grew older. 
Asked if Lexi had enjoyed seeing his old haunts, Iman said: "Yes! He took her to Beckenham. They went and took a photo outside the house he grew up in." She probably meant Plaistow Grove, but they also visited Foxgrove Road in leafy Beckenham, where the penniless 22-year-old Bowie lived for six months in 1969 with a journalist called Mary Finnigan and her two young children. 
By then he had changed his name to Bowie, after "the ultimate American knife … the medium for a conglomerate of statements and illusions". Together they ran the Beckenham Arts Club, a psychedelic folk gathering at the Three Tuns in High Street. It's a Zizzi now, with more flowers and candles outside. 
"One night he was playing away and nobody was really paying much attention to be honest, they were all talking," says Tony Manzi, a local who used to go to those gigs. "Then he started playing one song and it all went really quiet. I think it was 'Space Oddity'." 
Bowie's first hit was released to coincide with the Moon landings, in July 1969. The following month, he and Mary ran a free festival on the charming, spidery bandstand at Croydon Road Recreation Ground, but his heart was not in it. His father had just died. Maybe he told Lexi stories of his dad as they were driven through these streets, which have not changed much.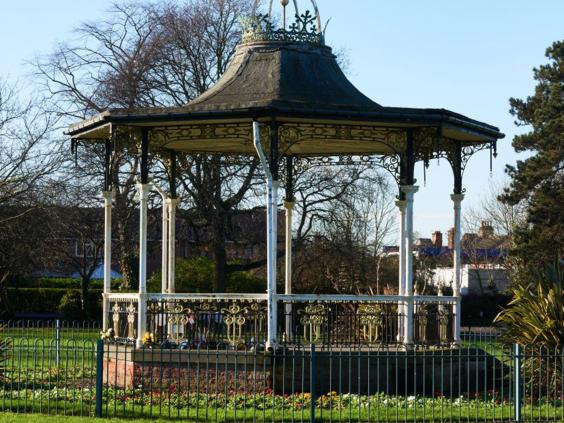 "The stars look very different today," say two of the tributes placed at the bandstand, quoting "Space Oddity". The council has promised to restore the bandstand in his honour, perhaps a little late. 
There are so many places he could have shown Lexi back in central London, including the little alleyway of St Anne's Court where he recorded The Rise and Fall of Ziggy Stardust and the Spiders from Mars at No 17, the old Trident Studios. But fans have chosen to pay their respects in Heddon Street, Piccadilly, outside No 23, where a blue plaque records that he first posed as Ziggy for that album cover. 
A man who saw him play in Edinburgh in 1973 writes: "You defined our future when you said: 'Don't copy me, go out and create yourselves.' You gave us permission to experiment and we did." He feels as though he has lost a big brother, and a lot of us know that feeling. The journalist Suzanne Moore wrote on 11 January: "He gave us ideas above our station … the stellar idea that we can create ourselves whoever we are. He let us be more than we ever knew possible."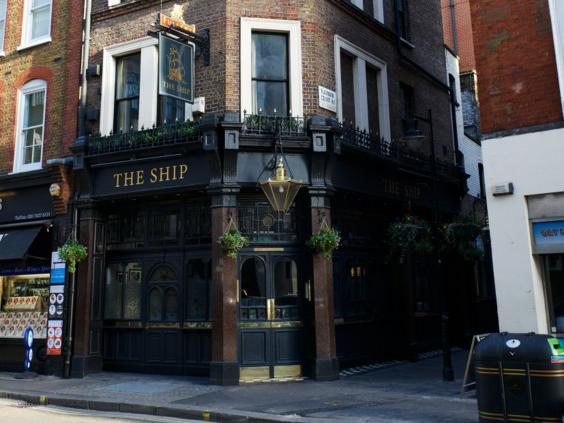 We never really knew him, of course. The master of masks was prepared to do anything to be famous when he was young, but then refused to disclose much about his real self.
"I am not married to David Bowie. I am married to David Jones. They are totally different people," said Iman, with whom he found peace, in Manhattan. "By the time I got to New York I was living like a king," he sings on "Lazarus", his last single. "Then I used up all my money …" And all his time. So he came back for one last look, in secret, before it was too late.
"I can't give everything away," he sings on the last song of the last album Blackstar and in that sense we have not lost so much. The music, the words, the images, the ideas, all remain. The flowers will wilt, the candles go out, the notes fade, but one sentence keeps coming back at the end of this pilgrimage, which is perhaps a message for all of us who care, even the Girl with the Mousy Hair: "Don't copy me, go out and create yourselves."
Reuse content