When David Lammy entered Parliament at the age of 27, he was tipped for the fast track to the Cabinet. But in Westminster's perpetual game of snakes and ladders, the Labour "colleagues" and media who had built him up were quick to knock him down after a couple of gaffes as a junior minister.
Now, at 42, he is older and wiser as he pitches for the only job he has coveted other than his current one representing Tottenham in Parliament. He wants to be Mayor of London. He is also a more confident and rounded figure than the minister who brought in a four-hour maximum waiting target at A&E, and championed apprenticeships, but failed to climb the final rung to the Cabinet.
"One thing you need is the confidence. This can be tough for working-class kids," Lammy says. "You are standing at the dispatch box. You are looking at the other guys who have been to Eton or Harrow and think, 'What do I bring to the table?' It takes time to understand that you know a lot of stuff from the real world." Lammy felt an outsider. "Some banter across the chamber has been going on between the same characters since they were at school and then Oxford. I was not part of that," he adds.
Lammy was born in Tottenham, north London, to Guyanese parents. He and his four siblings were brought up by his mother after his father walked out when he was 12. At 10, he won a choral scholarship to The King's School, Peterborough. He studied at the School of Oriental and African Studies, University of London, and at Harvard Law School, through which he later became friends with Barack Obama.
Lammy has lived through two riots in Tottenham – on Broadwater Farm in 1985 and the 2011 unrest that sparked copycat rioting elsewhere. "It is a long way from the streets of Tottenham to City Hall," he says. His deep roots are a strong selling point in Labour's mayoral race.
"This is not a Plan B for me," he insists. "Growing up in Tottenham in the 1970s and 1980s wasn't easy. But London has given me all I have. I had some fantastic teachers at primary school who inspired me to believe in north London. It is here that I have been a barrister. I joined the Greater London Assembly at the age of 26. So I have seen London from all sides, from the toughest moments to the most joyous moments."
The father of three was the first big-hitter to seek the Labour nomination for the mayoral election on 5 May 2016 that will choose Boris Johnson's successor. Another early runner is the transport journalist Christian Wolmar. The field will be crowded. Other possible Labour candidates include Tessa Jowell, the former Olympics minister; Sadiq Khan, the shadow Justice Secretary and shadow minister for London; Diane Abbott, the left-wing MP for Hackney North and Stoke Newington, and Margaret Hodge, who chairs the Commons Public Accounts Committee.
Officially, Labour's selection contest gets under way 10 days after this May's general election and concludes on 24 July. Non-party members can vote in the primary election by paying £3, and they have until 18 May to register. "I would have liked a longer contest," admits Lammy, who had hoped the process would end at the party's annual conference in September.
His early declaration raised eyebrows among rivals including Mr Khan, one of Ed Miliband's closest shadow cabinet allies, who may be playing a waiting game because he could be in the real cabinet after 7 May. Although Lammy backed David Miliband in the 2010 Labour leadership election, Ed Miliband offered him a frontbench job. He turned it down, reluctant to be "encumbered by collective responsibility" and keen to develop policy ideas across all areas.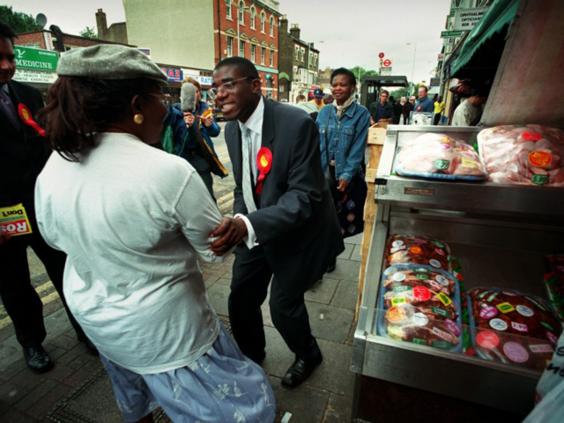 Lammy's critics argue that jostling for position in the mayoral race is a distraction from the general election, when London's 73 seats will be a crucial battleground.
"I think it is best to be honest with people," says Lammy. "I am campaigning on housing and living standards, the economy, immigration. These are issues in the general election and the mayoral election. They are entirely consistent."
There is some irritation within the Labour leadership about Lammy's criticism of its proposed "mansion tax" on homes worth more than £2m, in order to raise £1.2bn for the National Health Service. Lammy backs a high-value property tax, but opposes what he regards, in effect, as a tax on London.
"What worries me about the mansion tax is that it takes 90 per cent of the money from London and it is being deployed around the country," he says. A supporter of "hyper-devolution", he argues: "I would like to see greater powers for local government, so that the money comes back to London and local authorities can actively build [homes]. We need council housing; we desperately need affordable housing. If we are to build one million homes, at least two-thirds of them [are] likely to be in the Greater London area."
Lammy accepts that Boris Johnson has been "fun" and "in some ways a good ambassador" for London abroad, but he insists that the Conservative Mayor "failed badly on the central issue of housing". He claims Johnson has relied too heavily on the private sector, failed to stand up to developers, and that the result is a skyline dominated by luxury penthouses rather than homes for Londoners. Lammy would stand up against such "vested interests". He would like the Mayor to get more powers, the revenue from business rates, and stamp duty; to play a co-ordinating role on schools and have a greater say on health.
Surely, Lammy must be relieved that Johnson is running for Westminster rather than a third term, after twice winning in a natural "Labour city"? He denies it, saying: "It is a shame that Boris is cutting and running. He is scared of what might come. Boris is a deeply inauthentic politician. He would have to stand on his record."
Lammy insists that the Labour Party can win a majority on 7 May. He rejects criticism that Miliband is a "Hampstead socialist", out of touch with Labour's traditional working class supporters. That is not the Ed Miliband who connected with the Tottenham residents that he met after the 2011 riots, Lammy says.
But Lammy also has a strong warning for his party leader on immigration: Labour must not ape Ukip. It must discuss immigration, not change the subject on the doorstep as suggested by badly worded guidance sent to candidates. Lammy calls on Labour to adopt a tougher stance against Ukip. "It is peddling a very old tune, saying all of these problems are because of those immigrants," he says. "It is deeply sinister." Banging the table with passion, he declares: "The idea that Britain, the country that pioneered globalisation, can turn its back on it is just folly."
"We are a pro-immigration party," he concludes. "Please let us not get into the territory of trying to 'outkip' Ukip and blame immigrants, when immigrants make such a huge contribution to this country."
Curriculum vitae
1972 Born in Tottenham, north London to David and Rosalind, one of five children.
1982 Attends local primary school, then awarded choral scholarship to The King's School in Peterborough.
1984 Father quits family home. Lammy hasn't seen him since.
1993 Awarded a first-class law degree from the London's School of Oriental and African Studies.
1994 Begins career as a barrister.
1996 Gets law masters as first black Briton to go to Harvard Law School.
2000 Succeeds Bernie Grant as Labour MP for Tottenham.
2002 Becomes junior health minister.
2005 Marries portrait artist Nicola Green. Appointed arts minister.
2007 Appointed minister for higher education. Sets up National Apprenticeship scheme.
2010 Nominates Diane Abbott for Labour leader but supports David Miliband. Turns down Ed Miliband's offer of a shadow cabinet post.
2011 Writes book on the 2011 riots.
2014 Announces intention to run for Mayor of London.
Jayna Rana
Reuse content