Donald Trump may have secured a convincing electoral victory in Nevada on Tuesday, but there was one group of people he flatly failed to win over.
When the tycoon walked out of the hotel he owns close to the Las Vegas strip on Tuesday, he was confronted by the sight of dozens of demonstrators protesting over the fact that the management at his hotel seem less than enthusiastic about recognising unions.
Contract at @TrumpLasVegas would give workers similar benefits/protections as Trump workers in Canada https://t.co/CN9t2hO0F4 #TrumpDeal2016

— The Culinary Union (@Culinary226) February 24, 2016
A report in Mother Jones suggested that while the Culinary Workers Union Local 226 has worked hard to increase the level of worker representation at the city's hotels, it is struggling to make headway with officials at the Trump International Hotel.
Nobody from the hotel immediately responded to inquiries on Wednesday.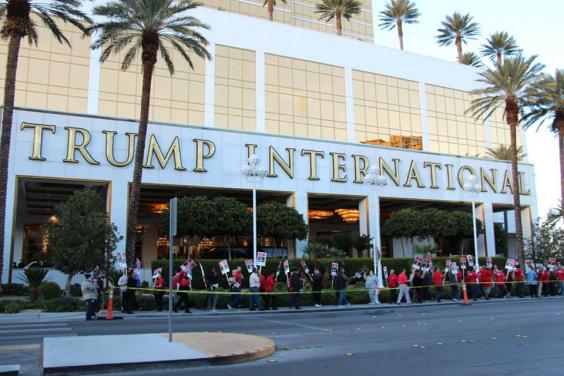 The union said it had called on the Republican presidential frontrunner to negotiate a contract. It claimed that on Tuesday, hundreds of union members, employees of Mr Trump, and local religious leaders took part in the demonstration.
"If Donald Trump wants to 'Make America Great Again,' he should start right here in Las Vegas by negotiating with us the same deal his company made with his Canadian workers," said Geoconda Arguello-Kline, Secretary-Treasurer of the Culinary Union
Reuse content