A picture supposedly says a thousand words but the image of Donald Trump and Nigel Farage surrounded by his Brexit allys in a glittering gold lift is likely to leave many viewers speechless. While 66 floors below them protesters shouted "You're fired Donald!", "Pussy grabs back" and "Love Trump's hate", these six men raised a glass to their victory over the so-called Liberal elite.
In a bizarre and unprecedented move in British politics, Nigel Farage appears to be spearheading the UK's "special relationship" with America. After all, the UKIP leader and MEP was the first British politician to meet the President-elect over the weekend.
The newly formed friendship between the property-magnate-President-elect and Mr Farage has been widely reported on - they have met on more occasion than one and Mr Farage even joined him at a rally in Mississippi back in August. At this particular meeting, Mr Farage claimed members of the Republican's inner circle were concerned about unflattering remarks made by British Cabinet ministers however Mr Trump informed him he had a "nice" phone call with Theresa May.
Of course, Mr Farage did not make the trip alone. Instead, he was accompanied by his former chief aid Raheem Kassam, Leave.EU communications director Andy Wigmore, leave.EU campaigner Gerry Gunster, and UKIP donor Arron Banks. Christening themselves "The Brex Pistols", Mr Farage's key allies appeared visibly elated in the image.
Decorated by designer Angelo Donghi, the men in photo are reported to have been enthralled up the opulent surroundings of his penthouse which includes marble pillars, crystal chandeliers, gigantic painted portraits depicting Greek myths, cherub statues and even an indoor fountain. All in gold of course.
But who exactly are the men in the photo in question and what brings them to Trump Tower?
President Donald Trump life in pictures
President Donald Trump life in pictures
1/16

Donald Trump poses in a rocking chair once used by President John F. Kennedy at his New York City residence

Reuters

2/16

Developer Donald Trump with his new bride Marla Maples after their wedding at the Plaza hotel in New York

Reuters

3/16

Donald Trump and Celina Midelfart watch the match between Conchita Martinez and Amanda Coetzer during U.S. Open. She was the date whom Donald Trump was with when he met his current wife Melania at a party in 1996

Reuters

4/16

U.S. Supreme Court Justice Clarence Thomas serving as the grand marshal for the Daytona 500, speaks to Donald Trump and Melania Knauss on the starting grid at the Daytona International Speedwa

Reuters

5/16

Developer Donald Trump talks with his former wife Ivana Trump during the men's final at the U.S. Open

Reuters

6/16

Donald Trump and his friend Melania Knauss pose for photographers as they arrive at the New York premiere of Star Wars Episode : 'The Phantom Menace,'

Reuters

7/16

Billionaire real estate developer Donald Trump talks with host Larry King. Trump told King that he was moving toward a possible bid for the United States presidency with the formation of a presidential exploratory committee

Reuters

8/16

Donald Trump answers questions as Minnesota Governor Jesse Ventura looks on in Brooklyn Park. Trump said on Friday he 'very well might' make a run for president under the Reform Party banner but had not made a final decision

Reuters

9/16

Billionaire Donald Trump makes a face at a friend as he sits next to Panamanian President Mireya Moscoso before the start of the 2003 Miss Universe pageant in Panama City

Reuters

10/16

Entrepreneur Donald Trump is greeted by a Marilyn Monroe character look-a-alike, as he arrives at Universal Studios Hollywood to attend the an open casting call for his NBC television network reality series 'The Apprentice.'

Reuters

11/16

Donald Trump and Simon Cowell present an Emmy during the 56th annual Primetime Emmy Awards at the Shrine Auditorium in Los Angeles

Reuters

12/16

Donald Trump and Megan Mullally perform at the 57th annual Primetime Emmy Awards at the Shrine Auditorium in Los Angeles

Reuters

13/16

Donald Trump, poses with his children, son Donald Trump, Jr., and daughters Tiffany and Ivanka

Reuters

14/16

Billionaire Donald Trump told Miss USA 2006 Tara Conner on Tuesday she would be given a second chance after reported misbehavior

Reuters

15/16

Donald Trump holds a replica of his star on the Hollywood Walk of Fame as his wife Melania holds their son Barron in Los Angeles

Reuters

16/16

U.S. property mogul Donald Trump stands next to a bagpiper during a media event on the sand dunes of the Menie estate, the site for Trump's proposed golf resort, near Aberdeen, north east Scotland

Reuters
Raheem Kassam
A former chief advisor to Mr Farage, Kassam is now editor-in-chief of right-wing news site Breitbart News London. Like Mr Trump, Kassam has also been known to dish out the odd sexist comment. Not only did he call his then fellow leadership contender Suzanne Evans "a wrinkly old ginger bird", in June he posted a now-deleted tweet suggesting First Minister of Scotland Nicola Sturgeon should have her "mouth taped shut. And her legs, so she can't reproduce". He apologised for the remarks.
Kassam contested Ukip's November 2016 leadership election before dropping out of the race at the end of October. His campaign slogan took inspiration from Mr Trump and was "Make Ukip great again". He has previously labelled his movement as "Faragist" and joked that he was the "Faragest of the Faragists".
Arron Banks 
Banks is a prominent Ukip donor and is co-founder of the Leave.EU campaign. Prior to investing his money in Ukip, he was a Conservative Party donor but announced he was switching parties by donating £1million to Ukip in October 2014.
After the tragic murder of Labour MP Jo Cox, Banks commissioned a controversial poll on whether her murder had affected public opinion on voting. Probed about whether the wording of the poll had been "tasteless", Banks said: "I don't think so".
"We were hoping to see what the effect of the event was. That is an interesting point of view, whether it would shift public opinion."
He has cited Mr Trump's success as being the result of connecting with voters on an emotional level. "The remain campaign featured fact, fact, fact, fact, fact. It just doesn't work. You have got to connect with people emotionally. It's the Trump success." Since the Brexit vote, he has been adamant that Leave.EU will continue campaigning as a "rightwing Momentum".
Gerry Gunster
Unlike Kassam and Banks, Gunster was something of an invisible, faceless force behind the Brexit campaign. Appointed by Banks, Gunster is a Washington political strategist who has worked on dozens of referendums in America. The advocacy firm he heads, Goddard Gunster, claims it has a 90 per cent success rate.
Banks has previously dubbed Gunster "the best referendum fighter in America". Banks told Politico his advice was: "You have to have messages or voices that people trust, and of course politicians are last on the list. If you want to talk about immigration, get a recently retired senior border person."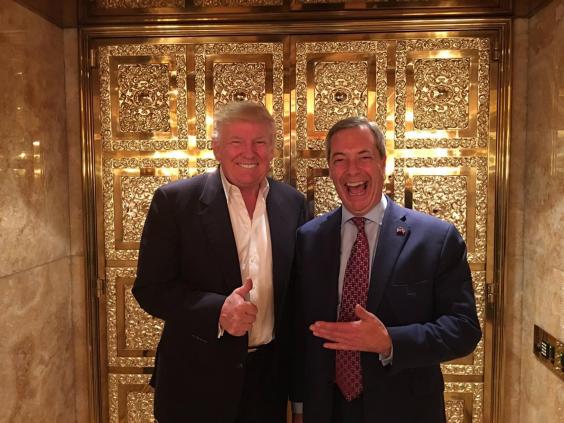 Andy Wigmore
Another key cog in the Leave.EU machine, Wigmore was head of communications for the campaign. On top of that, he is also a businessman who works closely with Banks and is a diplomat with the Belize High Commission in London working in trade and industry. Bizarrely, he is a top shooter and represented Belize in shooting at the Rio Olympics.
Reuse content