Donald Trump has dominated the news agenda ever since launching his controversial, increasingly unorthodox and self congratulatory campaign for the 2016 Presidential elections.
The outspoken billionaire takes every opportunity he can to speak from a public platform (and when he can't, he just takes to Twitter). But Trump found himself in a bit of a tight spot during a radio interview on Thursday when he was asked to name the which groups were affiliated with various militant leaders in the Middle East. 
Conservative talk-radio host Hugh Hewitt put the Republican nominee on the spot during a discussion about Islamic extremism. After fluffing questions on foreign policy and the Middle East, Trump was then unable to name the corresponding militant groups for Hassan Nasrallah, Zawahiri, al-Julani, and al-Baghdadi. 
"No, you know, I'll tell you honestly, I think by the time we get to office, they'll all be changed," he insisted. "They'll be all gone".
It isn't the first time Trump has been trumped by questions in interviews. Here are just a few times when a question left the Presidential hopeful undone.
Religion
Trump, a Christian, named the Bible as his favourite book. But when asked repeatedly what his favourite verse was, he refused to identify one, claiming it was too "personal" to share.
"You know, when I talk about the Bible, it's very personal, so I don't want to get into verses," he said. "The Bible means a lot to me, but I don't want to get into specifics." Then, when asked if he was an Old Testament guy or a New Testament guy, he responded: "Probably equal".
Mexico
After sauntering up to the Mexican border and declaring "the Hispanics love me", Trump took a few questions from reporters. Unfortunately, despite his many assertions about Mexican immigration and crime, Trump was apparently unfamiliar with the fugitive Mexican drug lord Joaquin "El Chapo" Guzman. When asked about how he would deal with the security threat created by El Chapo's escape from prison, he responded with his own question: "Who?"
Donald Trump's most controversial quotes
Donald Trump's most controversial quotes
1/14 On Isis:

"Some of the candidates, they went in and didn't know the air conditioner didn't work and sweated like dogs, and they didn't know the room was too big because they didn't have anybody there. How are they going to beat ISIS?"

Getty

2/14 On immigration:

"I will build a great wall — and nobody builds walls better than me, believe me —and I'll build them very inexpensively. I will build a great, great wall on our southern border, and I will make Mexico pay for that wall. Mark my words."

Reuters

3/14 On Free Trade:

"Free trade is terrible. Free trade can be wonderful if you have smart people. But we have stupid people."

PAUL J. RICHARDS | AFP | Getty Images

4/14 On Mexicans:

"When Mexico sends its people, they're not sending their best. They're sending people that have lots of problems. They're bringing drugs. They're bringing crime. They're rapists."

Getty

5/14 On China:

"I just sold an apartment for $15 million to somebody from China. Am I supposed to dislike them?... I love China. The biggest bank in the world is from China. You know where their United States headquarters is located? In this building, in Trump Tower."

Getty Images

6/14 On work:

"If you're interested in 'balancing' work and pleasure, stop trying to balance them. Instead make your work more pleasurable."

AP

7/14 On success:

"What separates the winners from the losers is how a person reacts to each new twist of fate."

8/14 On life:

"Everything in life is luck."

AFP

9/14 On ambition:

"You have to think anyway, so why not think big?"

Getty Images

10/14 On his opponents:

"Bush is totally in favour of Common Core. I don't see how he can possibly get the nomination. He's weak on immigration. He's in favour of Common Core. How the hell can you vote for this guy? You just can't do it."

Reuters

11/14 On Obamacare:

"You have to be hit by a tractor, literally, a tractor, to use it, because the deductibles are so high. It's virtually useless. And remember the $5 billion web site?... I have so many web sites, I have them all over the place. I hire people, they do a web site. It costs me $3."

Getty Images

12/14 On Barack Obama:

"Obama is going to be out playing golf. He might be on one of my courses. I would invite him. I have the best courses in the world. I have one right next to the White House."

PA

13/14 On himself:

"Love him or hate him, Trump is a man who is certain about what he wants and sets out to get it, no holds barred. Women find his power almost as much of a turn-on as his money."

Getty Images

14/14 On America:

"The American Dream is dead. But if I get elected president I will bring it back bigger and better and stronger than ever before and we will make America great again."

GETTY
Immigration
Trump's most infamous statement to date involved made claiming rapists and killers are crossing the border from Mexico. But when CNN's Don Lemon questioned his evidence, Trump was unable to back himself up, instead delivering the line:  "Well, somebody's doing the raping, Don! I mean somebody's doing it! Who's doing the raping? Who's doing the raping?"
His own opinion
Trump, the wearer of the oversized 'Make America Great Again' baseball cap that has become synonymous with his campaign, was also unable to answer a question by Business Insider, who asked him if he thought another country was better. Instead, he responded with a rambling, completely unrelated answer: "Nothing works. Our country doesn't work. Everybody wins except us. We need victories in this country. We don't have victories any more."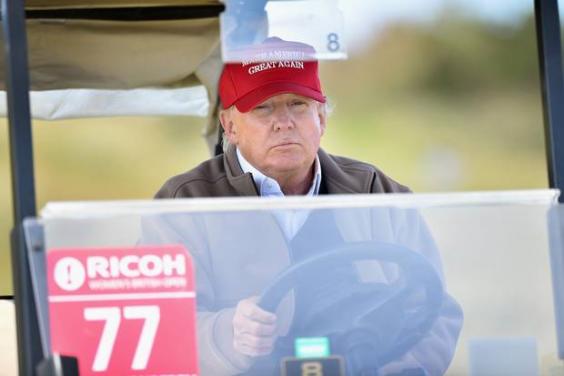 Scotland
There was one question, however, that Trump was able to answer. The business mogul bizarrely turned up at the in Scotland for the Women's British Open. When asked why he was there, he brazenly declared: "Everyone's asked me to be here: the Tour's asked me to be here, the world has asked me to be here." Right.
Reuse content