David Cameron, you have been warned. If Jeremy Corbyn sans lounge suit is too much to bear, perhaps it's time to look away now. Britain's best-known transvestite Eddie Izzard has set his mind on running for Parliament at the next election – and has no intention of bending to the Prime Minister's patrician dress code.
"If I get elected in 2020 I will be having boy mode and girl mode, so David Cameron is going to have a word to say about that, I'm sure," the 54-year-old comedian says. 
As ever he's full of energy, despite completing his fourth marathon in four days in South Africa's blazing summer heat as part of another epic challenge to raise money for the BBC's Sports Relief campaign. The multilingual stand-up and lifelong Labour supporter is contemptuous of Mr Cameron's "dress properly" lecture during Prime Minister's Questions on Wednesday.
Losing his rag with the Labour frontbencher Angela Eagle – who was heckling him about his mother's signing a petition against local council cuts – Mr Cameron shot back: "I think I know what my mother would say. She'd look across the Despatch Box, say, 'Put on a proper suit, do up your tie and sing the national anthem.'"
The put-down sent Tory MPs into hysterics, but Izzard insists it's the Prime Minister who's out of step with the country.
"It's a silly thing to say. There are going to be a number of advisers saying you've got to look like this and that's the only way to get elected but I think we're done with that. I'll be going in wearing the clothes that I wear. The necessity to have a lock-down position on clothing – that politicians can only wear certain clothing – seems very archaic."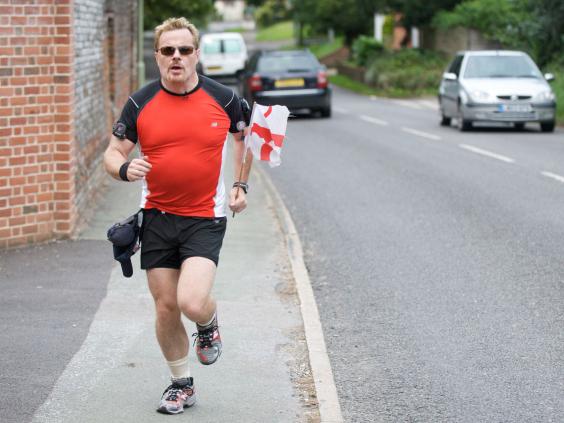 He adds: "I can't really judge what everyone else thinks. I know what I feel comfortable wearing – I'm trans. I wear all the clothing available to human beings."
But should the Labour leader – as a potential future Prime Minister – be allowed to wear what he wants?
"I don't think I need to advise him on what he wears. This is the thing about Jeremy – he's built his whole ethos on doing what he feels is right. That's why a number of people said they wanted to vote for him. He voted against the Labour Party over 500 times; he was not to be swayed, so I don't think anyone is going to advise him on what he wears."
Izzard backs Corbyn to stay in his position until the next election, but admits the party needs to get its act together to stand a chance of winning.
"He's a really nice guy. I just hate it at the moment when we are tearing ourselves apart. The Tories are sitting there and probably feel they can tear themselves apart every year and still get in."
People news in pictures
People news in pictures
1/9

US President-elect Donald Trump and musician Kanye West pose for media at Trump Tower in Manhattan, New York City

Reuters

2/9

Anna Wintour apologises for criticising Donald Trump on a train. Fashionista was reportedly heard saying the President-elect would use the Presidency 'to sell himself and his brand'

Getty

3/9

Ivanka Trump and her husband might be joining the next administration. The couple is plotting a move to the nation's capital

Getty

4/9

Samuel L Jackson calls Muslims 'the new black kids in America' 'People perceive them as a threat before even saying hello,' actor says of Muslims in the US

Getty

5/9

Former JLS star Oritse Williams denies rape allegation The singer has not been charged

Getty

6/9

Bill Gates announces $1bn investment fund for clean energy technology Team-up with Richard Branson, Jeff Bezos and others aims to fight climate change - and reap 'super' rewards

Getty

7/9

Donald Trump's aide worked for anti-immigation extremists Poll was used by President-elect during campaign to justify banning Muslims from the US

Reuters

8/9

Henry Kissinger tells Nobel Peace Prize forum to give Donald Trump a chance More than 7,000 people called for the 'mastermind of war' to be arrested while visiting Norway

EPA

9/9

John Travolta dismisses new Scientology documentary by former member Leah Remini The actor defends the church and says it was a source of support for him when he lost his girlfriend, mother and son

Getty
But he dismisses claims the Labour leader cannot win a general election. "I don't know that. He got voted in with a massive load of new voters. He wants to do something different in politics and have a new way of doing politics. He's got the lead, so let him go with that."
Izzard confirms he now plans to stand for Parliament rather than contest the London mayoralty (as previously mooted) because he believes Labour's Sadiq Khan will win City Hall in May. He has not yet found a constituency to stand for, but says he's isn't picky. "I'm very happy to go anywhere. I'm not narrowing myself down at this point."
To Izzard, an arch internationalist, this may sound common sense. But in an era of "local is best" hyper-scepticism with the Westminster elite, he risks coming across as somewhat mercenary. But one thing that can be said about Izzard is he's not open to self-doubt. "I've pulled off a number of things in my life which are thinking out of the box.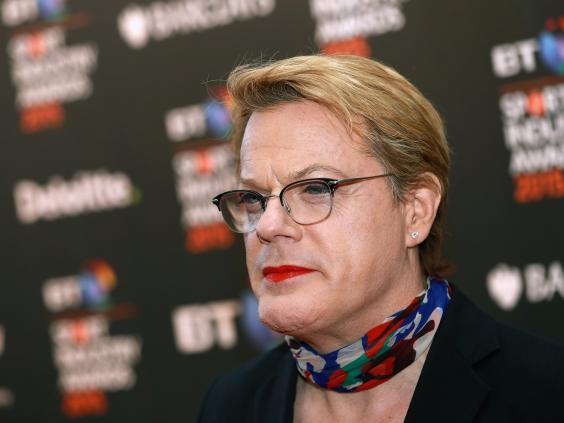 "I'm touring France in French, I've sold over 5,200 tickets. It's the first ever tour an English-speaker has done in France. I've run marathons, played Hollywood roles, played Covent Garden and I'm going to bring that energy to what I do and I'm coming out of my career, which I love, and going into politics. 
"People are saying, 'Really?' and I say, 'Yes, I want to help'. I think I can do something positive for people who think like me. Obviously in other parties they will think, 'Oh no, you're doing everything wrong', but I disagree with them."
In the current political climate over Britain's place in Europe, Izzard may find more and more people with whom he disagrees, but he cannot be accused of ducking the issue.
He says the public reaction to the migration crisis reminds him of Nazi Germany before the Second World War. "It feels like the 1930s to me. Then it was Jewish refugees, now it is Syrian refugees. We've got to do better than that. Britain is not for running and hiding, we're stronger than that. Despair is the fuel of terrorism and hope is the fuel of civilisation, the more that we put hope into the world the more civilised we become. 
"The more that we take it away, the more there is despair and people will say I'm going to turn to this extreme thing."
He says pulling out of Europe would be a sign of fear. "We've got to live together in some shape or form, so let's make it work better, not run away and hide, put our head in the sand. We're not ostriches, we're human beings."
On that rather odd note, Izzard is off to prepare for yet another marathon, a challenge he may find easier than Labour's long race to win back voters.