David Cameron, you have been warned. If Jeremy Corbyn sans lounge suit is too much to bear, perhaps it's time to look away now. Britain's best-known transvestite Eddie Izzard has set his mind on running for Parliament at the next election – and has no intention of bending to the Prime Minister's patrician dress code.
"If I get elected in 2020 I will be having boy mode and girl mode, so David Cameron is going to have a word to say about that, I'm sure," the 54-year-old comedian says. 
As ever he's full of energy, despite completing his fourth marathon in four days in South Africa's blazing summer heat as part of another epic challenge to raise money for the BBC's Sports Relief campaign. The multilingual stand-up and lifelong Labour supporter is contemptuous of Mr Cameron's "dress properly" lecture during Prime Minister's Questions on Wednesday.
Losing his rag with the Labour frontbencher Angela Eagle – who was heckling him about his mother's signing a petition against local council cuts – Mr Cameron shot back: "I think I know what my mother would say. She'd look across the Despatch Box, say, 'Put on a proper suit, do up your tie and sing the national anthem.'"
The put-down sent Tory MPs into hysterics, but Izzard insists it's the Prime Minister who's out of step with the country.
"It's a silly thing to say. There are going to be a number of advisers saying you've got to look like this and that's the only way to get elected but I think we're done with that. I'll be going in wearing the clothes that I wear. The necessity to have a lock-down position on clothing – that politicians can only wear certain clothing – seems very archaic."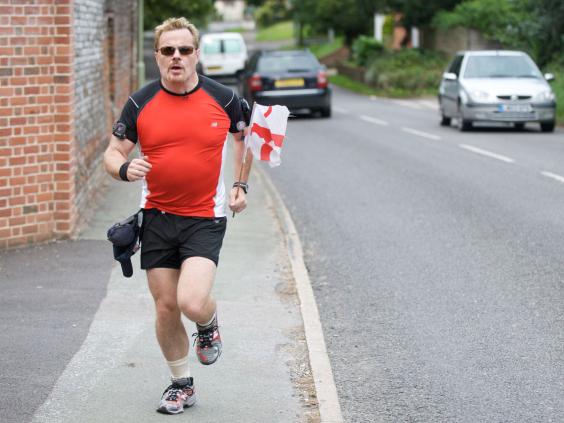 He adds: "I can't really judge what everyone else thinks. I know what I feel comfortable wearing – I'm trans. I wear all the clothing available to human beings."
But should the Labour leader – as a potential future Prime Minister – be allowed to wear what he wants?
"I don't think I need to advise him on what he wears. This is the thing about Jeremy – he's built his whole ethos on doing what he feels is right. That's why a number of people said they wanted to vote for him. He voted against the Labour Party over 500 times; he was not to be swayed, so I don't think anyone is going to advise him on what he wears."
Izzard backs Corbyn to stay in his position until the next election, but admits the party needs to get its act together to stand a chance of winning.
"He's a really nice guy. I just hate it at the moment when we are tearing ourselves apart. The Tories are sitting there and probably feel they can tear themselves apart every year and still get in."
People news in pictures
People news in pictures
1/30 27

U.S. President Barack Obama lays a wreath at Hiroshima Peace Memorial Park in Hiroshima, Japan

AP

2/30 26 May 2016

Filmmaker Steven Spielberg is presented with an honorary doctor of arts degree by Harvard Vice President Marc Goodheart, during Harvard University commencement exercises

AP

3/30 25 May 2016

Ukrainian servicewoman Nadiya Savchenko shakes hands with Ukrainian former Prime Minister and leader of Batkivshchyna (Fatherland) party Yulia Tymoshenko at Boryspil International airport outside Kiev in Ukraine. Russia has freed jailed Ukrainian pilot Nadiya Savchenko, who became a symbol of resistance against Moscow

Reuters

4/30 24 May 2016

Canadian Prime Minister Justin Trudeau meets Honda Robot Asimo as he visits Honda Motor Co. headquarters in Tokyo, Japan

AP

5/30 23 May 2016

U.S. President Barack Obama and Vietnamese President Tran Dai Quang shake hands at the Presidential Palace in Hanoi, Vietnam. The president is on a week-long trip to Asia as part of his effort to pay more attention to the region and boost economic and security cooperation

AP

6/30 22 May 2016

Director Xavier Dolan, right is presented with the Grand Prix award for the film It's only the end of the world by Jury member Donald Sutherland, during the awards ceremony at the 69th international film festival in Cannes

AP

7/30 21 May 2016

Erin Moriarty and Mel Gibson dance during a photocall for the film "Blood Father" at the 69th Cannes Film Festival in Cannes

Getty Images

8/30 20 May 2016

Taiwan's President Tsai Ing-wen, center, and her Vice President Chen Chien-jen, right, cheer the audience attending the inauguration ceremony in Taipei. Taiwan inaugurated Tsai its first female president, returning the pro-independence Democratic Progressive Party to power amid new concerns over increasingly fractious relations with Beijing and a flagging economy

AP

9/30 19 May 2016

Russian President Vladimir Putin meets with Thai Prime Minister Prayuth Chan-ocha on the sidelines of the Russia-ASEAN summit in Sochi, Russia

Reuters

10/30 18 May 2016

Canada's Prime Minister Justin Trudeau receives a standing ovation after delivering a formal apology for the Komagata Maru incident in the House of Commons on Parliament Hill in Ottawa

Reuters

11/30 17 May 2016

Kate Moss arrives for the screening of the film "Loving" at the 69th Cannes Film Festival in Cannes, southern France

Getty Images

12/30 16 May 2016

Catherine, Duchess of Cambridge tries out boxing at the launch of the Heads Together campaign on mental health at the Olympic park in London

Getty Images

13/30 15 May 2016

Actor Shia Labeouf appeals to photographers to allow him to wear sunglasses during a photo call for the film American Honey at the 69th international film festival in Cannes

AP

14/30 14 May 2016

French President Francois Hollande is pictured during a welcoming ceremony prior to a meeting with Nigerian president at the presidential Palace in Abuja. Regional and Western powers gathered in Nigeria for talks on quelling the threat from Boko Haram as the UN warned of the militants' threat to African security and ties to the Islamic State group

Getty Images

15/30 11 May 2016

(From L) Italian actress and director and member of the Jury Valeria Golino, Australian director and President of the Jury George Miller, French actress and singer and member of the Jury Vanessa Paradis and US actress and member of the Jury Kirsten Dunst pose during a photocall ahead of the opening of the 69th Cannes Film Festival, southern France

Getty Images

16/30 13 May 2016

Actress Lily-Rose Depp poses for photographers during a photo call for the film La Dansuese (The Dancer) at the 69th international film festival in Cannes

AP

17/30 12 May 2016

Director Jodie Foster and cast member Julia Roberts pose during a photocall for the film "Money Monster" out of competition at the 69th Cannes Film Festival

Reuters

18/30 12 May 2016

Chinese artist Ai Weiwei takes pictures as he meets with female university students in Gaza City during his visit in the Gaza Strip for his upcoming documentary film on the refugee crisis in the Middle East

Getty Images

19/30 12 May 2016

Japan's Prince Akishino and his wife Princess Kiko stands next to Pope Francis during a meeting at the Vatican

Getty Images

20/30 10 May 2016

Belgium's Minister of Foreign Affairs Didier Reynders shakes hands with a Palestinian man, whose house was destroyed during 2014 war, eastern Gaza City

Reuters

21/30 9 May 2016

WikiLeaks founder Julian Assange holds up his new kitten at the Ecuadorian Embassy in central London. The kitten is a gift from Assange's young children to keep him company

Reuters

22/30 8 May 2016

Former U.S. President George W. Bush fist bumps wounded warrior Master Sergeant Israel Del Toro Jr on stage during the Symposium on Invisible Wounds at the Invictus Games in Orlando

Reuters

23/30 7 May 2016

President Barack Obama receives an honorary degree conferred upon him by Vernon Jordan before he delivered the commencement address to the 2016 graduating class of Howard University in Washington

Reuters

24/30 6 May 2016

Labour mayoral candidate Sadiq Khan arrives at City Hall in London with his wife Saadiya (right) and campaign team as counting continues on votes for the Mayor of London and the London Assembly elections

PA

25/30 5 May 2016

The Turkish Prime Minister has announced his resignation after falling out with President Recep Tayyip Erdogan

26/30 4 May 2016

Britain's Catherine, Duchess of Cambridge, visits the Magic Garden at Hampton Court Palace near London

Reuters

27/30 3 May 2016

Brazilian top model Gisele Bundchen poses before a fashion show by German designer Karl Lagerfeld as part of his latest inter-seasonal Cruise collection for fashion house Chanel at the Paseo del Prado street in Havana, Cuba

Reuters

28/30 2 May 2016

Katy Perry looks unrecognisable as arrives for the Costume Institute Benefit at The Metropolitan Museum of Art in New York

Getty Images

29/30 2 May 2016

Canadian Prime Minister Justin Trudeau and Britain's Prince Harry leave a Sledge Hockey scrimmage at Ryerson University in Toronto, to promote the 2017 Invictus Games, to be played in Canada

Getty Images

30/30 1 May 2016

Princess Charlotte of Cambridge looks on as she walks while pushing her toy blocks across the lawn outside as her mother Catherine, Duchess of Cambridge takes her photo ahead of her first birthday at Anmer Hall in Norfolk. The young Princess celebrates her first birthday on 2 May

Getty Images
But he dismisses claims the Labour leader cannot win a general election. "I don't know that. He got voted in with a massive load of new voters. He wants to do something different in politics and have a new way of doing politics. He's got the lead, so let him go with that."
Izzard confirms he now plans to stand for Parliament rather than contest the London mayoralty (as previously mooted) because he believes Labour's Sadiq Khan will win City Hall in May. He has not yet found a constituency to stand for, but says he's isn't picky. "I'm very happy to go anywhere. I'm not narrowing myself down at this point."
To Izzard, an arch internationalist, this may sound common sense. But in an era of "local is best" hyper-scepticism with the Westminster elite, he risks coming across as somewhat mercenary. But one thing that can be said about Izzard is he's not open to self-doubt. "I've pulled off a number of things in my life which are thinking out of the box.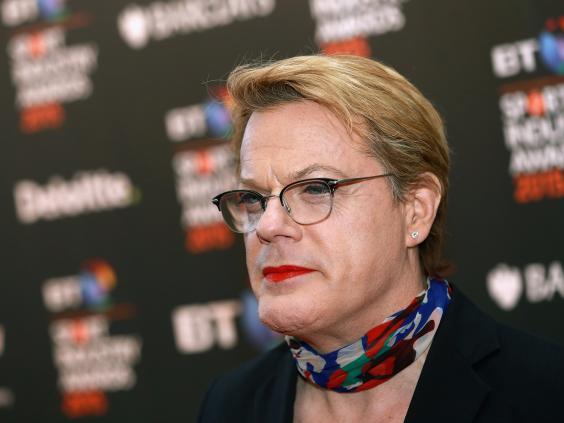 "I'm touring France in French, I've sold over 5,200 tickets. It's the first ever tour an English-speaker has done in France. I've run marathons, played Hollywood roles, played Covent Garden and I'm going to bring that energy to what I do and I'm coming out of my career, which I love, and going into politics. 
"People are saying, 'Really?' and I say, 'Yes, I want to help'. I think I can do something positive for people who think like me. Obviously in other parties they will think, 'Oh no, you're doing everything wrong', but I disagree with them."
In the current political climate over Britain's place in Europe, Izzard may find more and more people with whom he disagrees, but he cannot be accused of ducking the issue.
He says the public reaction to the migration crisis reminds him of Nazi Germany before the Second World War. "It feels like the 1930s to me. Then it was Jewish refugees, now it is Syrian refugees. We've got to do better than that. Britain is not for running and hiding, we're stronger than that. Despair is the fuel of terrorism and hope is the fuel of civilisation, the more that we put hope into the world the more civilised we become. 
"The more that we take it away, the more there is despair and people will say I'm going to turn to this extreme thing."
He says pulling out of Europe would be a sign of fear. "We've got to live together in some shape or form, so let's make it work better, not run away and hide, put our head in the sand. We're not ostriches, we're human beings."
On that rather odd note, Izzard is off to prepare for yet another marathon, a challenge he may find easier than Labour's long race to win back voters.