David Cameron, you have been warned. If Jeremy Corbyn sans lounge suit is too much to bear, perhaps it's time to look away now. Britain's best-known transvestite Eddie Izzard has set his mind on running for Parliament at the next election – and has no intention of bending to the Prime Minister's patrician dress code.
"If I get elected in 2020 I will be having boy mode and girl mode, so David Cameron is going to have a word to say about that, I'm sure," the 54-year-old comedian says. 
As ever he's full of energy, despite completing his fourth marathon in four days in South Africa's blazing summer heat as part of another epic challenge to raise money for the BBC's Sports Relief campaign. The multilingual stand-up and lifelong Labour supporter is contemptuous of Mr Cameron's "dress properly" lecture during Prime Minister's Questions on Wednesday.
Losing his rag with the Labour frontbencher Angela Eagle – who was heckling him about his mother's signing a petition against local council cuts – Mr Cameron shot back: "I think I know what my mother would say. She'd look across the Despatch Box, say, 'Put on a proper suit, do up your tie and sing the national anthem.'"
The put-down sent Tory MPs into hysterics, but Izzard insists it's the Prime Minister who's out of step with the country.
"It's a silly thing to say. There are going to be a number of advisers saying you've got to look like this and that's the only way to get elected but I think we're done with that. I'll be going in wearing the clothes that I wear. The necessity to have a lock-down position on clothing – that politicians can only wear certain clothing – seems very archaic."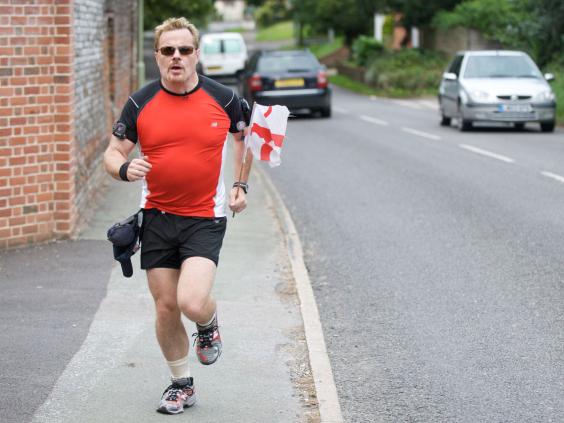 He adds: "I can't really judge what everyone else thinks. I know what I feel comfortable wearing – I'm trans. I wear all the clothing available to human beings."
But should the Labour leader – as a potential future Prime Minister – be allowed to wear what he wants?
"I don't think I need to advise him on what he wears. This is the thing about Jeremy – he's built his whole ethos on doing what he feels is right. That's why a number of people said they wanted to vote for him. He voted against the Labour Party over 500 times; he was not to be swayed, so I don't think anyone is going to advise him on what he wears."
Izzard backs Corbyn to stay in his position until the next election, but admits the party needs to get its act together to stand a chance of winning.
"He's a really nice guy. I just hate it at the moment when we are tearing ourselves apart. The Tories are sitting there and probably feel they can tear themselves apart every year and still get in."
People news in pictures
People news in pictures
1/29 21 August 2016

Gold medallist Helen Glover celebrates during the Olympics closing ceremony

Getty

2/29 20 August 2016

Mo Farah wins the 5,000 metre race in Rio

Julian Finney/Getty Images

3/29 17 August 2016

Laura Trott, right, kisses her fiance Jason Kenny, left, both of Britain, after he won the men's keirin cycling final at the Rio Olympic Velodrome during the 2016 Summer Olympics in Rio de Janeiro

AP

4/29 16 August 2016

Democratic presidential nominee Hillary Clinton welcomes Vice President Joe Biden as he disembarks from Air Force Two for a joint campaign event in Scranton, Pennsylvania

REUTERS

5/29 15 August 2016

Indian Prime Minister Narendra Modi gestures as he addresses the nation from the historic Red Fort during Independence Day celebrations in Delhi

REUTERS

6/29 14 August 2016

Jamaica's Usain Bolt (Top) poses with fellow athletes for a selfie photo as he celebrates after winning the Men's 100m Final during the athletics event at the Rio 2016 Olympic Games at the Olympic Stadium in Rio de Janeiro

AFP/Getty Images

7/29 13 August 2016

Former Cuban President Fidel Castro (2nd L), sitting between Venezuelan President Nicolas Maduro (3rd L) and Cuban President Raul Castro (L), is seen attending the celebration of his 90th birthday at the Karl Marx theatre in Havana

AFP/Getty Images

8/29 12 August 2016

Britain's Prime Minister Theresa May walks in a forest with her husband Philip at the start of a summer holiday in the Alps, in Switzerland

Reuters

9/29 11 August 2016

Pope Francis smiles as he browses through drawings at the Vatican. Pope Francis had lunch with a group of Syrian refugees who were brought to Italy from the Greek island of Lesbos thanks to the pope's intercession. The Vatican said that the pope brought toys and other gifts for the children, who, in turn, gave him a selection of their drawings

AP

10/29 10 August 2016

Turkey's President Tayyip Erdogan addresses his supporters in front of the Presidential Palace in Ankara

REUTERS

11/29 9 August 2016

Cast member Salma Hayek takes a selfie with co-stars (L-R) Nick Kroll, Paul Rudd, Seth Rogen, Michael Cera and Danny McBride at the premiere for the movie "Sausage Party" in Los Angeles

REUTERS

12/29 19 July 2016

Turkey's Prime Minister Binali Yildrim addresses members of parliament from his ruling AK Party (AKP) during a meeting at the Turkish parliament in Ankara

REUTERS

13/29 18 July 2016

Melania Trump, wife of Republican U.S. presidential candidate Donald Trump, waves as she arrives to speak at the Republican National Convention in Cleveland

Reuters

14/29 18 July 2016

Britain's Foreign Secretary Boris Johnson listens to Spain's Foreign Minister Jose Manuel Garcia-Margallo (L) during an European Union foreign ministers meeting in Brussels

REUTERS

15/29 17 July 2016

Turkey's President Recep Tayyip Erdogan reacts after attending the funeral of a victim of the coup attempt in Istanbul

Getty Images

16/29 16 July 2016

Republican presidential candidate Donald Trump, introduces Gov. Mike Pence, during a campaign event to announce Pence as the vice presidential running mate, in New York. Trump called Pence "my partner in this campaign" and his first and best choice to join him on a winning Republican presidential ticket

AP

17/29 15 July 2016

French President Francois Hollande looks on as he speaks to journalists at the Prefectoral Palace the day after a gunman smashed a truck into a crowd of revellers celebrating Bastille Day in Nice, killing at least 84 people

AFP/Getty Images

18/29 14 July 2016

Newly appointed British Foreign Secretary Boris Johnson leaves his home in north London

AP

19/29 13 July 2016

Queen Elizabeth II welcomes Theresa May at the start of an audience, where she invited the former Home Secretary to become Prime Minister and form a new government, at Buckingham Palace. Former Home Secretary Theresa May becomes the UK's second female Prime Minister after she was selected unopposed by Conservative MPs to be their new party leader

Getty Images Europe

20/29 13 July 2016

Outgoing British Prime Minister David Cameron is accompanied by his wife Samantha and their children as they hug on the doorsteps upon their departure from No. 10 Downing Street for the last time

EPA

21/29 12 July 2016

Pakistani Nobel Peace Prize laureate Malala Yousafzai arrives to celebrate her 19th birthday at the Dadaab refugee camp near the Kenya-Somalia border

REUTERS

22/29 11 July 2016

Britain's new Conservative Party leader Theresa May receives a kiss from her husband Philip John May, after speaking to members of the media at The St Stephen's entrance to the Palace of Westminster in London. Theresa May will become the prime minister who leads Britain's into Brexit talks after her only rival in the race to succeed David Cameron pulled out unexpectedly. May was left as the only contender standing after the withdrawal from the leadership race of Andrea Leadsom, who faced criticism for suggesting she was more qualified to be premier because she had children

AFP/Getty Images

23/29 11 July 2016

Prime Minister David Cameron gestures as he addresses the media outside 10 Downing Street, where he announced that Theresa May would be Britain's new leader

AFP/Getty Images

24/29 11 July 2016

Andrea Leadsom, a candidate to become the next Conservative Party leader and British prime minister, rules herself out of the leadership battle during a news conference in central London

REUTERS

25/29 10 July 2016

Portugal's forward Cristiano Ronaldo reacts as he is carried on a stretcher off the pitch by team medics after an injury following a clash with France's forward Dimitri Payet (not pictured) during the Euro 2016 final football match between Portugal and France at the Stade de France in Saint-Denis, north of Paris

AFP/Getty Images

26/29 10 July 2016

Britain's Andy Murray kisses the winner's trophy after his men's singles final victory over Canada's Milos Raonic on the last day of the 2016 Wimbledon Championships at The All England Lawn Tennis Club in Wimbledon

AFP/Getty Images

27/29 10 July 2016

British driver Lewis Hamilton celebrates with fans after climbing the paddock fence after winning the British Formula One Grand Prix at Silverstone motor racing circuit in Silverstone

AFP/Getty Images

28/29 9 July 2016

Serena Williams celebrates beating Germany's Angelique Kerber in the women's singles final on the thirteenth day of the 2016 Wimbledon Championships in London

AFP/Getty Images

29/29 8 July 2016

Catherine, Duchess of Cambridge and Prince George during a visit to the Royal International Air Tattoo at RAF Fairford

Getty Images
But he dismisses claims the Labour leader cannot win a general election. "I don't know that. He got voted in with a massive load of new voters. He wants to do something different in politics and have a new way of doing politics. He's got the lead, so let him go with that."
Izzard confirms he now plans to stand for Parliament rather than contest the London mayoralty (as previously mooted) because he believes Labour's Sadiq Khan will win City Hall in May. He has not yet found a constituency to stand for, but says he's isn't picky. "I'm very happy to go anywhere. I'm not narrowing myself down at this point."
To Izzard, an arch internationalist, this may sound common sense. But in an era of "local is best" hyper-scepticism with the Westminster elite, he risks coming across as somewhat mercenary. But one thing that can be said about Izzard is he's not open to self-doubt. "I've pulled off a number of things in my life which are thinking out of the box.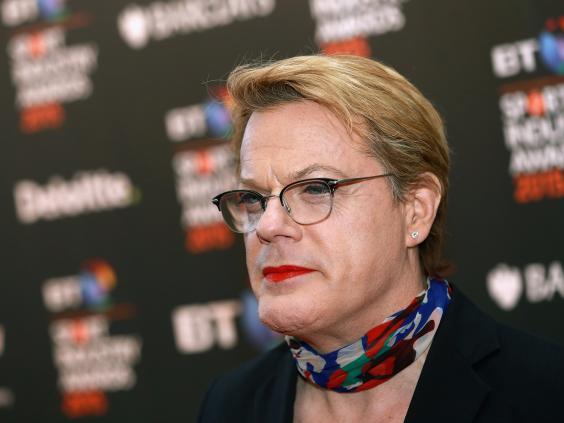 "I'm touring France in French, I've sold over 5,200 tickets. It's the first ever tour an English-speaker has done in France. I've run marathons, played Hollywood roles, played Covent Garden and I'm going to bring that energy to what I do and I'm coming out of my career, which I love, and going into politics. 
"People are saying, 'Really?' and I say, 'Yes, I want to help'. I think I can do something positive for people who think like me. Obviously in other parties they will think, 'Oh no, you're doing everything wrong', but I disagree with them."
In the current political climate over Britain's place in Europe, Izzard may find more and more people with whom he disagrees, but he cannot be accused of ducking the issue.
He says the public reaction to the migration crisis reminds him of Nazi Germany before the Second World War. "It feels like the 1930s to me. Then it was Jewish refugees, now it is Syrian refugees. We've got to do better than that. Britain is not for running and hiding, we're stronger than that. Despair is the fuel of terrorism and hope is the fuel of civilisation, the more that we put hope into the world the more civilised we become. 
"The more that we take it away, the more there is despair and people will say I'm going to turn to this extreme thing."
He says pulling out of Europe would be a sign of fear. "We've got to live together in some shape or form, so let's make it work better, not run away and hide, put our head in the sand. We're not ostriches, we're human beings."
On that rather odd note, Izzard is off to prepare for yet another marathon, a challenge he may find easier than Labour's long race to win back voters.
Reuse content