I came to understand the ubiquity of Emily Skye by seeing how many of my own Facebook friends have liked her page. Many of my friends are, or at least I thought they were, like me: somewhat apathetic to exercise. But 20 of my own friends are on there. When I profiled her in 2015, she had eight million followers. Less than a year later, her follower count is approaching 10 million. 
Skye has now joined Lucozade Sport as an ambassador for their 'Made to Move' campaign which aims to get one million people active or exercising more by 2020. The measure of an influencer's success is three-fold: their follower count, their engagement and the brands they represent. Skye is also a global ambassador for Reebok, suggesting her career is ticking along quite nicely.  
The 31-year-old Australian from Glenning Valley, a suburb on the New South Wales Central Coast, launched her social media fitness business with her 'FIT' Programme, following the 'before and after' picture formula which has made so many Facebook, Instagram and YouTube fitness trainers hugely popular. 
Like any other high-profile influencer working on such a visual platform, her content is slickly produced. Poses are struck nonchalantly in front of a blue skyline and a pool in the background, a scene that is sometimes replaced by white sand and blue seas for her specially designed beach workouts. In this aspirational culture social media has fostered, an influencer must be envied for their lifestyle as well as their physique.  
Unlike many other fitness influencers, her pages look at emotional and mental health and the connections between diet, exercise and a more all-encompassing sense of well-being. 
Skye, a qualified personal trainer, has struggled with anxiety and depression. "I've overcome depression," she says. "I can't really pinpoint where it came about. It might be because when my Dad left when I was two I just went through a lot of stress at that young age and then not seeing him much - like once a year - was really stressful. When I was older, I just had horrible relationships with guys who were abusive to me. [I was] struggling with body image issues, depression and anxiety, bullying at school; all these various things from different areas were adding to how I was feeling. I was living in a very negative state.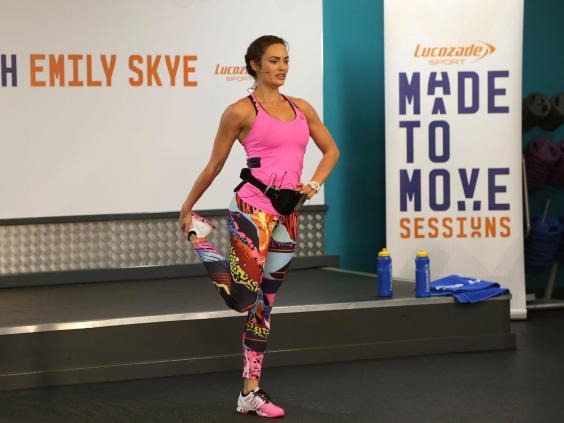 "Then I started making changes in my mid-twenties. I'd had enough and I knew that it was up to me. I had to take responsibility and change the things I could change and take control of, and let go of the things I couldn't control."
She says health and fitness played an integral part in this, which is why her page takes a more holistic, pastoral approach. "Obviously, you feel much better physically and mentally, and that's how I manage my depression. I don't know if you ever fully overcome depression but I definitely manage it very well now." 
Skye built up her following with free work-out videos and meal plans. "It was more of a blogging thing that I used it for, and then I built the following," she explains. 
The amounts of sugar in food and drink
The amounts of sugar in food and drink
1/6 Minstrels

A 42g bag contains 28.9g of sugar

2/6 Dairy Milk

A 49g bar contains 26.8g of sugar

3/6 Skittles

45g of Skittles (about a quarter of a large 174g pouch) contains 40.4g of sugar

4/6 Ribena

A 500ml bottle of Blackcurrant Ribena contains 50g of sugar

5/6 Coca Cola

A 330ml can of Coca Cola contains 35g of sugar

6/6 Innocent Smoothies

A 250ml bottle of strawberries & bananas Innocent Smoothie (the middle size) contains 26g of sugar
"It's consistent, good quality content. So every day, I post a free work-out video that people can do. It's constantly posting blogs on various subjects about health and fitness and healthy minds as well."
But the biggest draw, she says, is her authenticity. Social media influencers are generally reluctant to speak to journalists and when they do reticent answers are often given in emails, most of which are simply promotional spiel and unusable for a piece. What is just about passable is always impersonal. But Skye is forthcoming. 
"Being real is a big part of it. I like taking a nice photo too, but I like showing both sides of it to show that people don't walk around looking perfect all the time, to show that I bloat, I have stretch marks, I get pimples, I have bad days. I am very vocal about that and people relate to it." 
"I think back to when I was struggling with these things [depression and anxiety] and I felt very isolated. I just wished I had someone to either look to or talk to about it or relate to. It's quite common to have these issues and be struggling with them." 
Skye believes influencers have a "social responsibility" to be honest with their followers about how their ostensibly flawless, often idyllic profiles are not a complete reflection of the lives they lead or the way they look. 
"There is no such thing as perfection. No-one looks perfect, no-one lives the perfect life, no-one has the perfect relationship or perfect job. I think there's a perception that there is such a thing as perfection out there on social media because a lot of people do show everything that is the highlight 'real'. It just creates a very unhealthy sort of mind frame. 
"I did it for a long time where I thought it did exist and I was always chasing this perfection idea but obviously it doesn't. That's why I like to show everything. And, as I said, I and everyone loves taking a nice photo. I think that it has to be both sides of it, especially with young women out there who are struggling with a lot of issues and body image issues. I've got to show them that I don't walk around holding my stomach really tight and posing in the perfect lighting. That's why I do a lot of posts showing the differences between posture when I get bloated and stretch marks and pimples, and all those things that we all get." 
Skye says many of her followers say her page has helped them with depression and social anxiety.
"I think it's really nice for them to be able to look at someone like me, I am in the public quite a lot and I do have a large following, and I do have photos out there that might look like I'm perfect. But I'm not and I show that to them." 
Reuse content