Eminem has been criticised by his fans and anti-sexual violence campaigners for disturbing lyrics alluding to rape on a track on Dr Dre's new album Compton.
The graphic rape lyric appears in his verse for Medicine Man, which includes the line: "Ain't no one safe from, non-believers there ain't none/I even make the bitches I rape come." This line was condemned by a number of appalled Twitter users, who blasted the rapper for releasing more "disgusting" lyrics condoning sexual violence.
@Eminem there's comes a point when you can't blame your lyrics about abuse/misogyny/rape/transphobia on an alter ego anymore

; z (@zzzydrate) July 28, 2015
Eminem still rapping about rape.. I think it's time to grow up fam. The shock value's been over lol

; Bryan Yee (@theebryanyee) August 7, 2015
I can't take Eminem's rape bars in 2015.. cmon dog

; Twix Gawd (@AntEscrow) August 7, 2015
How is eminem still making rape jokes in his verse though? You're like my parents age, please grow up

; zach from alaska (@memejunction) August 7, 2015
Karen Ingala Smith, chief executive of the London-based charity Nia Project, said his lyrics were particularly problematic because they could encourage victims of a sexual assault to believe that they may have been in some way at fault.
Ms Smith told The Guardian: "Women and girls who have suffered sexual violence often blame themselves or question whether they were really raped. Peddling the lie that orgasm equals consent silences victims of sexual violence.
"When we minimise, celebrate, glorify or condone men's violence against women, we are amplifying the conditions in which it can occur. Lyrics like these contribute to a conducive context for sexual violence."
Eminem has a controversial history of referencing rape, sexual violence or abuse in his tracks, often referencing famous women in some of these lyrics.
Highest earning hip-hop artists
Highest earning hip-hop artists
1/9 2. P Diddy - $60m

P Diddy's earnings came from a number of commercial deals including agreements with Diageo's Ciroc vodka, De Leon tequila and Sean Jean clothing

2/9 3. Jay Z - $60m

Unlike Dr Dre and P Diddy, Jay Z's earnings did come from musical projects thanks to his 'On The Run' tour and his growing Roc Nation empire

Getty Images

3/9 4. Drake - $33m

Drake made his money through sales of his latest album, a concert arena tour and endorsement deals with Nike

Stephen Lovekin/Getty Images

4/9 5. Macklemore & Ryan Lewis - $32m

The hip-hop duo were rewarded for their Grammy wins with good concert and album sales that helped them earn the number five slot on Forbes' list

Getty Images

5/9 6. Kanye West - $30m

Kaney's tour coupled with his marriage to Kim Kardashian translated into good figures for the self-confessed 'Yeezus'

Getty Images

6/9 7. Birdman - $24 million

The Cash Money co-chief continued to earn good money through his record label

7/9 8. Lil Wayne - $23 million

The rapper saw his earnings increase by 50 per cent from 2012/2013 thanks to playing 56 shows

8/9 9. Pharrell Williams - $22m

Williams has seen a huge boost to his career thanks to summer hits 'Get Lucky', 'Blurred Lines' and 'Happy'. His fashion venture also helped him enter Forbes' top 10

Kevin Winter/Getty

9/9 10. Eminem - $18m

Emimen claims a spot in the top 10 thanks to a handful of lucrative tour dates and sales from his latest album. He is also said to claim good sales from his back catalogue

PA
The 42-year-old was branded "disgusting" by singer Charlie XCX for a lyric threatening Iggy Azalea on his song Vegas: "So what's it gon' be? Put that shit away, Iggy. You don't wanna blow that rape whistle on me. Scream! I love it."
In another rap for CXVPHER freestyle he talked about punching the singer Lana Del Rey twice in the face in a lift, referencing an incident involving the disgraced former NFL player Ray Rice who knocked his wife unconscious in a casino hotel.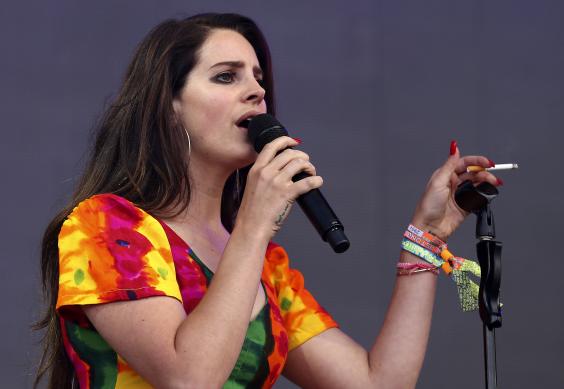 Reuse content