Erika Lust doesn't just direct adult films for women, although they do make up a big part of her audience. In her own words, she directs porn for people "who don't think that sex always has to be presented as cheap, tasteless and vulgar". 
Lower rates of pay, the ubiquitous free adult content on the internet and a demand for increasingly extreme porn is causing growing concern. In a world where a child's introduction to sex often takes place online, what will they grow up to understand sex as? And what effect is the type of porn propagated online having on performers, particularly those who are being asked to do things they would never normally consider just to earn a decent wage?
Feminist porn is becoming the antidote to some of the most prevalent issues within adult content, and its growing popularity suggests it is having the desired effect on pornography as a concept. 
Lust is one feminist film-maker who hopes to subvert the dominant male gaze and the misogyny so inherent in mainstream porn by allowing women to embrace and understand their sexuality within empowering adult entertainment. 
The self-described "indie erotic film director" from Stockholm began her career after moving to Barcelona in 2000 to gain valuable experience working on film sets. Her first adult film, The Good Girl, was uploaded online for free, downloaded more than two million times and awarded first prize at the International Erotic Film Festival Barcelona.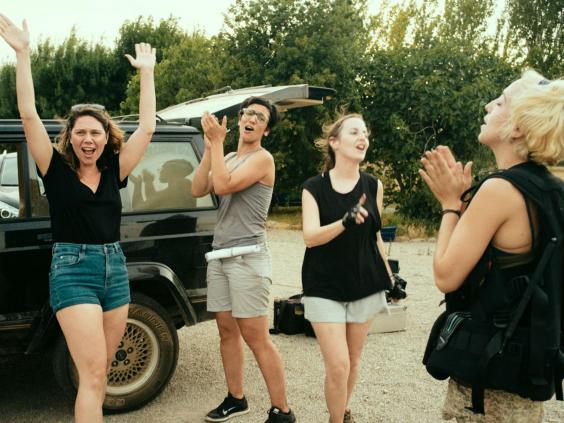 In 2005, Erika Lust Films was launched. Five films arrived between 2008 and 2011, followed by the crowdsourced XConfessions series, which invites the public to share their sexual fantasies or experiences and see them turned into film. 
Lust knows all too well the problem with familiar porn narratives and what needs to change, something she went into detail in a TED Talk watched more than half a million times. In her address, she lamented the women as objects fulfilling male sexual desire trope and issued a rallying call for change that reverberated around the world. 
Her work is ethical, ensuring everyone involved is paid fairly, and each production is tasked with creating a good working environment. Shot from a female perspective, the emphasis is on developing an engaging storyline for the viewer to enjoy as well as presenting scenes that depict female pleasure.
Crucially, her films categorically avoid more disturbing scenes becoming increasingly entrenched in adult film, such as those depicting simulated abuse or coercion. 
The Independent spoke to Lust about how her films are helping to break the cycle of damaging and outdated porn.
Why did you decide to start directing adult films for women?
I don't just direct adult films for women, I direct adult films for people who don't think that sex always has to be presented as cheap, tasteless and vulgar. I show sex as fun and full of passion, but I also pay attention to context, details, location, styling – everything that you would pay attention to in a film without explicit sex. To me, that adds to the feeling of eroticism and excitement. If you can answer the question "why are these people having sex?" in a captivating way, it makes the whole thing more fun. [It should] also involve real pleasure, not loud faked orgasms on a depressing couch.
'Empty Porn Sets' by Jo Broughton
You're often labelled the feminist porn director. Why is your work considered feminist? 
I am a feminist so those values are injected into every part of my films. The concept of feminism is simple for me: it is about equality. So for my films and other feminist films, it's about treating everyone involved like human beings, being attentive to their needs, requests and emotions, compensating them fairly and providing a good working environment with good working conditions. I also think it's important to be ethical about what signals you're sending out with your stories; [ensuring that] you make consent come through, not showing irresponsible scenes or anything to do with coercion and so on. 
How do women react to your films? And how have men reacted - do some say they enjoy it more than the other adult films they are more used to watching?
I've had many positive comments from both genders. They both like how relatable my films are, they can see themselves in my stories, the sex, the characters and the narratives. They like that I inject comedy into some of the films too. It makes them feel more real and authentic. The best comment I did get was at a private screening I did here in Barcelona of XConfessions last year. A woman told me she felt jealous of the sex the characters were having in my films! I think that says a lot about my work and I'm very proud.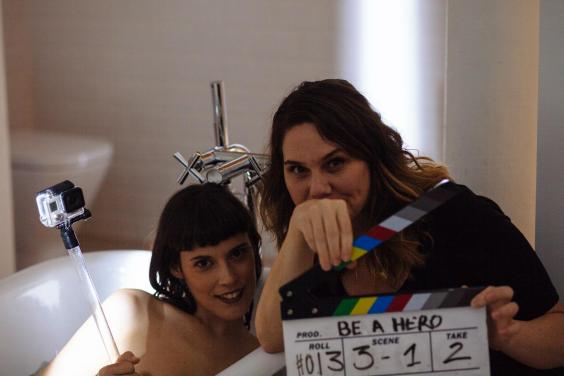 What is the biggest difference between porn shot by women and porn shot by men?
Very simple: the female perspective! Showing people as subjects of pleasure, and not just objects of desire.
What kind of reaction have you had from male filmmakers?
In the beginning, my male counterparts told me I was wasting my time, that they were already making porn that women liked and there was no room for well-produced adult content. Now I feel like I've gained the respect of some as I have proven many of them very wrong. 
How can porn be empowering for women?
Porn is a discourse on our sexuality. I learnt this from reading Linda Williams's book Hardcore. Porn has the power to make a statement, educate, express ideologies and values, and also opinions about sex and gender. Which means, most importantly, it has the power to liberate. 
That's why we need more women behind the camera, giving them a voice in the industry, expressing our values and making the films we want to watch. We must offer diversity, to represent all the different parts of society and the people in it so that people can see themselves in those films, to see the sex they have, to be inspired, to open our minds to the huge range of different sexualities out there. And most importantly, so that our children and young adults aren't just exposed to one version of bad porn that teaches them bad values.
How do you feel women in mainstream porn are treated?
I think there is a lot of blurred information here. But for the most part, most women are treated as sex objects, objects of desire. Ready to have sex whenever a man wants, their sexual plaything, and a passive object. With no thought to their own sexual agency. They are all put up against each other with the same values, you have to look a certain way, act a certain way ... the results are repetitive films perpetuating bad values, violence, and chauvinism.
What are the biggest problems with mainstream porn? 
The male gaze that dominates so much of porn. Most porn is made by the same people with the same view of sex. White middle-aged men obsessed with tits and ass, who are only able to release repetitive sex scenes without feelings. In mainstream pornography, the focus is on men's pleasure. Women are being used to satisfy others, but not themselves. It's a fact that women are completely underrepresented, especially as screenwriters and directors. There are also less female viewers, but only because they don´t want to deal with cheap and chauvinistic mainstream porn. I want to break this vicious circle.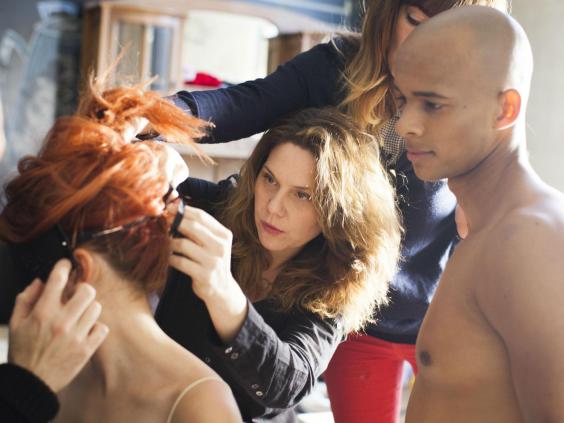 Are you concerned about the growing trend for pornography that features simulated abuse scenes and increasingly extreme acts? 
I'm very concerned. As I said, porn is a discourse on sexuality and has the ability to educate and inspire. This also means for the upcoming generation, whose main source of sex education is what they find in online pornography. It's bad that young people have some of their first "sexual experiences" seeing misogynistic porn that objectifies women and places unrealistic expectations on both sexes. So it's important they aren't just exposed to one version of bad porn that teaches them bad values. There needs to be a public debate and we need to educate young people so that they can become critical viewers of porn. People have to start talking to their kids about porn just as we would talk about not eating junk food or abusing alcohol or smoking. Today, it is not enough to have just the sex talk, we need to include the porn talk.
Do you ever cast actresses who have worked in mainstream porn directed by men, and if so, what have they said about how their experiences there differ to their experiences on your sets?
I have done and still work with a number of them, as many of them are very good at their job and are in the industry because they love what they do and love sex. They often tell me they aren't used to such a big crew that is 90 per cent female. I work with a team of around 15, and most porn sets only have around 5. They also like the fact they can get into a character and connect with the other performers more naturally. And of course, the sets are very different; it's not just a bed or a couch - it's an entire scene.
A number of adult actors are crossing into high-profile roles in mainstream films. Do you think the stigma around adult actors is lessening? And will we ever reach the stage where watching porn is no longer considered taboo?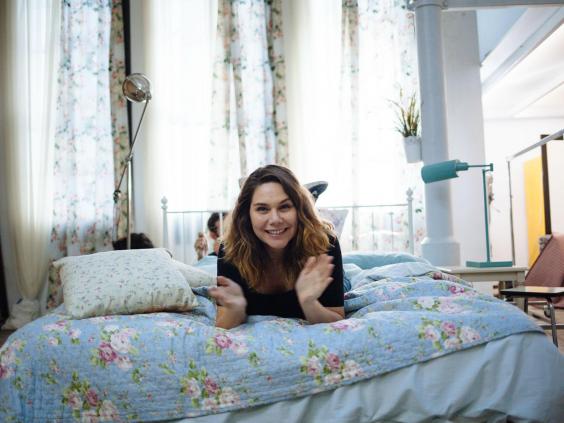 I think so. With the number of young and new production companies and directors popping up across the globe, it's obvious that mainstream adult content isn't satisfying people anymore and more people want to take it into their own hands to open the conversation and show something different. They have a wider range of tastes, they want realism, they want their sexualities represented, they want to see people, contexts and narratives they can relate to. They are also more open than we or any of the older generation were. They want to openly talk about sex and sexuality and explore it. Just look at A Four Chambered Heart and Vex Ashley in the UK, or A New Level of Pornography in Sweden, or Verso Cinema in Spain. You'll soon see how things are moving in a very different direction.
However, on the other side, there are still a lot of problems with bigger mainstream corporations when understanding the difference between good and bad adult content, which has created a huge hypocrisy in the censorship of online content. I had a very recent experience with YouTube when I uploaded a completely SFW edit of XConfessions film Do You Find My Feet Suckable? and one week later it was banned for "violating community guidelines". I decided to create a video and open letter for Medium which you can read here.
But they have now taken down this video as well. So if you want, you can now watch it on my blog. 
Reuse content