Frei Otto was the architect best known for the huge roof canopies designed for the 1972 Olympics in Munich. He made an art form of his tent-like constructions, which brought a sense of light and openness to public buildings. His work was inspired by natural organic forms, including cobwebs, trees and skeletons. "Everything man is doing in architecture is to try to go against nature", he once said. "Of course we have to understand nature to know how far we have to go against nature. The secret, I think, of the future is not doing too much. All architects have the tendency to do too much."
Otto was born in 1925 in Siegmar, near Chemnitz, in eastern Germany and grew up in Berlin. His father and grandfather were both sculptors and stonemasons. Aged nine, he saw a pheasant's feather floating in the wind and envisaged a model aircraft that could drift almost endlessly through the air. It was through making such an aircraft that he taught himself about the strength and durability of membranes stretched over light frames.
He saw wartime service with the Luftwaffe and the German army and was captured by the Allies in April 1945, spending two years as a prisoner of war in France. It was in the prison camp that he first designed simple shelters, using the basic tools and materials available.
Following the end of the war he studied architecture at the Technical University of Berlin. He travelled to the US on a scholarship and saw work by Frank Lloyd Wright, Charles Eames and other architects. When he established his own practice in 1952, from the outset he favoured projects which worked in harmony with the natural environment.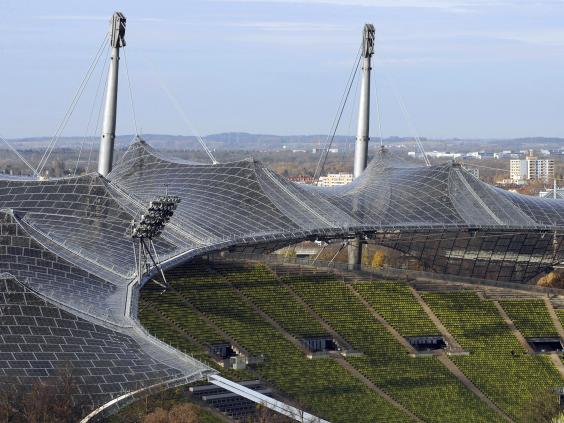 Otto first demonstrated his tent-like structures at the Bundesgartenschau (Federal Garden exhibition) in Kassel in 1955. In contrast to the prevailing monolithic, heavyweight stone and concrete German architecture of the early to mid-20th century these were light, airy constructions, making use of easily found and affordable materials.
At the 1967 World's Fair in Montreal Otto collaborated with Rolf Gutbrod and Fritz Leonhardt to create his first large-scale project, providing the canopy for the German Pavilion. Here the "tent" was fabricated from a mesh of steel cables attached to eight poles, up to 38 metres high, covered with an almost translucent polyester fabric that exactly followed the shape of the mesh. This huge and impressive construction gave Otto his international breakthrough, setting the scene for his next major project.
For the 1972 Munich Olympics, "the Cheerful Games", Günter Behnisch envisaged a rolling green landscape with an artificial lake and a series of buildings beneath flowing tent-like roofs. Otto set an architectural milestone in turning Behnisch's ambitious vision into reality. He began work in 1968 with the structural engineer Jörg Schlaich to bring more than 70,000 square metres of roofing, with glistening alpine peaks, to the Olympic park.
In 1971 he was offered an exhibition at the Museum of Modern Art in New York, a rare opportunity for a living architect. The show, Natural Constructions, which subsequently toured globally, demonstrated how his architecture was inspired by nature.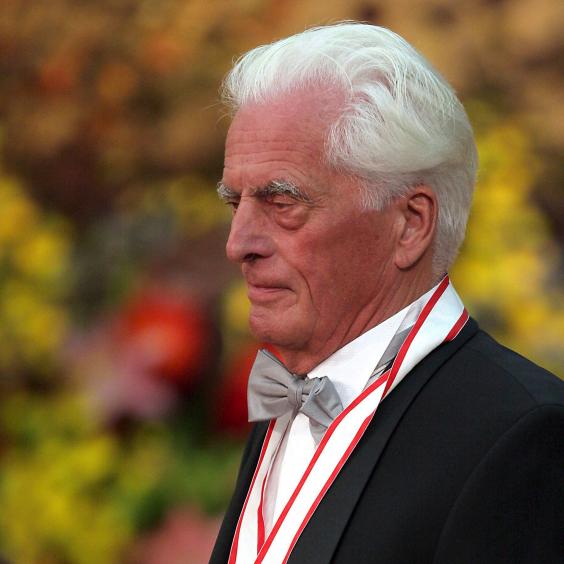 Collaborations, nationally and internationally, were also key to his practice. In 2000 he teamed up with the Japanese architect, Shigeru Ban, to create the Japanese pavilion at the 2000 Hannover Expo, using recycled cardboard tubing and waterproof translucent paper. Otto's work was an inspiration for designs by younger architects, such as Nicholas Grimshaw's Eden Project and the Millennium Dome by Richard Rogers.
He wrote extensively throughout his long career. His technical magnum opus, Tensile Structures: Design, Structure and Calculation of Buildings of Cables, Nets and Membranes, was published in two parts in the 1960s and remains a key reference.
Otto received an award from the Royal Institute of British Architects in 2005. Stephen Hodder, the current president of RIBA, told The Independent, "Frei Otto was the archetype for collaboration between professions for half a century – in fact he was a one-man collaboration in his own right. Whilst renowned for his interest in tented structures exemplified by the roof to the 1972 Olympic Games stadium in Munich, his work was directed broadly at creating the maximum from the minimum. He deservedly won the Royal Gold Medal in 2005, and his ingenuity, imagination and invention will be sorely missed."
Otto died two weeks before he was to be awarded the Pritzker Prize, architecture's most significant award. In an announcement that was to have been made on 23 March but was brought forward, the Pritzker jury commented that Otto "...embraced a definition of architect to include researcher, inventor, form-finder, engineer, builder, teacher, collaborator, environmentalist, humanist, and creator of memorable buildings and spaces" and made the award in recognition of "his visionary ideas, inquiring mind, belief in freely sharing knowledge and inventions, his collaborative spirit and concern for the careful use of resources."
Frei Otto, architect: born Siegmar, Germany 31 May 1925; married 1952 Ingrid Smolla (four daughters, one son); died Warmbronn, Germany 9 March 2015.
Reuse content