A heavily pregnant MP was allegedly accused of "bringing down the whole of womankind" and told not to play the "pregnancy card" after leaving a debate early to eat.
Tulip Siddiq, who was elected as the Labour MP for Hampstead and Kilburn in 2015, was criticised by the Deputy Speaker Eleanor Laing after leaving a debate on Universal Credit welfare in the House of Commons after just over two hours, according to claims published by the Evening Standard.
Records show that at one point, Ms Laing told the House: "I also remind the House, because perhaps newer Members have forgotten, having been away for Christmas, that if one makes a speech in the Chamber, it is courteous and required by the rules of the House that one stays in the Chamber certainly for the following speech and usually for at least two speeches thereafter. The people who have not done so today know who they are."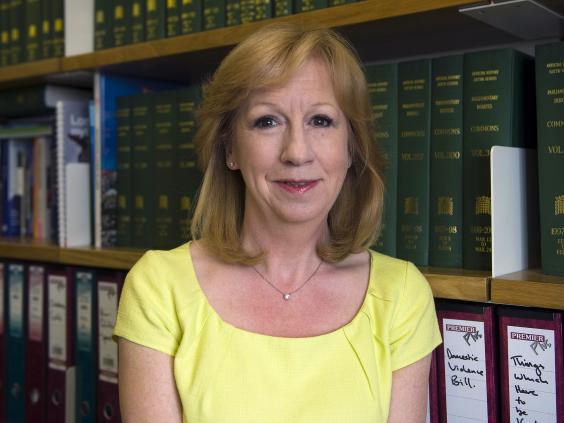 Witnesses said Ms Siddiq, who is seven months pregnant, was reportedly called over by Ms Laing after returning 45 minutes later and apologised for leaving without mentioning her pregnancy. 
But witnesses told the Standard Ms Laing was "really laying into her" during their "intense" exchange, and at one point told her: "Don't play the pregnancy card with me". 
People news in pictures
People news in pictures
1/30 23 September 2016

A statue of the movie boxer Rocky stands near the stage entrance as Republican presidential nominee Donald Trump holds a rally with supporters in Aston, Pennsylvania

REUTERS

2/30 22 September 2016

Priscilla Chan embraces her husband Mark Zuckerberg while announcing the Chan Zuckerberg Initiative to "cure, prevent or manage all disease" by the end of the century during a news conference at UCSF Mission Bay in San Francisco

REUTERS

3/30 21 September 2016

British Foreign Secretary Boris Johnson reads before a meeting of the United Nations Security Council during the 71st session of the U.N. General Assembly at U.N. headquarters in New York

REUTERS

4/30 20 September 2016

Britain's Prince William sits in the cockpit of his East Anglian Air Ambulance (EAAA) H145 helicopter, in London

REUTERS

5/30 19 September 2016

Model Cara Delevingne poses for photographers upon arrival at the Burberry Spring/Summer 2017 fashion show at London Fashion Week

AP

6/30 19 September 2016

Cuba's former leader Fidel Castro, right, shakes hands with Iranian President Hassan Rouhani, center, in Havana. Rouhani is on a one-day official visit to Cuba

AP

7/30 18 September 2016

French far-right Front National (FN) party's President, Marine Le Pen, gestures as she delivers a speech on stage during the FN's summer congress in Frejus, southern France. Marine Le Pen's slogan reading "In the name of the [French] people" is seen on the rostrum

AFP/Getty Images

8/30 17 September 2016

Pope Francis holding an infant during his visit to the neonatology ward of San Giovanni Hospital in Rome

AFP/Getty Images

9/30 16 September 2016

Outgoinng leader Nigel Farage embraces new leader of the anti-EU UK Independence Party (UKIP) Diane James as she is introduced at the UKIP Autumn Conference in Bournemouth Diane James was announced as UKIP's new leader on September 16 to replace charismatic figurehead Nigel Farage. Farage made the shock decision to quit as leader of the UK Independence Party following victory in the referendum on Britain's membership of the European Union. / AFP PHOTO / DANIEL LEAL-OLIVASDANIEL LEAL-OLIVAS/AFP/Getty Images

AFP/Getty Images

10/30 15 September 2016

Musicians and members of the Beatles, Paul McCartney, right, and Ringo Starr pose for photographers upon arrival at the World premiere of the Beatles movie, Ron Howard's 'Eight days a week-the touring years' in London

AP

11/30 15 September 2016

Hillary Clinton boards her plane to return to campaigning after her bout with pneumonia at Westchester County Airport in White Plains, New York

AFP/Getty Images

12/30 15 September 2016

Japan's main opposition Democratic Party's new leader Renho (C) raises her fists with her party lawmakers after she was elected party leader at the party plenary meeting in Tokyo

REUTERS

13/30 15 September 2016

Secretary of State John Kerry listens as actor and activist Leonardo DiCaprio speaks at the Our Ocean, One Future conference at the State Department in Washington. The conferences focus on marine protected areas, sustainable fisheries, marine pollution, and climate-related impacts on the ocean

AP

14/30 14 September 2016

North Korean leader Kim Jong Un provides field guidance to Farm No. 1116 under KPA Unit 810, in North Korea

REUTERS

15/30 13 September 2016

Britain's Prime Minister Theresa May greets Myanmar's State Counsellor, Aung San Suu Kyi in N10 Downing Street. Aung San Suu Kyi is on an official visit to London

EPA

16/30 12 September 2016

Lindsay Lohan making a trade at BGC Annual Global Charity Day at Canary Wharf in London

Getty Images

17/30 11 September 2016

Hillary Clinton waves to the press as she leaves her daughter's apartment building after resting in New York. Clinton departed from a remembrance ceremony on the 15th anniversary of the 9/11 attacks after feeling "overheated," but was later doing "much better," her campaign saidImages

AFP/Getty Images

18/30 11 September 2016

Tibet's exiled spiritual leader the Dalai Lama greets Belgian Flemish Parliament President Jan Peumans during a public debate in Brussels

REUTERS

19/30 11 September 2016

Producer Colin Firth arrives on the red carpet for the film "Loving" during the 41st Toronto International Film Festival (TIFF), in Toronto, Canada

REUTERS

20/30 10 September 2016

Russian President Vladimir Putin poses for a photo during the celebrations for the City Day at Red Square in Moscow, Russia

REUTERS

21/30 9 September 2016

Prince Carl Philip and Princess Sofia with Prince Alexander during his christening at the Palace Chapel of the Drottningholm Palace, Stockholm, Sweden

REUTERS

22/30 8 September 2016

Actress Lily-Rose depp and actress Natalie Portman (R) attend the Premiere of the movie "Planetarium" presented out of competition at the 73rd Venice Film Festival

AFP/Getty Images

23/30 8 September 2016

UN Special Envoy, Angelina Jolie is greeted by UK Vice Chief of the Defence Staff General Sir Gordon Messenger at the UN Peacekeeping Defence Ministerial at Lancaster House in London

Getty Images

24/30 7 September 2016

Apple CEO Tim Cook shows an iPhone 7 to performer Maddie Ziegler during an event to announce new products in San Francisco

AP

25/30 7 September 2016

Usher poses on his star after it was unveiled on the Hollywood Walk of Fame in Los Angeles, California

REUTERS

26/30 7 September 2016

President Barack Obama greets monks as he tours the Wat Xieng Thong Buddhist Temple in Luang Prabang. Obama became the first US president to visit Laos in office, touching down in Vientiane late on 5 September for a summit of East and South East Asian leaders

AFP/Getty Images

27/30 7 September 2016

Philippines President Rodrigo Duterte attends the ASEAN Summit in Vientiane, Laos, two days after he has labelled US counterpart Barack Obama a "son of a bitch" and warned him not to question his policy of extrajudicial killings

REUTERS

28/30 6 September 2016

Cast member Eddie Murphy (L) poses with former California Governor Arnold Schwarzenegger at the premiere of "Mr. Church" in Los Angeles, California

REUTERS

29/30 6 September 2016

Russian President Vladimir Putin pays his respects at the grave of late Uzbek leader Islam Karimov in the Shaki Zinda cemetery in Samarkand

AFP/Getty Images

30/30 6 September 2016

North Korean leader Kim Jong Un provides field guidance during a fire drill of ballistic rockets by Hwasong artillery units of the KPA Strategic Force

Reuters
Ms Siddiq told The Independent the reported incident highlighted how outdated conventions in the House of Commons are, particularly for those who are pregnant or have health problems.  
She said her focus is now directed at trying to update older Parliamentary conventions.  
"On the subject of voting, for example, it is time that certain procedures in the House were brought into the 21st century for those with individual circumstances that require greater flexibility," she said. 
"Just this week I tabled a cross-party Early Day Motion (920) to establish voting rights for MPs absent from Parliament due to maternity or paternity leave. Elsewhere in society these matters would just be common sense, but it seems Parliament lags behind in correcting its standing orders and conventions that are in some cases literally centuries old."
A spokesperson for the House of Commons said it could not comment on reports of private conversations. It said "Rules and Courtesies of the House" state: "After you have spoken [in a debate] you must remain in the Chamber for at least the next two speeches."
The spokesperson said "the chair is able to grant a brief leave of absence at his or her discretion" if a Member applies privately to the chair to leave the Chamber.
Ms Laing did not respond to requests for comment. 
Reuse content