Henry Worsley's obsession with completing Sir Ernest Shackleton's unfinished journey to the South Pole solo led him to the brink of Antarctic history. On Mondat the Duke of Cambridge led tributes to the fearless British explorer who died a mere 30 miles from his journey's end.
Joanna, Worsley's wife, confirmed his death in a statement, saying he died of "complete organ failure" after being airlifted to hospital in Chile on Friday, suffering from exhaustion and dehydration.
The 55-year-old former Army officer from Fulham, west London, was trying to complete Shackleton's historic unfinished expedition, unsupported and unassisted.
He had successfully raised more than £100,000 for the Endeavour Fund, run by the Duke of Cambridge, Duchess of Cambridge and Prince Harry's Royal Foundation, which helps injured servicemen  and women.
Prince William, who was patron of the expedition, expressed his immense sadness at the explorer's death, saying he and Prince Harry had lost a friend.
Worsley began the trek in November, pulling a sledge containing his food, tent and equipment. With no supply drops or assistance from dogs, the ex-lieutenant colonel faced temperatures of minus 44C, battling white-out blizzards and treacherous ice. 
Explorers' demise
Captain Robert Scott  (1868-1912) Led a team to the South Pole, only to find that they had been beaten by Amundsen's Norwegian expedition.  Scott and his party died 11 miles from a food depot.
Xavier Mertz (1882-1913) Swiss explorer joined Douglas Mawson's Australian Antarctic expedition which lost its food and sledges when third-man Belgrave Ninnis fell down a crevasse. It was alleged  Mawson starved Mertz to death so he could eat him.
Roald Amundsen (1872-1928) Norwegian beat Scott to the South Pole in 1911 expedition but disappeared while flying near Bear Island in the Arctic.
Determined to complete Shackleton's 1915 expedition, thwarted a century ago after his ship Endurance was trapped in pack ice, Worsley had passed the South Pole, covering  913 miles. 
Worsley, who has two children, was 30 miles from completing the 943-mile trek across the Antarctic land mass and 71 days into his challenge when he succumbed to bacterial peritonitis, inflammation of the peritoneum, the thin layer of tissue that lines the inside of the abdomen. Worsley was forced to abandon the venture and call for help. He had surgery but died on Sunday.
In his final statement sent from Antarctica, Worsley said: "I set out on this journey to attempt the first solo unsupported crossing of the Antarctic landmass, a feat of endurance never before achieved.
"Having been a career soldier for 36 years and recently retired, it has been a way of giving back to those far less fortunate than me. 
"The 71 days alone on the Antarctic with over 900 statute miles covered and a gradual grinding down of my physical endurance finally took its toll today, and it is with sadness that I report it is journey's end – so close to my goal."
Mrs Worsley said her husband had "achieved his Shackleton solo goals" of raising more than £100,000 to "help his wounded colleagues" and "so nearly" completed the first unsupported crossing of the Antarctic landmass, undertaken under "exceptionally difficult weather conditions".
Prince William said: "Even after retiring from the Army, Henry continued to show selfless commitment to his fellow servicemen and women, by undertaking this extraordinary Shackleton solo expedition on their behalf. We have lost a friend, but he will remain a source of inspiration to us all, especially those who will benefit from his support to the Endeavour Fund."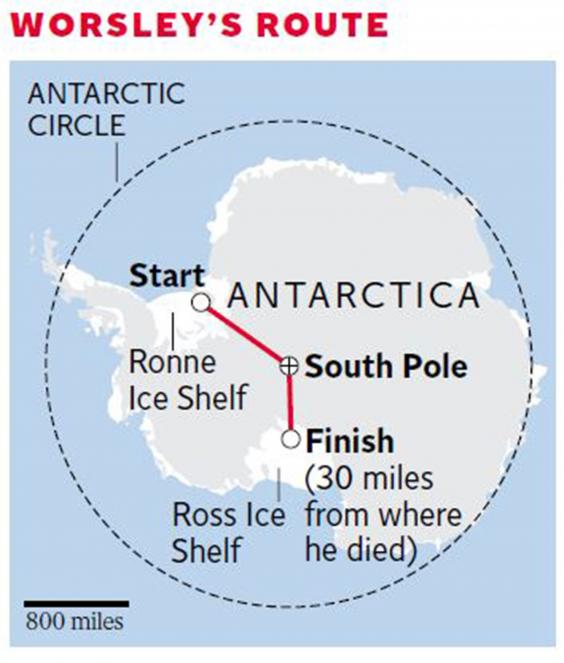 David Beckham shared a picture of the two, which was taken when the former footballer made a trip to the Antarctic. He said he was "lucky to have met Henry", who had "served our country for so many years".
Henry Worsley served with the Royal Green Jackets and later the Rifles Regiment, retiring last October. Since childhood he had pursued a passionate interest in the lives of the Antarctic explorers of the Edwardian age – Shackleton, Scott and Amundsen. In 2008, Worsley led an expedition to commemorate the centenary of Shackleton's "Nimrod" journey, which pioneered a route through the Transantarctic Mountains via the Beardmore Glacier to a point only 97 miles short of the South Pole. 
Sir Nick Carter, head of the British Army and a close friend, called Worsley "a remarkable, brave man with extraordinary traits of courage and determination and tenacity to try and achieve his goal".
Reuse content