On Sunday night, thousands of viewers tuned into the Discovery Channel to watch the high-wire artist Nik Wallenda walk a line suspended 600ft above downtown Chicago.
The two-hour "TV event", Skyscraper Live with Nik Wallenda, had been feverishly trailed for weeks, and the preamble to Wallenda's seven-minute feat consisted of breathless alarmism by two news anchors – "if he falls, death is all but certain"; "one man, zero room for error" – alongside clips of the performer's previous stunts. Wallenda tweeted his 75,000 Twitter followers in the lead-up to the event (#SkyScraperLive), but abandoned plans for a scheduled selfie at the mid-point because of the high winds.
Discovery Channel aired the stunt with a 10-second delay so it could cut away if Wallenda plummeted to his death; fortunately this proved unnecessary. Wallenda successfully broke two records: walking uphill on a wire suspended at a severe 19-degree incline, from Chicago's 588ft Marina Tower West to the top of the 671ft Leo Burnett building across the Chicago river, and then walking blindfolded between the two Marina City towers. Wallenda's Twitter timeline was flooded with congratulatory messages, Discovery's ratings were up, and Wallenda's $20m (£12.5m) life insurance policy remains intact.
The media trappings of this stunt might be distinctly 21st century, but as for the spectacle itself, very little has changed since the first celebrity funambulist, Charles Blondin (aka Jean François Gravelet) tightrope-walked Niagara Falls in 1859. Admittedly, Blondin's rope was 3in thick and therefore sagged by 59ft; the rope Wallenda traversed the Niagara Gorge on in 2012 was 0.75in of taut metal wire. "I see a stunt as somebody who gets in a barrel and goes over the edge and hopes they don't hit a rock," he said at the time. "What I do is very calculated. I train a long time for it and I consider it more of an art. I guess I don't get offended by people calling it a stunt, but to me it's more of an art than anything."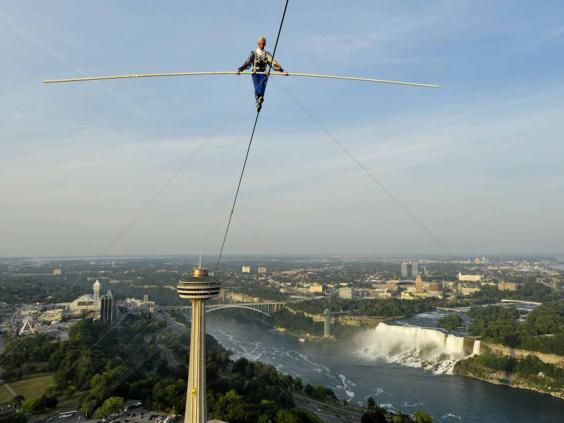 Legal obstacles have added a new challenge to the artform in recent decades. Canadian 'Prince of Air' Jay Cochrane, who died earlier this year of natural causes, performed 800 sky walking acts around Niagara, and repeatedly sought permission to cross at the falls themselves, but this was never granted - aged 68 (and still sky walking) Cochrane watched Wallenda accomplish the feat he had always dreamed of.
Wallenda, 35, is a seventh-generation member of The Flying Wallendas family of aerialists, having begun his circus career at the age of 13. His family have been circus performers since the 1700s, and his great-grandfather, Karl, died in 1978, aged 73, attempting to wire-walk between the two towers of the Condalo Plaza Hotel in San Juan, Puerto Rico. Nik might be the first Wallenda to have a contract with the Discovery Channel for exclusive broadcast of his acts and the first to attempt a selfie, but his chosen career is fundamentally faithful to a centuries-old discipline. Daredevils will always be drawn to heights and crowds will always gather to watch.
In 2008 the documentary Man on Wire, about Philippe Petit, the Frenchman who walked a tightrope between the World Trade Centre towers in 1974, won the Best Documentary Oscar for its fascinating insight into the obsession, the skill and the sheer logistics of taking on an iconic architectural structure and winning. "It was about a moment in time, about achieving the impossible," says Simon Chinn, the film's producer. "And it was also a memorial to those buildings... it's a story that is somehow greater than the sum of its parts."
It is the combination of skill, drama and, perhaps, the sight of seeing a familiar, dominant landmark turned into a playground, toyed with by a small, fragile yet skilled individual, that explains the enduring allure of the funambulist. The art form has been practised in Korea and China for centuries and here in Britain there's been a resurgence in circus performances thanks to the proliferation of boutique festivals. Chris Bullzini is a regular at the Glastonbury Festival and last summer completed what is thought to be the longest high-wire walk in any town centre in England, in Devizes Market Place, Wiltshire. "The future has got to be about walking between more and more iconic monuments," he says. "There are a lot of legal hurdles, a lot of prep goes into every high-wire walk, but the support of the general public definitely helps us get permission to walk iconic buildings around the UK." 
Reuse content