Hillary Clinton allegedly told an interviewer that her husband Bill Clinton was unfaithful to her because he was abused by his mother as a child.
The former Secretary of State reportedly made the comments a year after the Monica Lewinsky scandal saw the then-President impeached by the House of Representatives, during an interview with Pulitzer-prize winning journalist Lucinda Franks.
The original interview was published by Tina Brown's magazine Talk in 1999. However, Franks made the decision to water down Hillary's comments due to the heightened political climate and the media circus surrounding the affair at the time, she claims in her new memoir Timeless: Love, Morgenthau and Me.
Galleys of Franks' book, due out next month, have since been obtained by the Daily News.
In the extracts, Franks recounts purported quotes from her meeting with Hillary, beyond what was published in 1999, about Bill's mother Virginia Kelley – a woman Hillary allegedly called a "doozy".
Hillary reportedly told Franks that Kelley hurt her son "in ways you wouldn't believe".
The Lewinsky Scandal In Pictures
The Lewinsky Scandal In Pictures
1/11 Greeting guests: Monica Lewinsky in 1997.

2/11 Lewinsky attends a White House function with Clinton in 1997.

3/11 The now infamous blue dress, among other gifts given to Lewinsky by Clinton that would be used as evidence in his impeachment trial.

4/11 Lewinsky leaves court on 20 August, 1998, after testifying before a grand jury investigating Clinton.

5/11 A handwritten note to Clinton by Lewinsky that would be later counted on as evidence in his 21-day Senate trial.

6/11 Marcia Lewis, the mother of Monica Lewinsky, prepares to meet reporters on February 10, 1998, outside of the US District Courthouse in Washington.

7/11 Clinton's lawyer, Robert Bennett, addresses the press outside the courtroom on March 5, 1998.

8/11 Lewinsky is escorted by police officers, federal investigators and her attorney, William Ginsburg, as she leaves the Federal Building May 28, 1998.

9/11 The impeachment hearing in progress in November 1998.

10/11 Clinton apologises to the nation for lying to them over his affair with Monica Lewinsky in December 1998

11/11 Monica Lewinsky escorted to her hotel in New York, ahead of her video taped deposition to Republican prosecutors.
"He was abused," the book quotes Hillary as saying. "When a mother does what she does, it affects you forever."
She stopped short of clarifying the exact nature of the abuse she apparently claimed that Bill suffered, but allegedly said that she believed his formative treatment was the reason for his infidelities.
"I am not going into it, but I'll say that when this happens in children, it scars you," Franks' memoir quotes her as saying. "You keep looking in all the wrong places for the parent who abused you."
In the original interview published by Talk, Hillary's description of Bill's childhood seemed to be more directed towards discussing Kelley's issues with her mother Edith Cassidy. Cassidy had a hand in raising Bill when he was an infant.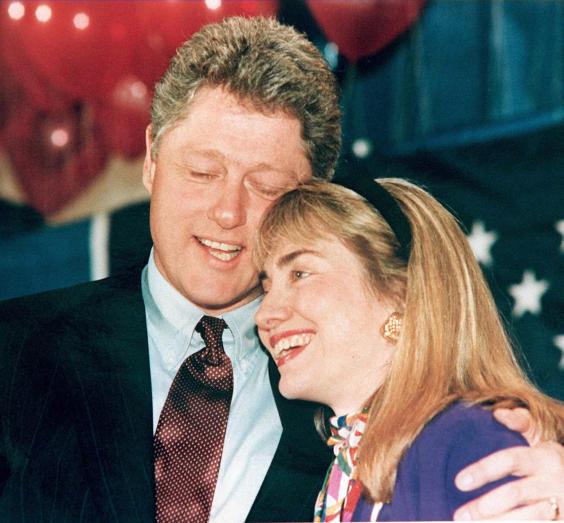 "He was so young, barely four, when he was scarred by abuse and he can't even take it out and look at it," Hillary was quoted as saying.
"There was terrible conflict between his mother and grandmother. A psychologist once told me that for a boy, being in the middle of a conflict between two women is the worst possible situation. There is always a desire to please each one."
The report comes days after Hillary candidly addressed Monica Lewinsky's recent self-penned article about her affair with Bill Clinton, published in Vanity Fair magazine in May.
"The shame, the scorn, and the fear that had been thrown at her daughter left her afraid that I would take my own life – a fear that I would be literally humiliated to death," Lewinsky wrote of her own mother's reaction to the scandal.
"I think she is someone who has to express her own feelings," Hillary told The Telegraph of her reaction Lewinsky's piece.
"I can't characterise her, that wouldn't be right. I'm just grateful that I made the choices I made, to move forward and from that I've had an extraordinary set of opportunities and experiences."
"Forgiveness is a hard choice," she continued.  "It's liberating to be able to reach the point in your life where you feel you can forgive. Everybody feels they have been trespassed upon and nearly everybody has trespassed on somebody else, maybe not intentionally."
Representatives for Hillary and Bill Clinton are yet to respond to request for comment.
Reuse content