James O'Brien's defence of Lily Allen prompted the singer to call into his show live on air. 
Allen became embroiled in a row sparked by comments she made during a visit to a Calais refugee camp while speaking to a 13-year-old refugee from Afghanistan. 
An emotional Allen apologised to the boy "on behalf of my country", sparking anger on social media. 
"It just seems that at three different intervals in this young boy's life, the English in particular have put you in danger," she said.
Refugees welcome here: Protesters demand UK resettle more migrants in response to refugee crisis
Refugees welcome here: Protesters demand UK resettle more migrants in response to refugee crisis
1/7

The Solidarity With Refugees group said Saturday's protest aimed to "show our Government and the world that Britain is ready to welcome more refugees".

Rex Features

2/7

People march through central London as they take part in a protest rally organised by Solidarity with Refugees in a bid to urge the Government to take more action on the migrant crisis

Press Association

3/7

The protest comes days before world leaders meet to discuss crisis at UN General Assembly

Press Association

4/7

Demonstrators made their way from Park Lane to Parliament Square in London on Saturday afternoon

Press Association

5/7

Marchers chanted "refugees are welcome here" and waved banners reading "no-one is illegal" and "let's help people"

Press Association

6/7

The march was supported by charities and groups including the Red Cross, Asylum Aid, Save the Children, Hope Not Hate, Oxfam and the UN Refugee Agency

Rex Features

7/7

In the wake of Alan's death, David Cameron pledged to resettle 20,000 Syrian refugees in the UK over the coming five years but there have been additional calls to re-home those who have already reached Europe, as well as asylum seekers coming from other conflict zones such as Iraq and Afghanistan

Rex Features
"We've bombed your country, put you in the hands of the Taliban and now put you in danger of risking your life to get into our country.
"I apologise on behalf of my country. I'm sorry for what we have put you through."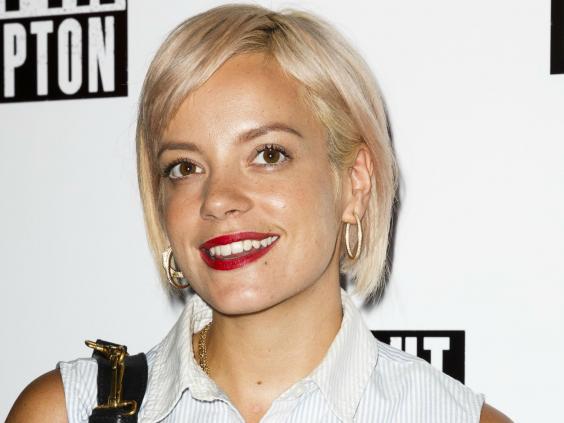 While her comments were criticised by some, one person was very much in her corner: O'Brien, who ridiculed her critics on LBC. 
"The Taliban are diametrically opposed to young women being independently minded and speaking their thoughts," he said. 
"I could open up the phone lines now and form a queue of people here who also hate it and think that Lily Allen is disgraceful for speaking her mind.
"'Goddamn Lily Allen for actually travelling to Calais to meet people and look at a situation before forming an opinion about it. Doesn't she know she could get all her opinions straight from the Mail Online? She doesn't need to actually go there and meet people and see things and demonstrate compassion."
After calling into the show, Allen told O'Brien she was unsurprised by the "witch-hunt" launched after her comments. 
"I expected it," she said. "I think what they seem to have picked up on is I apologised on behalf of the nation, but it was an emotional moment that I was affected by.
"Perhaps I could have chosen my words better and said: I apologise for the part the country I come from has played in the situation you're currently experiencing. But that was what I said.
"It is being used to support the xenophobic rhetoric and narrative that we are currently experiencing, especially in the mainstream press."
Reuse content