'America's sweetheart', 'hilarious', 'outspoken', 'scorned' - Jennifer Lawrence has been labelled many things on her way up the Hollywood social ladder.
Now, the actress's ever-inflating hype appears to have reached its pinnacle - she's been compared to the Messiah. And Joan of Arc. And also 'any genius'. No specifics required.
"When I worked with her, I realized the child was a genius," Donald Sutherland, who stars opposite Lawrence as President Snow in the Hunger Games film franchise, told E!Online.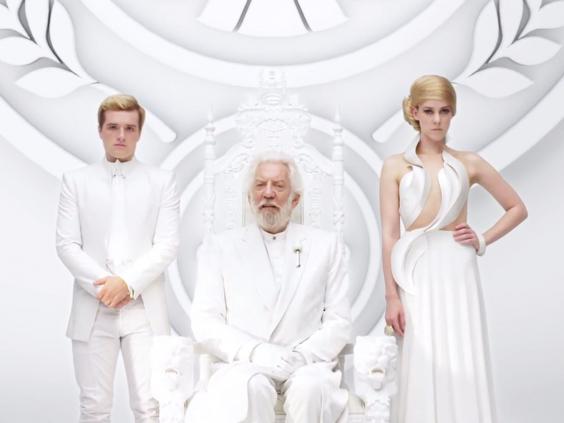 "She's the right person at the right time in the sense of Joan of Arc or Jesus Christ, any genius, in that sense.
Slightly less existentially, he continued: "She has the ability as an actor to tell the truth out of the material and that truth is immediately recognizable with everybody because it hits you in your heart, your solar plexus and your mind.
"And she has the genius of person to be not affected by all of this. She's just a real girl."
Jennifer Lawrence's best quotes
Jennifer Lawrence's best quotes
1/20

"I was at the Oscars, waiting to hear
 if my name was called, and I kept thinking, cakewalk, cakewalk, cakewalk.I thought, 'Why is 'cakewalk' stuck in my head?'" - On why she fell at the Oscars 2013

2/20

"I finally get to make out with Christian Bale and he's a really fat guy. He's Fatman, not Batman." - American Hustle director David O Russell lets slip J-Law's on-set words to US Magazine

3/20

"I can't even... It's like past mad, it's this weird other emotion … I feel like my heart just fell out." - To presenter Shaun Robinson after she spoiled the Homeland Season 3 finale

4/20

"He was at a party, and I turned into a perverted guy. I was like following him into rooms and staring at his ass…He asked me if I was on mushrooms and I said, 'No. I'm dead sober. This is just me.'" - on stalking John Stamos at a party

5/20

"I think any time a girl has to show her thighs, it's never going to be her favorite look. I love the dress...if someone else wore it." - To Good Morning America

Getty Images

6/20

"I'm a horrible dancer! I'm like a dad at prom. I look like Gumby getting electrocuted." - On whether you'll see her twerking any time soon

7/20

Shares in Jimmy Choo, the shoemaker popular with such Jennifer Lawrence, are set to be priced between 140p and 180p, valuing it at up £700 million

PA

8/20

"I wrap myself up to look like Lord Voldemort so that they can't see anything because the thought of giving them a picture that will make them money absolutely infuriates me." - Entertainment Weekly

Getty

9/20

"If I don't have anything to do all day, I might not even put my pants on." - Glamour Magazine

Getty

10/20

"I think people are fascinated with breasts that bounce. They are so used to seeing [fake ones]. People are confused [that mine bounce]! My breasts have a life of their own." - The Sun

Getty

11/20

"You guys are just standing up because you feel bad that I fell and that's really embarrassing, but thank you." - 2013 Oscars acceptance speech

Getty

12/20

"I really would not call myself a fashion icon. I would call myself somebody who gets dressed by professionals. [It's like], 'Dance, monkey, dance' right on the red carpet.' I would call me more of a monkey." - To E!

Getty

13/20

"If anybody even tries to whisper the word 'diet,' I'm like, 'You can go f– yourself." - To Harper's Bizarre

Getty

14/20

"I was surprised at how little camel toe problem there was. I was expecting a lot more." - To E! on her Hunger Games jumpsuit

Getty

15/20

"If I were just your average 23-year-old girl and I called the police to say that there were strange men sleeping on my lawn and following me to Starbucks, they would leap into action." - To Vogue on the paparazzi

Getty

16/20

"I'm the fastest pee-er ever. I'm famous for it." - Rolling Stone

Getty Images

17/20

"I can see the McDonalds right there. Wait, hold on, I didn't say fries! I'm seeing you talk and all I'm seeing is me being pissed I didn't get fries. And you have to remind them about ketchup because they never include ketchup, you have to ask for it. Cheapskates." - Being interviewed on the Oscars red carpet

Getty Images

18/20

"I want to play a character I've never been before-a crazy serial killer like Charlize Theron in Monster. I'd love to have to shave my head."

Getty Images

19/20

"This isn't like an auction, right? You guys aren't going to take it away?" - Backstage at the Oscars

Getty Images

20/20

"This isn't like an auction, right? You guys aren't going to take it away?" - Backstage at the Oscars

Reuters
Of course, Lawrence isn't the only famous person ever to be compared to Jesus Christ. Russell Brand built his entire The Messiah Complex comedy tour around the fact he frequently gets mistaken for the Son of God.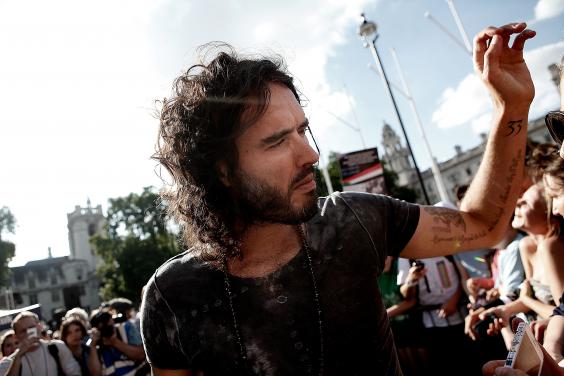 Jared Leto became the subject of several overly flattering memes after debuting an early AD look at the Academy Awards earlier this year.
On a slightly more delusional note, R Kelly compared Chris Brown to Jesus and also Martin Luther King after a series of flagellating run-in with the press following his conviction for assault.
"I only feel sorry for weak people," he told the Guardian's G2 supplement. "And mostly what I've come to find is that the weak people are the ones that are the haters.
"The ones that's talking about Chris Brown, or R. Kelly, or anybody that's successful? I feel sorry for them, not Chris Brown, because he's obviously one strong individual to be able to do what he's done."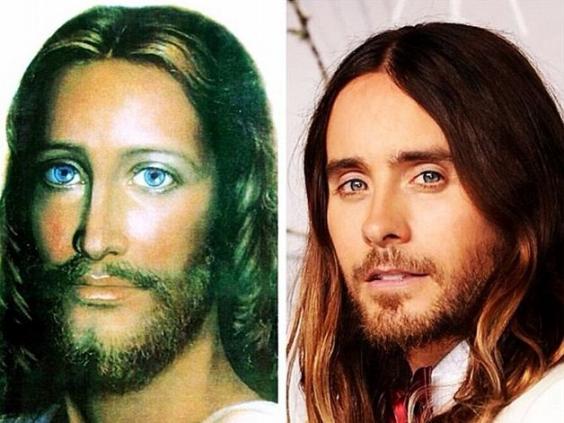 "He got knocked down a little bit and he climbed up. You know, that sounds like Ali to me. That sounds like Martin Luther King to me.
"That sounds like a lot of the greats that have walked this earth. It even sounds a little bit like Jesus to me."
Brown had earlier the same year posted an image of Jesus on his Instagram page after a particularly public run-in with Frank Ocean in a parking lot.
"Painting the way I feel today," he captioned it. "Focus on what matters."
Reuse content