Jeremy Clarkson 'punched' an assistant producer because there was no food laid on at the end of a long day filming, it has been reported.
The Top Gear presenter, 54, allegedly "saw red" and "snapped" over a catering issue, according to the Daily Mirror, in a move that has led to the rest of the series being dropped.
A source told the newspaper: "They came to the end of filming after a long day and Jeremy discovered that no food had been laid on. "He just saw red and hit the assistant producer, who he blamed for not having organised the food."
The producer at the centre of the scandal has been named as Oisin Tymon, 36, who has worked on the hit BBC show for a decade.
The row is said to have taken place after filming in Newcastle with Clarkson's co-hosts James May, 52, and Richard Hammond, 45.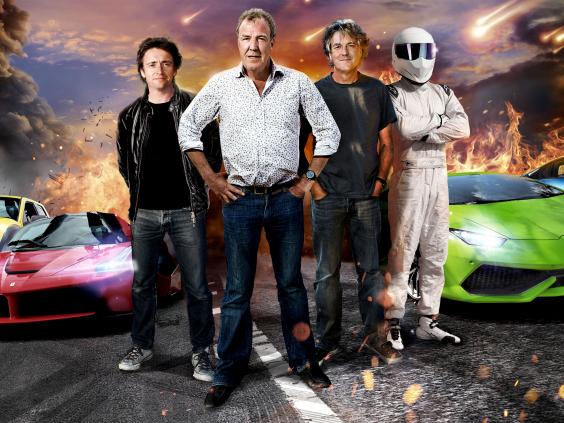 The BBC confirmed he had been suspended after what it called a "fracas" and said that Sunday's episode of Top Gear, which was set to feature the presenters getting to grips with classic cars such as a Fiat 124 Spider, an MGB GT and a Peugeot 304 cabriolet, alongside Gary Lineker, would not be shown.
The remaining two episodes of the show in the current series are also believed to have been postponed.
Jeremy Clarkson's Top 25 Most Obnoxious Lines
Jeremy Clarkson's Top 25 Most Obnoxious Lines
1/24 "Short people. When you've finished using a car, put the f**king seat back, so humans can use it afterwards," he posted on Twitter. Offensively.

2/24 "Honestly, the burka doesn't work. I was in a cab in Piccadilly the other day when a woman in a full burka crossing the road in front of me tripped over the pavement, went head over heels and up it came, red G-string and stockings."

3/24 Driving a Jaguar round a toilet in India: "This is perfect for India because everyone who comes here gets the trots."

Getty

4/24 "The only person who looked good in a 4-seated convertible was Adolf Hitler."

5/24 As a Thai man walked over a bridge he had built during a Top Gear challenge: "That is a proud moment - but there's a slope on it."

Jeremy Clarkson is involved in further controversy over a second set of number plates found in the vehicle he was driving in Argentina

6/24 On the Renault Clio V6 handling bends: "In typical French fashion it just gives up! A bit like the French did with the Germans."

7/24 "I'm thinking. If you had gone to the trouble of making a chemical bomb, why would you detonate it on a coach from Preston?"

8/24 On public sector workers in 2011: "I'd have them all shot. I would take them outside and execute them in front of their families."

9/24 "I don't understand bus lanes. Why do poor people have to get to places quicker than I do?"

10/24 "The only reason the Arabs and Jews have managed to keep their nasty little war going for 50 years is because it never bloody rains there. If the post-war powers had put Israel in Manchester, there'd have been no bloodshed."

11/24 "If all the creatures on earth were the same size, it's said a lobster would have the smallest brain. But then someone invented Wayne Rooney."

12/24 On the invention of the segway: "They're made in America, of course, so fat Yanks can go to the fridge without expending any energy."

13/24 "Supercars are supposed to run over Arthur Scargill and then run over him again for good measure. They are designed to melt ice caps, kill the poor, poison the water table, destroy the ozone layer, decimate indigenous wildlife, recapture the Falkland Islands and turn the entire third world into a huge uninhabitable desert, all that before they nicked all the oil in the world."

14/24 "I'm sorry, but having an Aston Martin DB9 on the drive and not driving it is a bit like having Keira Knightley in your bed and sleeping on the couch. If you've got even half a scrotum it's not going to happen."

15/24 On a caravaning holiday: "You aren't allowed to have a party, you aren't allowed to have music, you aren't allowed to play ball games, you aren't allowed to have a camp fire, you have to park within two feet of a post, you have to keep quiet, you have to be in bed by eleven. This is not a holiday, it's a concentration camp!"

16/24 "Britain's nuclear submarines have been deemed unsafe… probably because they don't have wheel-chair access."

17/24 "If we are being honest HIV is a pathetic virus, it can only live in the air for 6 seconds and it does what ebola does to you in 10 days in 10 years."

18/24 On the Lotus Elise: "This car is more fun than the entire french air force crashing into a firework factory."

19/24 On actress Sarah Jessica Parker: "People think 'oh she must be pretty'. She isn't – she looks like a boiled horse."

20/24 On the BMW Z3: "And if you are clinically insane, by which I mean you wake up in the morning and think you are an onion, here's your car."

21/24 On the Ferrari 430 Scuderia: "It's like God having really unusual sex… it should come with toilet roll."

22/24 "The problem is that television executives have got it into their heads that if one presenter on a show is a blonde-haired, blue-eyed heterosexual boy, the other must be a black Muslim lesbian."

23/24 "If you're thinking of coming to America, this is what it's like: you've got your Comfort Inn, you've got your Best Western, and you've got your Red Lobster where you eat. Everybody's very fat, everybody's very stupid and everybody's very rude - it's not a holiday programme, it's the truth."

24/24 On the N-word row: "I've been told by the BBC that if I make one more offensive remark, anywhere, at any time, I will be sacked."

A screengrab from Jeremy Clarkson's video apology

PA
Meanwhile, an online petition calling for the BBC to "reinstate" Clarkson, who has presented the motoring programme since 2002, has been signed by more than 200,000 people. In response, May tweeted: "Save Clarkson? Save empty cardboard boxes and off-cuts of string. They're far more useful."
Save Clarkson? Save empty cardboard boxes and off-cuts of string. They're far more useful.

; James May (@MrJamesMay) March 11, 2015
Clarkson has not issued a formal statement, but tweeted a mock apology to Ed Miliband, whose wife Justine gave an interview to the BBC which was broadcast yesterday.
He said: "Sorry Ed. It seems I knocked your 'I'm a human' piece down the news agenda."
Sorry Ed. It seems I knocked your "I'm a human" piece down the news agenda.

; Jeremy Clarkson (@JeremyClarkson) March 10, 2015
He also joked on Twitter about films that could replace Sunday's show, after May tweeted to his co-stars: "No Top Gear this weekend, apparently. How about 633 Squadron instead?"
Hammond replied: "No, surely, Last of the Summer Wine; no-one will notice the difference. Job done."
And Clarkson added: "I did some pretty good war documentaries. They could screen one of those."
@MrJamesMay @RichardHammond I did some pretty good war documentaries. They could screen one of those.

; Jeremy Clarkson (@JeremyClarkson) March 10, 2015
The presenter's daughter Em Clarkson also appeared to make light of on the controversy surrounding her dad, tweeting: "Oh God, BBC please take him back... He's started cooking..."
Oh God, BBC please take him back... He's started cooking...

; Em Clarkson (@EmClarkson1) March 10, 2015
According to The Sun newspaper, Clarkson, who is a columnist for the paper, said: "I'm having a nice cold pint and waiting for this to blow over."
Meanwhile, a source told the paper: "He didn't punch anyone."
Clarkson has been at the centre of controversy in recent years, including being placed on his "final warning" in 2014 following a racism row after claims that he mumbled the word "n*****" while reciting the nursery rhyme Eeny, Meeny, Miny, Moe during the show's filming. He was also accused of posting a photograph making a lewd comment about a "slope" on Twitter.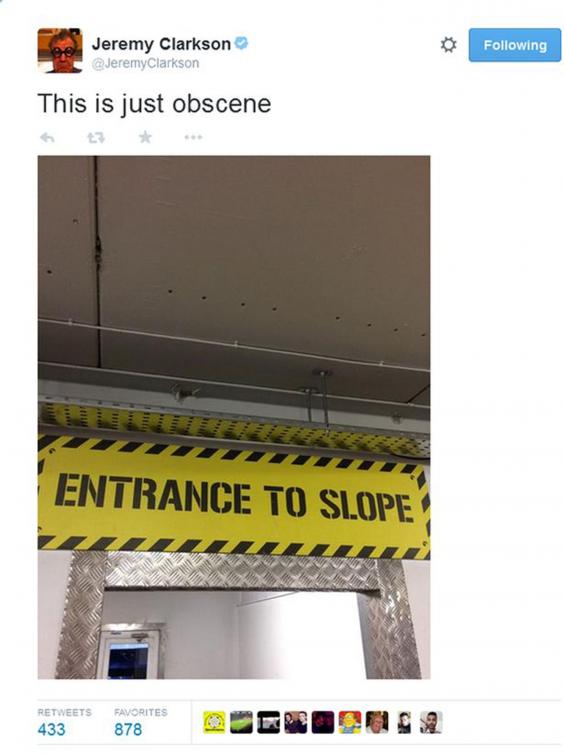 He was cleared of breaching the broadcasting code by watchdog Ofcom after comparing a Japanese car to people with growths on their faces, and faced a storm of protest from mental health charities after branding people who throw themselves under trains as "selfish".
The show's crew was forced to flee Argentina when it emerged they were using a Porsche with the registration number H982 FKL, which some people suggested could refer to the Falklands conflict of 1982; and Clarkson was also forced to apologise for telling BBC1's The One Show that striking workers should be shot.
Yet Top Gear is one of the BBC's biggest money spinners, pulling in millions of pounds, and its latest series launched with a simultaneous broadcast in more than 50 countries.
A BBC spokeswoman said: "Following a fracas with a BBC producer, Jeremy Clarkson has been suspended pending an investigation.
"No-one else has been suspended. Top Gear will not be broadcast this Sunday. The BBC will be making no further comment at this time."
Additional reporting by PA
Reuse content