A US newspaper had an online fail after their site was spammed by multiple picture of a reality TV star currently mired in child sex abuse allegations.
The Chicago Sun-Times website appeared to have gone down with a nasty virus after screenshots taken by Salon captured reality TV star Josh Duggar in almost every picture.
Most embarassingly, his picture - with his wife - appeared above an article titled 'Relationship deal-breakers for millennials'.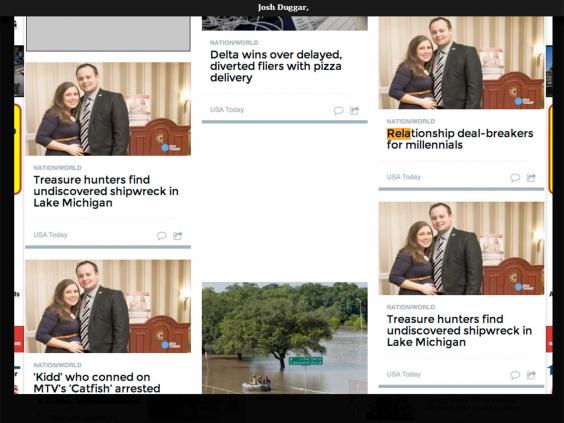 Revelations surrounding Duggar, who came to fame in the US as the eldest child on TLC's hugely popular show 19 Kids and Counting, allege that the 27-year-old had been investigated for molesting at least five underage girls from 2002, when he was 14.
Part of a strict Baptist movement, the strain of which emphasises female submission, modesty, rejection of higher education for women, home-schooling and a shunning of contraception, Duggar is the eldest of Patrick Jim Bob and wife Michelle's 19 children.
On the family's official Facebook page Jim Bob and Michelle posted: "When Josh was a young teenager, he made some very bad mistakes and we were shocked."
The couple added: "We pray that as people watch our lives they see that we are not a perfect family."
Duggar, who has three children and is expecting a fourth, also said in a written statement that 12 years ago he had acted "inexcusably" and apologised for his actions. He added: "We spoke with the authorities where I confessed my wrongdoing and my parents arranged for me and those affected by my actions to receive counseling [sic]."
Reuse content