It's become an insulting term for everything that's wrong with the nanny state: elf and safety. Be it graduating students ordered not to throw their mortar boards into the air or schools outlawing conker fights, the Health and Safety Executive (HSE) is the killjoy that defies common sense and ruins things for everyone.
It's clearly a source of irritation for Judith Hackitt, the no-nonsense chairman of the HSE. The Prime Minister, David Cameron, also shares her frustration about gone-wrong health and safety rules, once describing it as a "national neurosis". The problem grew to such an extent that the HSE, set up 40 years ago, established a Myth Busting Panel two years ago to address it head on. Since then, it has dealt with more than 400 misquoted health and safety cases – an average of two a week.
Exeter University researchers found that half of all the myths related to shops, cafés and leisure centres – which the HSE believes is the result of managers covering up for poor business practice. Other cases range from the ridiculous to the bizarre – such as the Scottish council that banned a dog training club, which had run for 60 years, because of allergy fears; or the Gloucester school that stopped a schoolgirl from wearing home-made frilly socks to school because, it said, they were "a trip hazard".
One in five misconceptions directly affects children, the research found. Those that result in children being banned from activities on baseless "elf and safety" grounds particularly concern Hackitt. She believes that a challenge of the next decade will be a generation of "cotton-wool kids" who have not been exposed to risk in childhood and will grow up to be risk-naive adults – and therefore vulnerable. "I worry how they will behave once they are in the workplace," she says. "It will increasingly become an issue in the next few years.
"They need to be able to live ordinary lives. They should be able to play, fall over and hurt themselves."
A surprising sentiment from the HSE chairman, perhaps? "It is not good for them, as members of society, to be overprotected," she argues. "When they join the workplace, it will be a very hard job for employers to deal with them."
Another source of irritation for Hackitt is the compensation-claim companies that have created a blame culture. "What people sometimes hide behind when they misuse the health and safety term is the fear of being sued, and no one wants to take responsibility for their actions."
She worries that the overall effect of these myths and the blame culture is to "absolutely denigrate" the HSE's work because it makes people cynical about the "genuine need for workplace health and safety".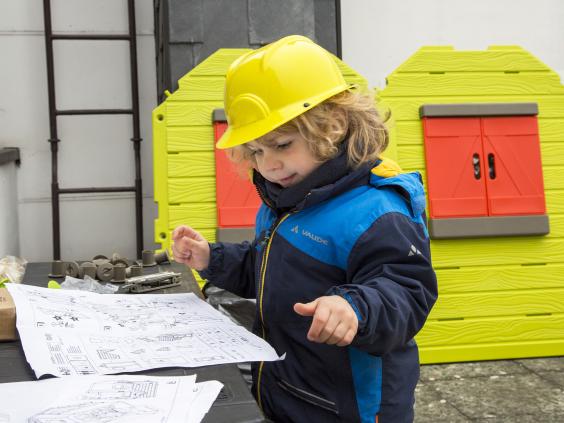 She herself became aware of health and safety as a teenager in a very personal way: her great aunt was scalped by a machine in a horrific factory accident. "She survived," she says. "But I never saw her again without a hat on. She wore it to cover up her injuries."
Hackitt was born in Nuneaton, north Warwickshire, in December 1954 and attended a grammar school in nearby Atherstone. Her father and grandfather worked in mining, which inspired her to study chemical engineering.
She graduated from Imperial College in 1975 and began 15 years at Exxon Chemicals. She was the company's first woman chemical engineer and had to write her own maternity-leave policy. She held a variety of management roles, including business group risk manager with worldwide responsibility for health and safety.
She was the director-general of the Chemical Industry Association from 2002 to 2005. Not surprisingly, Hackitt is cited as a role model by the Women's Engineering Society. Outside of her obvious passion for work, she loves rock music and is married with two grown-up daughters. She met her husband at university.
After a career in the chemical industry, she was appointed chairman of the Health and Safety Commission and became chairman of the Health and Safety Executive in April 2009, when the two organisations merged. She was made a CBE in 2006 for her work in this field.
She finds it frustrating when safety is regarded as "something of a joke", as it is a serious issue and "absolutely fundamental that someone does not go to work to get killed or injured".
She receives a report on every workplace fatality – there are two or three every week. "Every time I see them, it just reminds me that things happen out there that can so easily be avoided," she says. Forty years on from the HSE's creation, people "still fall off fragile roofs and die and the consequences are catastrophic".
Recent cases include the horrific death of a man in Runcorn, Cheshire, who was trapped in a kayak moulding oven he was fixing, which locked and was accidentally switched on by another worker. "This sort of thing should not be happening," she says. "There are measures in place to ensure it doesn't."
Statistics appear to show that she and her organisation are making a difference. There were 133 workplace fatalities in 2013-14 – down from 150 the previous year and a fifth lower than the five-year average of 164. Critics argue that the decline is more a result of the decline in the economy and that fatalities would be reduced still further if the HSE were more aggressive with its inspections.
The HSE has not escaped cuts in public funding, forcing it to concentrate inspections on higher-risk industries. "We are much more focused with inspections," she says, arguing that the efficiencies have been found on the HSE's administrative side. Construction is one high-risk industry which the HSE has targeted. "We were the only country to construct an Olympic park and stadium without a single fatality," she notes.
There is no question of the organisation resting on its laurels. She warns that the changing world of work will bring fresh challenges – such as people obliged to work later in life. "You may be nimble enough to dodge a bull or cow when you are in your forties, but its a different matter when you are 70 or 80," she says.
Reuse content