Mugabe who? Isis what? White and gold and blue and black and just about everything else you hate about the internet rolled into one really horrible sartorial science experiment?
Forget the news. And the not news. Because it was Justin Bieber's birthday on Sunday.
The Prince of Pop celebrating turning the landmark year of 21 – which means he is finally of legal drinking age in the US, where he lives and spends a majority of his time.
Here are all the times he definitely, 100 per cent, under no circumstances had been under the influence during over the past few years.
1) He definitely hadn't been drinking, smoking cannabis or taking prescription pills when he was arrested for DUI in the early hours of 23 January 2014 in Miami, having been caught drag racing his Lamborghini in the street. Even when he tested positive for all of these things.
2) When this mug shot was taken: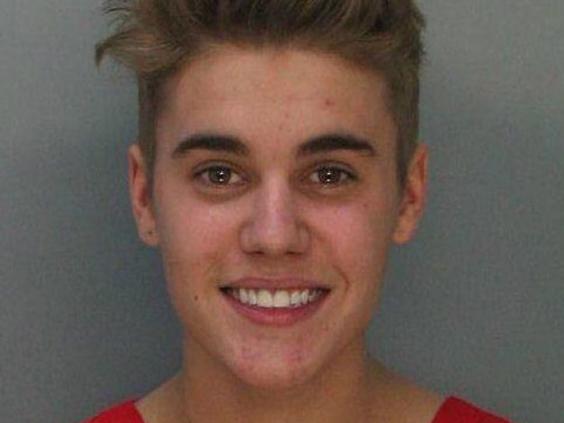 Truly the face of a man who has never been within a metre of a can of Stella. Except…
3) In 2012, he admitted he'd – shock, horror, awe-inspiring disdain in equal measure  – HAD A BEER BEFORE. "For me, it's just like, I like to be in control of myself. I mean, I've had a beer, like, before.... But I never get out of control," he soberly told a reporter at the time.
4) When he decided the snow in Colorado was such a big fan of his music, he wrote his signature in it in his own urine. And then photographed the evidence: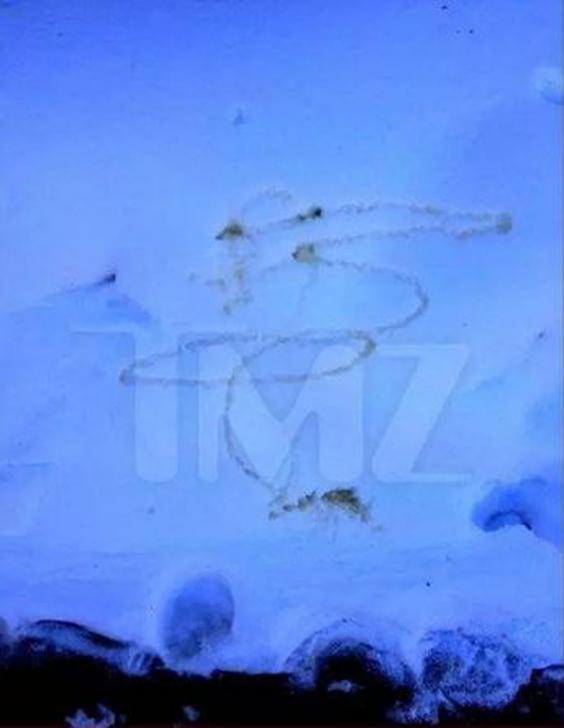 5) He definitely wasn't drunk when he fought Orlando Bloom at Cipriani in Ibiza that time. Biebs had apparently made a lewd remark about the actor's former wife, Miranda Kerr, when the Lord of the Rings actor swang for him. Biebs left the venue clear headed and completely without influence moments later.
6) He was also entirely sober when he Instagrammed images of Bloom crying the following day in a powerful trolling move that almost convinced adults to like the singer for a couple of hours.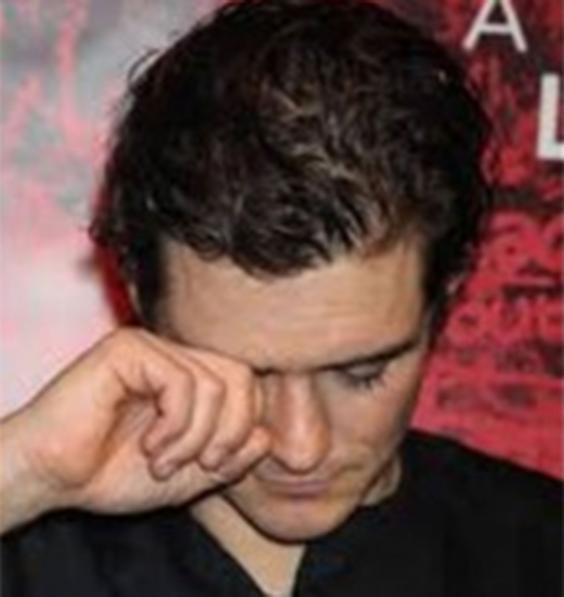 7) When he was 14 and recorded a video of him replacing lyrics in his song "One Less Lonely Girl" with the 'N-word'. "If I kill you, I'll be part of the KKK, but there'll be one less lonely n——r," a video emerged of him laughing his head off while he was singing. Again. No alcohol needed.
8) When he egged a neighbour's house. Again at the end of his entirely un-influenced crime spree in January 2014.
9) And after he was found guilty of soberly throwing eggs at his neighbour's house in November 2014, he claimed his ankles hurt him too much for him to fulfil the required community service order, which was enforced alongside an $80,900 fee in damages and 12 anger management sessions. His aching limbs were not, under any circumstances, the result of alcohol consumption.
Justin Bieber's biggest controversies and mishaps
Justin Bieber's biggest controversies and mishaps
1/17 Biebs gets arrested for DUI and drag racing

The singer appeared dishevelled, but in high spirits, as he smiled for his police mugshot following the arrest for drag racing under the influence of alcohol and drugs

2/17 Biebs assaults a limo driver

Fresh from his arrest in the US, Biebs headed back to his native Canada where he proceeded to get arrested and charged again... this time for assaulting a limo driver

3/17 Biebs lashes out at a photographer

When in London on tour in March, Bieber attacked the paparazzi in an angry rage and tried to grab one photographer's camera. 'I'll f***ing beat the f*** out of you,' he said, before being forced into a car by his bodyguard. Nice.

4/17 Biebs claims Anne Frank was a Belieber

This wildly inappropriate blunder took place in April, in the unlikely setting of the Anne Frank House in Amsterdam. After touring the museum for an hour, Bieber wrote in the guestbook that he hoped the Jewish teenager (who died in 1945 at Bergen-Belsen aged 15 from typhus and malnutrition after hiding from the Nazis with her family for two years) 'would have been a Belieber' - a fan of his.

Getty Images

5/17 Biebs gets done for drugs

The 'Boyfriend' singer was detained at Brisbane airport in Australia in May after customs officials found weed on one of Justin's friends. Bieber was released after a stern warning for 'inappropriate language'. Wash your mouth out Biebs.

6/17 Biebs brawls in Southampton

Who do you think he is? Bieber was reportedly involved in a fight at a Southampton nightclub last spring after taking over the VIP section. His bodyguards were investigated for using heavy-handed tactics to detour fans trying to reach him.

7/17 Biebs tries and fails to own a pet monkey

Justin Bieber's former pet monkey Mally was moved from quarantine into a German zoo in June after the six-month-old capuchin was seized by customs officials. Bieber was given several weeks to produce the health papers required to get him back, but failed to do so. Auf wiedersehen, pet.

8/17 Biebs spits on fans

The singer was accused of spitting on a crowd of adoring fans gathered under his hotel room balcony in Toronto. The July incident was brushed aside by Bieber, however, who denied doing anything so horrible. His representative said that the star had in fact bought fans hot chocolate and played them some new music instead.

9/17 Biebs splits from Selena Gomez

After a three year on-off relationship with Disney star Selena, teenage heartthrob Bieber has officially been back on the singletons market since July. 'Egos turn me off big time,' Selena said when asked about the split. Awkward.

10/17 Biebs hits the brothel

Bieber was filmed by a Brazilian girl in bed after a supposed brothel scandal in the summer. He was then pictured trying to leave, draped in a white sheet and surrounded by male minders. The singer allegedly did the same thing again in Rio de Janeiro in November.

11/17 Biebs pretends to have been cast in a blockbuster

In September, the pop star posted an Instagram picture of the script for the new Batman movie. Watermarked with his name, rumours that he could be the Robin to Ben Affleck's lead began to fly. Bieber has previously expressed his love of the superhero, going as far as having a custom-built Batmobile made for him. Fear not though, Biebs will be nowhere near the film set.

12/17 Biebs wees in a bucket

When a Bieber's got to go, a Bieber's got to go. The singer urinated in a restaurant mop bucket while laughing when in New York in October. He yelled 'F*** Bill Clinton' too, as apparently he has political views.

13/17 Biebs vandalises Australia

The singer was asked to clean up graffiti he spray-painted while on tour in Australia last November. He painted some images of cartoon characters onto a Gold Coast hotel wall,to the disgust of the local mayor. Bieber was visiting the famous beach strip following his 'Believe' world tour shows in Brisbane.

14/17 Biebs takes a paternity test

A lady called Mariah Yeater claimed that Bieber had fathered her 3-month-old son Trystan after a backstage tryst. She later dropped a paternity suit but the singer took a test in November to prove the allegations were false.

15/17 Biebs hit by a bottle in Brazil

Also in November, the Canadian pop star was struck by a bottle and stormed off stage in Brazil. Bieber upset hundreds of devoted fans when he did not return to sing his hit track 'Baby'. Teenagers were left waiting 30 minutes for the 19-year-old's return, but had to leave when his entourage started packing the equipment away.

16/17 Biebs leaves the stage early again

The singer left a performance in Buenos Aires early again, soon after he stormed off in Brazil. This time, he blamed food poisoning for his premature exit, offering an olive branch of evidence in the form of a selfie posted on Twitter showing him lying in a hospital bed hooked up to an intravenous drip.

17/17 Biebs gets shunned by Aussie fans

Twitter followers mean little when you can't shift tickets down-under. Biebs found this out the hard way when he was forced to sell many tickets for his eight-show Australian tour for half their original price. Haters gonna hate Biebs, America still loves you.
10) He definitely wasn't drunk when he decided the way to renounce his former 'wild child' ways publicly was the share the news he'd been baptized in an New York bathtub, then headed out to Rancho Mirage in California to spend an intensive two weeks with a random pastor. Though there's a high chance his publicist probably was.
11) When he 1) bought a pet monkey and 2) abandoned him in an airport in Germany after he failed to make it through customs.
12) He was also totally, TOTALLY sober when he stripped down to his Calvin Klein underpants, forcing model Lara Stone to swallow the small bit of sick she accidentally vomited in her mouth back down before she embarrassingly shared it with the Fashion Rocks audience in September 2014.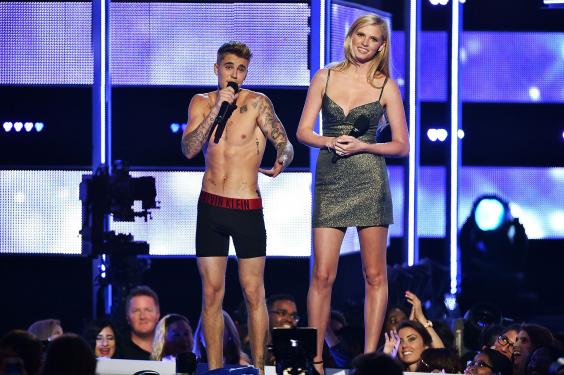 13) When he insulted the Chinese by piggy-backing across the Great Wall of China, only dismounting his body guard to take a few Instagram snaps at the top, before jumping back on and continuing his ludicrous journey: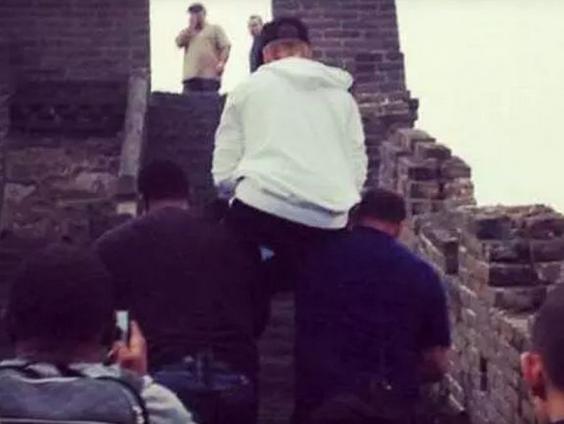 14) When he relieved himself into a mop and bucket at a restaurant kitchen. Not the act of a man who had been drinking.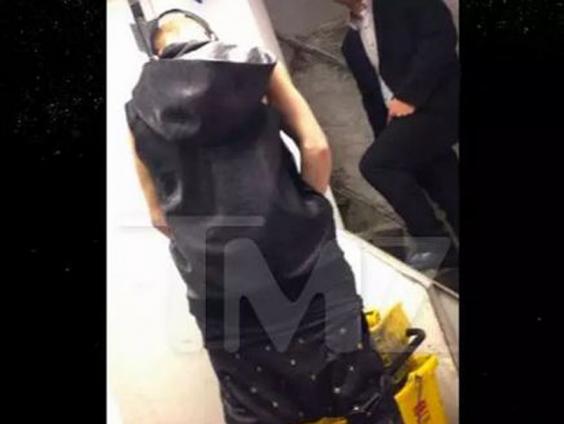 15) Soberly leaving the restaurant through the back door, Bieber also took the time to get in touch with his political values. Which apparently included shouting "F**k Bill Clinton!" at the top of his voice and spraying a photograph of the former US President with cleaning fluid.
16) When he decided to avoid media attention by wedging his head between two cushions in January: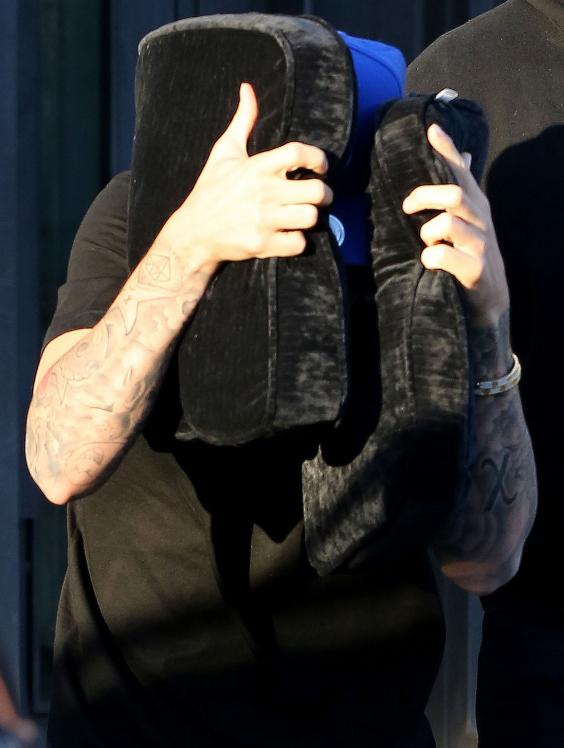 17) When he visited and honoured the Yasukuni Shrine in Japan – a site at the centre of an international row for honouring Second World War criminals.
18) During his entire four-and-a-half-hour deposition interview in March last year:
19) When he took a quick detour in the Netherlands in early 2013 to visit the Anne Frank House. "Truly inspiring to be able to come here," he wrote in the guest book.  "Anne was a great girl. Hopefully she would have been a belieber."
20) When he purchased this vehicle without any sense of irony whatsoever: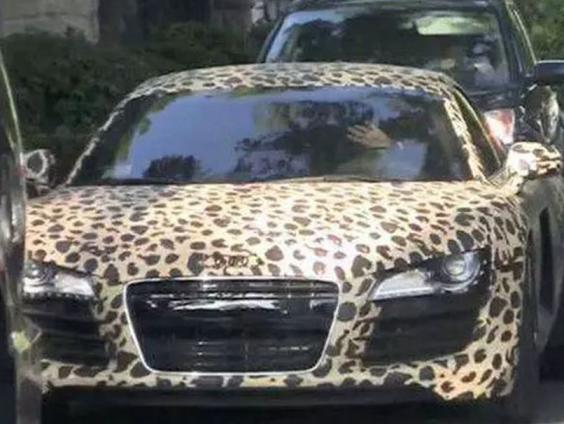 21) The time he told a radio DJ a mum joke regarding fellow pop scoundrel Harry Styles having a penchant for older women. Only to find out the radio host's mother was dead. Cue the singer loudly hanging up during the awkward, entirely sober phoner in July 2012.
Reuse content