Kanye West didn't plan to ruin Beck's big Grammy Award-winning moment on Sunday – he was instructed to do it. By the only thing Kanye West really seems to pay attention to.
"Right when that happened, everybody was looking at me and then people started screaming, 'Kanye! Kanye! Go do it!' Okay, that didn't really happen," he told Ryan Seacreast on his KIIS radio show yesterday.
"These were voices in my head. So the voices in my head told me go and then I just walked up like halfway up the stage."
The gate crash was, he continued, meant to be his injection of humour into the proceedings by referencing his now famous "I'ma let you finish…" interruption of Taylor Swift's Best Video award at the VMAs in 2009.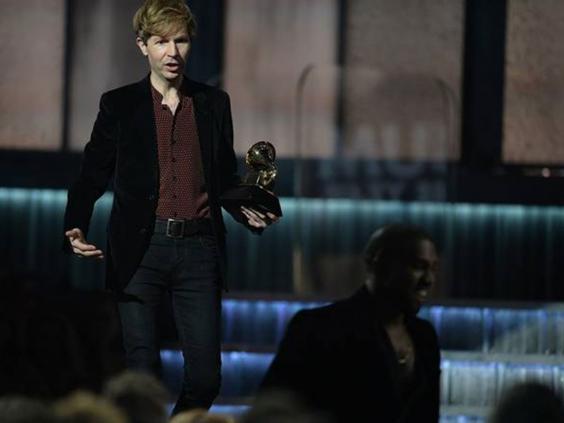 "What I really wanted to do [was] just joke around about what had happened before, but I just really didn't want to take away from Beck's moment or the time he's having to talk," he said.
"The Grammys, they play music really quick no matter who you are and everything. So I didn't want anything to take away from his screen time."
However, having been given an iota of time to really contemplate Beck's win over Beyoncé, West couldn't wait to get his gripes off his chest when asked why he'd decided to get involved by E! after the show.
Grammys 2015 red carpet
Grammys 2015 red carpet
1/41 Madonna in Givenchy haute couture by Riccardo Tisci

Madonna has had her fair share of Grammy outfits, and this year's didn't disappoint. Her look, made by Riccardo Tisci for Givenchy was something of a Moulin Rouge ensemble, including a very tight leather corset, thigh high boots and a net hat.

2/41 Iggy Azalea in Armani Prive

This dress was custom made for Igg Azalea by Armani Prive which may explain the flawless fit. Whilst the dress is pretty spectacular in itself we applaud Iggy's choice of hairstyle which is a nice contrast from all the high ponytails and boho waves.

3/41 Rihanna in Giambattista Valli couture

Rihanna plucked this dress right off the catwalk from last week's haute couture shows in Paris. Everything about it from the colour to the sheer volume adds to the dramatic impact that makes it the perfect choice for Rihanna.

4/41 Kim Kardashian in Jean Paul Gaultier

Debuting a newly cropped hairdo, Kim Kardashian and her new found passion for high fashion opted for Jean Paul Gaultier. It's low cut (standard Kim) and the slightly oversized fit is actually working for her.

5/41 Nicole Kidman in Thierry Mugler

Nicole Kidman like to toe the line when it comes to her sartorial choices. This Thierry Mugler dress was no different, safe but nothing spectacular.

6/41 Beyonce in Proenza Schouler

Beyonce looks every inch the reigning Queen of pop in this black less low-neck gown. Black embroidered lace is clearly a trend for the evening, it would have been nice to see Beyonce in something a little more original.

7/41 Miley Cyrus in Alex Vauthier

Miley Cyrus was surprisingly covered up in this black design which is actually rather modest for the popstar but naturally had a few raunchy cut-outs.

8/41 Gwen Stefani in Atelier Versace

Gwen Stefani proved that it is possible to look formal in something other than a floor length gown in this jumpsuit made by Atelier Versace.

9/41 Chrissy Teigan in Emilio Pucci

The American model went for an all white gown by Emilio Pucci. The dress may have a high neck and long sleeves but with cut-out details that go all the way up the dress and down the sides keep it Grammy appropriate.

10/41 Ariana Grande in Versace

The Grammy nominee opted for a very glam dress by Versace. The one-shoulder dress featured silver detailing all set off with a high pony; a great formal gown without being too grownup for the 21 year old pop star.

11/41 Taylor Swift in Elie Saab

A bright green assymmetric hemline dress for Taylor Swift. The popstar adds a playful pop of colour with bright pink shoes.

12/41 Anna Kendrick in Band of Outsiders

Anna Kendrick opted for a classic black tuxedo shoot. Whilst this is undoubtedly stylish, at the Grammy red carpets it's perhaps a little serious.

13/41 Rita Ora in Prada

A glamorous look for Rita Ora even it's so bright you can't actually look right at it. A little too disco ball perhaps.

14/41 Jessie J in Ralph & Russo

A heavily embellished gown for Jessie J. Black beaded gowns can have a tendency to look gothic especially against Jessie's dark hair but the sheer layers lift the look and give it a modern twist.

15/41 Nicki Minaj in Tom Ford

In the past Nicki Minaj has picked some unusual looks, for this year's awards she dared to bare in a plunging neckline black gown by Tom Ford.

16/41 Ciara in Alexandre Vauthier Couture

Is it a bird, is it a plane? No but it's alot of fabric. There's way too much going on here, the volume of fabric and the train overwhelm Ciara.

17/41 Jennifer Hudson in Tom Ford

Jennifer Hudson opted for a very simple white strapless dress by Tom Ford which while nice enough, won't won't win any best dressed lists.

18/41 Katharine McPhee in Pucci

The American singer was a breath of fresh air on a red carpet dominated by black and white gowns, in this salmon pink Pucci gown.

19/41 Lady Gaga in Brandon Maxwell

Lady Gaga may be in a sparkly silver gown with low neckline and a thigh high split but for Gaga this look is really rather ordinary.

20/41 Annie Lennox

Less is sometimes more as Annie Lennox proves in this floor length black shift dress. Simple and classic.

21/41 Katy Perry in Zuhair Murad

Fresh from her appearance at the Super Bowl, Katy Perry pulled all the stops out in a silver spangled dress by Zuhair Murad, right off the runway. She accessorised the look with purple hair.

22/41 Miranda Lambert in Gabriela Cadena

A lesson in how to update that trusty black dress, just add neon straps.

23/41 Gwyneth Paltrow in Saint Laurent

Amongst a sea of black and silver sequins, Gwyneth Paltrow's shiny red mini dress is refreshingly different, adding some much needed colour to the event.

24/41 Meghan Trainor in Galia Lahav

An off the shoulder black lace and khaki gown for Meghan Trainor. The two tone effect stops the whole look becoming too gothic.

25/41 Giuliana Rancic

E! news presenter Giuliana Rancic made her entrance in a sheer panel jumpsuit, which she swiftly told viewers she couldn't wear underwear with, in case you were wondering.

26/41 Kelly Osbourne in Christian Siriano

Fellow E! presenter Kelly Osbourne went for a demure look, (well if you discount the purple hair) in a monochrome floor length gown.

27/41 Paris Hilton in Charbel Zoe Couture

Yes another low-cut, glittery dress, this time on socialite Paris Hilton.

28/41 Rita Ora in DSquared2

Rita Ora made an outfit change later in the evening, but the popstar should probably have stuck to her silver Prada number; all those ruffles and multicolour print is doing nothing for her.

29/41 Kendall Jenner in Elie Saab

Kendall Jenner opted to go along with the theme of the evening in black halterneck lace gown by Elie Saab.

30/41 Khloe Kardashian in Constantina & Louise

In a look reminiscent of Beyonce's Proenza Schouler dress, Khloe vamps it up in this low-cut black lace embroidered gown with bold red lips.

31/41 Kylie Jenner

Kylie Jenner broke away from her sister's gothic looks with a white beaded gown with a couple of cut-outs on her midriff. It's a conventional look for the sibling that is has built a reputation as the more adventurous of the clan.

32/41 Miranda Kerr

The model attended post-Grammy parties in a 60s inspired metallic mini dress.

33/41 Jessie J

Whilst Jessie J's ceremony gown was rather dazzling, we can't help feel that this monochrome crop-top and pencil skirt number feels a little bit more like her.

34/41 Lady Gaga

Gone is the bizarre costumes of previous awards ceremonies, instead Lady Gaga is channelling a vintage screen siren in this black beaded look complete with feather boa.

35/41 Rihanna in Maison Margiela

From the pretty in pink fairytale princess gown Rihanna arrived in to this androgynous suit. Rihanna couldn't have possibly picked two more completely different but equally brilliant looks.

36/41 Madonna in Givenchy Haute Couture by Riccardo Tisci

If her first outfit was anything to go by, the second performance look was set to be a winner. Red and black matador inspired bodysuit complete with cape.

37/41 Jessie J

Jessie J didn't stray far from her initial outfit choice selecting another black sheer embroidered gown to perform with Tom Jones in.

38/41 Gwen Stefani in Atelier Versace

Gwen Stefani's choice of a jumpsuit instead of gown for the arrivals sealed her place on best dressed lists, this second dress also by Atelier Versace is an equally great look.

39/41 Ariana Grande

A little more daring than her first icy white attempt. As with many other designs seen at the awards, this purple performance gown had strategic cut-outs.

40/41 Beyonce

From one extreme to the other, Beyonce went from a gothic black red carpet arrival look to angelic white beaded dress complete with tulle cape.

41/41 Katy Perry in Valentino

This isn't the first time we've seen this look Valentino caped look - Solange Knowles wore it to get married - equally as amazing second time around.
"I was asked my opinion and I was given a platform. And when given a platform, it's very hard as we know – and I'm going to talk in third person like I'm a crazy person – but it's very hard for Kanye West to not be very true and vocal to what he feels.
"You know, it's like people take the Grammys for granted in a way because of the commercials, because a lot of the musicians are very rich and everything, but this is our Super Bowl."
He went on to describe his comments about Beck respecting "artistry" was a "mis-wording".
He also expressed his hopes that the pair would be able to reconcile and  "still go play basketball and stuff."
Reuse content