Katie Hopkins has claimed boats carrying refugees risking their lives to reach Europe should be turned back, in comments echoing a controversial comment piece that advocated using gunships to deter them from making the journey.
The TV personality, who recently joined the Mail Online as a columnist, called for Britain to leave the European Union as she appeared at Ukip's annual conference in Doncaster. 
Hopkins faced a backlash over a comment piece published five months ago that reacted to the deaths of hundreds of refugees by comparing them to cockroaches when the public was moved by harrowing images emerging from the refugee crisis. 
A photograph of Aylan Kurdi, the young Syrian boy whose body was found on a Turkish beach, sparked calls across Europe for governments to accept a quota of refugees. 
Earlier in the conference, Hopkins suggested the photo, which was published on the front page of this newspaper, was staged. The three-year-old drowned along with his mother and brother as they tried to reach safety in Greece.
Katie Hopkins' most offensive moments
Katie Hopkins' most offensive moments
1/16 Katie Hopkins on 'plus size'

'To call yourself 'plus-size' is just a euphemism for being fat. Life is much easier when you're thinner. Big is not beautiful, of course a job comes down to how you look.'

2/16 Katie Hopkins on naming children

'I think you can tell a great deal from a name. For me, there are certain names that I hear and I think 'Urgh'. For me, a name is a shortcut of finding out what class that child comes from and makes me ask, 'Do I want my children to play with them?' There's a whole set of things that go with children like that and that's why I don't like those sorts of children. 'Hi, this is my daughter Charmaine'. I hear: 'Hi, I am thick and ignorant.''

3/16 Katie Hopkins on gender equality

'Women don't want equal treatment, they couldn't handle it if they got it. It's a tough world out there. What a lot of women are actually looking for is special treatment. What women need to realise is that they have to toughen up.'

4/16 Katie Hopkins on immigration

'I've always said if you go into a school playground and shout Mohammad, you'll probably get 100 children running towards you!"

5/16 Katie Hopkins to Benefits Street's White Dee

'Do you not feel like the patron saint of druggies and dropouts?'

Channel 5

6/16 Katie Hopkins on tattoos

'Are tattoos just a badge for the stupid? For me, and for lots of people like me, when you see tatoos you think of someone who is just looking for attention, who hasn't managed to find a way in their life through conventional means and who is just shouting 'I want attention! I want to be looked at!'

7/16 Katie Hopkins on addiction

'I don't believe what Russell Brand says about addiction. I just don't buy it. Gazza likes drinking, let him crack on. He is enjoying himself.'

8/16 Katie Hopkins on The X Factor

'The X Factor 2013 has ended in a painful showdown between a fat mum in a jumpsuit (Sam Bailey) and a small boy in whatever his mum laid out for him on his bed (Nicholas McDonald)'

ITV

9/16 Katie Hopkins on the Egyptian uprising

'The difference between most mothers and me is that I didn't sit around drinking coffee at baby group for 12 months after the birth of my baby. No, in three weeks I was back in my suit, back at my desk earning profit for my business and I don't see why other women shouldn't do the same.'

10/16 Katie Hopkins on maternity leave

'Egyptian uprising continues to look like Bonfire Night. Protest fireworks. Right up there with angry cup cakes.'

11/16 Katie Hopkins on 'gingerism'

'Ginger babies. Like a baby. Just so much harder to love. A ginger person with tattoos called Jayden? The triumvirate of horror!'

12/16 Katie Hopkins on affairs

'I lied to get someone else's husband because I wanted him. I give myself 8 out of 10 for ruthlessness for that one.'

13/16 Katie Hopkins on the elderly

'Personally I hate mobility scooters. I find their owners intolerable. Ran past a mobility scooter going up hill. Made me giggle. I need to grow up and stop being an arse.'

14/16 Katie Hopkins after the Glasgow helicopter crash

'Life expectancy in Scotland is 59.5. Goodness me. That lot will do anything to avoid working until retirement.'

15/16 Katie Hopkins on Ramadan

'Channel 4 broadcasts Islamic calls to prayer for Ramadan. A 30 day reminder that minority rules in the UK. Any more PC, it'd be a bloody laptop.'

16/16 Katie Hopkins on self-harming

'I am advised by the Twitterati to 'cut myself'. I grazed myself on my house gate yesterday. Will that suffice?'
Hopkins did not directly respond to the outpouring of anger after public attention returned to her dehumanising refugees piece. She later vowed she would not to be silenced and on Friday addressed the crisis directly. 
Speaking at the conference, she told Sky: "Do I think we need to turn back the boats? Do I think we should be policing the med? Do I think we should be dissuading migrants from making that journey? Absolutely.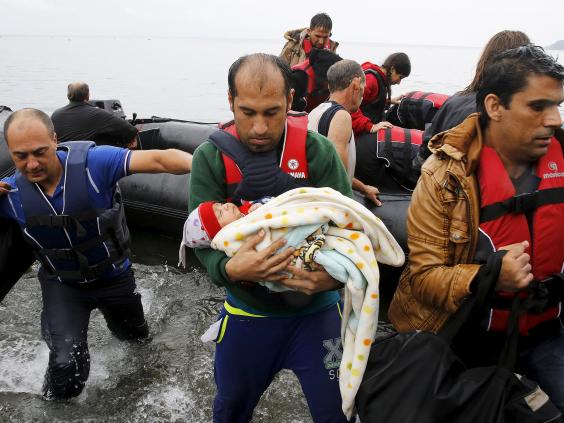 "You were all alarmed by the photo of the dead child on the beach, but really, if we stopped those boats from coming, that wouldn't have happened."
Hopkins told the Press Association she hoped Britain would vote to leave the EU in the in/out referendum. "We are about to be deluged by a wave of immigration and I don't think it's something our country can cope with any more," she said. 
"You all saw a picture in the newspapers and you felt bad about it and so you want to make yourself feel better."
Hopkins insisted she wouldn't be opening her homes to refugees, an offer made by some members of the public and figures such as Bob Geldof and Eric Cantona. "I stand for British people and putting British people first."
Reuse content