Katie Hopkins ignited yet more outrage following a series of remarks she made about a nine-year-old girl with autism.
Posting as she tuned into Channel 4 documentary Born Naughty?, which followed the therapy of nine-year-old Honey, who had newly been diagnosed with mild autism and Pathological Demand Avoidance, The Sun columnist wrote:
Honey can't complete the autism assessment as she is too busy being a complete twat. But the shit mum assessment is complete #bornnaughty

Katie Hopkins (@KTHopkins) May 14, 2015
She also compared her to a farm animal, made jokes about her weight and suggested her parents use military discipline.
Naturally, her comments sparked a strong response from followers, parents and autism awareness campaigners alike.
The National Autistic Society described the incident as "a new low" for Hopkins.
Jane Harris, Director of External Affairs and Social Change at the NAS, told The Independent: "It's unacceptable to talk about children in this aggressive way, regardless of whether they have a diagnosed condition like autism or not."
"If Katie wants to really understand autism, we would like to invite her to come to meet some members of the National Autistic Society and hear about the challenges they face every day," she concluded. Now, Nicky Seers, the mother of a seven-year-old son Sam, who has been diagnosed with autism, has written an open letter to Hopkins, highlighting the damaging nature of her posts that she believes "sets us back 20 years".
Originally published in The Mirror, it reads:
Dear Katie Hopkins,
You don't know me, but boy do I know who you are.
See, I feel I need to explain a few things to you. I'm a mum of an autistic child called Sam, he's almost seven years old and he's amazing.
I'm also a parent support worker and help run an autism support group.
One of the things that breaks my heart is meeting parents with newly-diagnosed children and their stories of pure ignorance they have to go through daily.
You know the sort of thing - kid kicking off in Sainsbury's, people tutting or even stating how 'a smack would sort them out'.
They don't know the absolute sensory pain our children are going through with the loud supermarket lights - yes, that's right, the lights!
Or they are, like my son, petrified of automatic doors and standing screaming outside the shop.
I've grown a very tough skin but comments you made about a child being a t*** over Twitter have upset me.
See, comments like that set our community back by 20 years, which is a real shame as we've come so far.
It's bad enough getting judged on a daily basis without someone in the public eye making comments about a child, or stating the Labour Party's Ed Miliband is on the spectrum - like it's something horrific.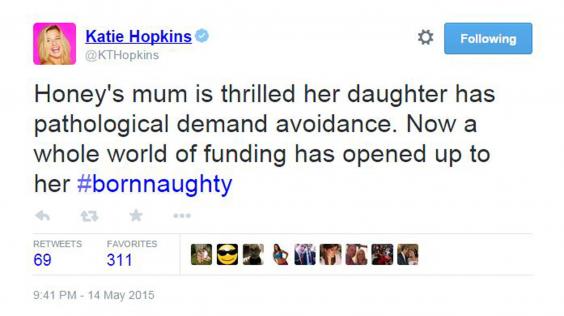 You should come along to our support group and meet our amazing parents and children.
That's an open invite. I'm all for educating the ignorant.
I'm not going to ask you to apologise - what would be the point? But I will say one thing: autism, or any disability, can happen to anyone. You should know this, having epilepsy yourself.
Kind Regards,
Nicky Seers
Hopkins is yet to respond to Seers' offer, nor that of the National Autistic Society.
Katie Hopkins' most offensive moments
Katie Hopkins' most offensive moments
1/16 Katie Hopkins on 'plus size'

'To call yourself 'plus-size' is just a euphemism for being fat. Life is much easier when you're thinner. Big is not beautiful, of course a job comes down to how you look.'

2/16 Katie Hopkins on naming children

'I think you can tell a great deal from a name. For me, there are certain names that I hear and I think 'Urgh'. For me, a name is a shortcut of finding out what class that child comes from and makes me ask, 'Do I want my children to play with them?' There's a whole set of things that go with children like that and that's why I don't like those sorts of children. 'Hi, this is my daughter Charmaine'. I hear: 'Hi, I am thick and ignorant.''

3/16 Katie Hopkins on gender equality

'Women don't want equal treatment, they couldn't handle it if they got it. It's a tough world out there. What a lot of women are actually looking for is special treatment. What women need to realise is that they have to toughen up.'

4/16 Katie Hopkins on immigration

'I've always said if you go into a school playground and shout Mohammad, you'll probably get 100 children running towards you!"

5/16 Katie Hopkins to Benefits Street's White Dee

'Do you not feel like the patron saint of druggies and dropouts?'

Channel 5

6/16 Katie Hopkins on tattoos

'Are tattoos just a badge for the stupid? For me, and for lots of people like me, when you see tatoos you think of someone who is just looking for attention, who hasn't managed to find a way in their life through conventional means and who is just shouting 'I want attention! I want to be looked at!'

7/16 Katie Hopkins on addiction

'I don't believe what Russell Brand says about addiction. I just don't buy it. Gazza likes drinking, let him crack on. He is enjoying himself.'

8/16 Katie Hopkins on The X Factor

'The X Factor 2013 has ended in a painful showdown between a fat mum in a jumpsuit (Sam Bailey) and a small boy in whatever his mum laid out for him on his bed (Nicholas McDonald)'

ITV

9/16 Katie Hopkins on the Egyptian uprising

'The difference between most mothers and me is that I didn't sit around drinking coffee at baby group for 12 months after the birth of my baby. No, in three weeks I was back in my suit, back at my desk earning profit for my business and I don't see why other women shouldn't do the same.'

10/16 Katie Hopkins on maternity leave

'Egyptian uprising continues to look like Bonfire Night. Protest fireworks. Right up there with angry cup cakes.'

11/16 Katie Hopkins on 'gingerism'

'Ginger babies. Like a baby. Just so much harder to love. A ginger person with tattoos called Jayden? The triumvirate of horror!'

12/16 Katie Hopkins on affairs

'I lied to get someone else's husband because I wanted him. I give myself 8 out of 10 for ruthlessness for that one.'

13/16 Katie Hopkins on the elderly

'Personally I hate mobility scooters. I find their owners intolerable. Ran past a mobility scooter going up hill. Made me giggle. I need to grow up and stop being an arse.'

14/16 Katie Hopkins after the Glasgow helicopter crash

'Life expectancy in Scotland is 59.5. Goodness me. That lot will do anything to avoid working until retirement.'

15/16 Katie Hopkins on Ramadan

'Channel 4 broadcasts Islamic calls to prayer for Ramadan. A 30 day reminder that minority rules in the UK. Any more PC, it'd be a bloody laptop.'

16/16 Katie Hopkins on self-harming

'I am advised by the Twitterati to 'cut myself'. I grazed myself on my house gate yesterday. Will that suffice?'
A petition urging the columnist to apologise to the autistic community on Change.org has thus far gathered over 10,000 signatures.
Hopkins' remarks come after she was similarly criticised for accusing Ed Miliband of behaving "on the spectrum" during the leader's debate last month.
Reuse content