Kirstie Allsopp has defended her comments yesterday which urged young women to put off university in favour of having children before "fertility falls off a cliff", in an interview with Jeremy Paxman and Vagenda magazine co-founder Holly Baxter on Newsnight.
Scroll down to watch the film
The Location, Location, Location presenter described a woman's biological clock as a "taboo" issue, and one that women aren't honest about.
"We've all had friends – who failed to understand this window because women haven't been honest with other women; because there are still lots of things we struggle to achieve and there are still things that women struggle to get on equal terms, so this topic has been taboo," she said.
Baxter told Allsopp that she found her views "depressing" and questioned why a woman should have to change her life according to society's norms.
"I really want society to change; I want us to campaign for things like paternity leave to be extended and for flexible working hours," Baxter said. "I don't want women's lives to have to change."
Allsopp agreed, but bemoaned that "nature is not with you and I. Nature is not a feminist."
She called for women to "make their choices in an informed way" before instinctively opting for further education or a career and to be "more honest" with one another.
"Actually, I'm told that people are constantly reminded in the media about their fertility; about their biological clock ticking; about how they should between a career and a child, and how that should be mutually exclusive," hit back Baxter.
"I think there is so much pressure in the media already. In fact, women are being told to be hyper aware of that."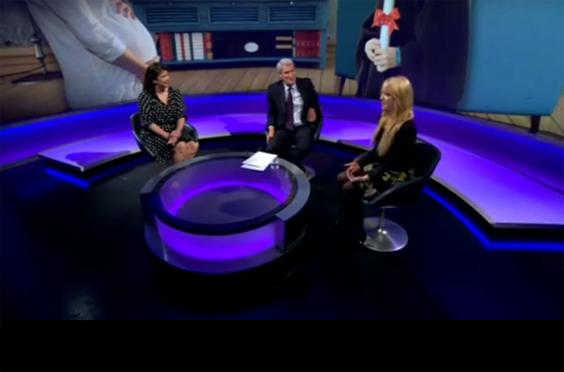 Towards the end of the interview, Allsopp – who met the father of her children when she was 32 after she had begun her successful career – admits that not everyone may have the same priorities to have children, but still asserts that society needs to stop telling women, "It's OK, wait, wait, wait".
"We have to rearrange our lives because we live so much longer," she said.
"Nature has in one sense been beaten by us. We've added 20 years to our life span in the last 100 years, and yet we haven't been able to alter that fertility window.
"Women are born with their eggs, they're desperate to get out by the time you're 14 and by the time you're 35, they've been trying to get out for 20 years."
Reuse content