Lea DeLaria, or more commonly known as her Orange Is The New Black alter ego, Big Boo, says it's high time we ended the negative stigma associated with "being a butch lesbian".
"Being butch is still a dirty little secret, but it's how some of us are," she told The Independent. "We can't forget where we came from. We need to put a positive face on it and it all comes from this international homophobia, that are only certain things are good; that you can't be that type of lesbian. It's important for me to communicate that there's nothing bad about being gay."
Tomorrow (23 August), DeLaria will lead Manchester's Pride Parade in order to promote "gay visibility". Despite Hollywood's attempts to curb her butchness, DeLaria has always remained uncompromisingly true to herself, becoming the first US openly gay comic to appear on late night television.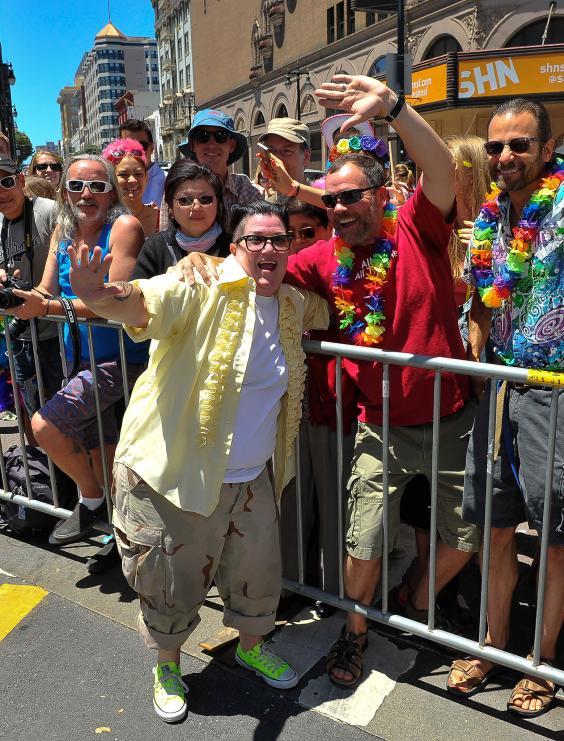 "There was a stage when being a lipstick lesbian was hot, but that wasn't me," she explained. "I walked my own path. Hollywood said that I needed to go along that lipstick route if I wanted a job. They never said, 'put on a dress', but they wanted a soft butch and that's not me.
"I have no problem with doing that when I'm acting – if you pay me enough I'll definitely wear lipstick and a dress. Sometimes when I walk off stage, people think I'm the stage manager."
The 56-year-old – who has played both gay and straight roles –  has always known she was a lesbian, although coming out was still a "difficult process".
"There were no gay people on show when I came out," she said. "Now we're standing on the shoulders of giants. I came from a Sicilian-Catholic upbringing, so it was a bit of a chore. I was a professional lesbian years before I came out, my mother practically yawned when I told her. My father was shocked, but my siblings all said they knew; that kind of attitude."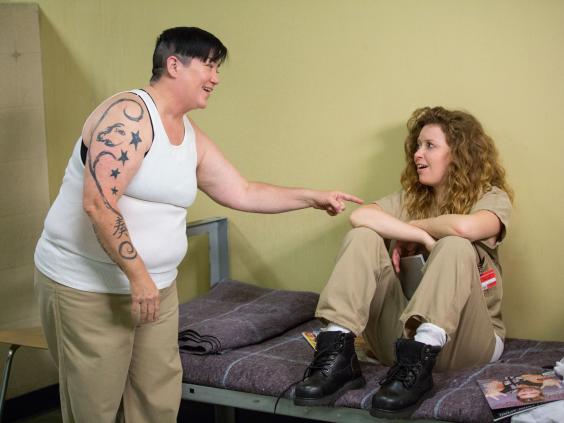 She says there are still certain restrictions that come with being an "out lesbian".
"There is a ceiling that allows you to be a certain kind of gay," she said. "I'm not a lapdog cut person and I won't tow the party line. People don't want you to rock the boat. Even the modern queer movement have a problem with that. When you look like me, you want to act in a certain way. There are two types of lesbians or dykes – the type that go to the Emmys wearing a tuxedo but don't wear the bow tie, and those that do – the unapologetically butch."
Orange Is The New Black season 3 films in Queens, New York
DeLaria went for two roles before landing Big Boo in Orange Is The New Black – neither of which she got. She was told that a new character would be written for her, although remained cynical about the outcome.
"I've heard that a lot. I'm always so close. There are always two paths a writer or producer can go down and I'm always on the other one and I'm so over it. But I thought if there is a series being written about women in prison and I'm not in it, I quit showbusiness."
Of course, she did get it and Big Boo was born – a tough, but stereotype-smashing lesbian who, as DeLaria says, puts a "human face on butch".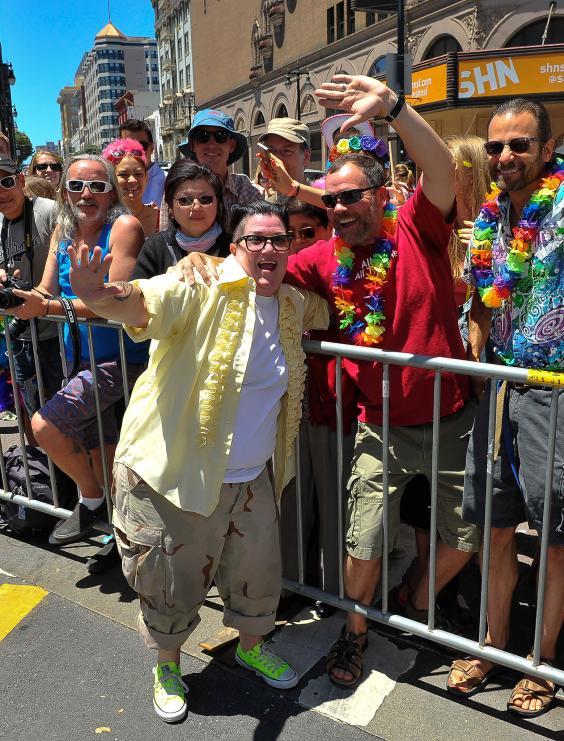 "That type of woman is often branded as stupid, always picking fights and treating women badly," she said. "Boo loves women. She's not a sexist pig."
The series premiered on Netflix in July last year to critical acclaim for its clever, entertaining script and complicated, compelling characters. The show – now in its third series - has been nominated for 12 Emmy Awards, the results of which will be unveiled on 25 August.
"It's broken down so many stereotypes," said DeLaria. "Let's start with just women; when do you even see a show that has this many women in it? And when you do they're talking about their boyfriends or being lonely. These women are real; they're not wondering about whether or not they're fat. Some of them are fat and that's ok because some women are fat. Then you look what Laverne Cox has done for the transgender community; it's amazing. The cast is so diverse – there are black people, transgender people, Hispanic people…"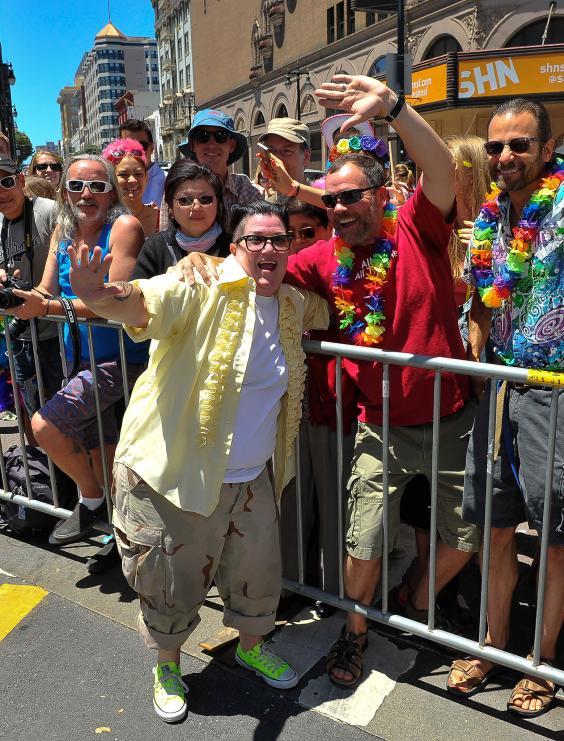 The series is also notable for its lesbian sex scenes, which offers a more candid and less prude take than other shows. In the second series, Big Boo and fellow inmate Nicky (Natasha Lyonne ) embark on a "f**k off" – a competition over who can bed the most women.
"All sex scenes are sanitised today I think," she said. "Netflix takes it further which is great. People want realness. The reason so little of that exists is because of puritan values, censorship and morality codes."
DeLaria hopes that the show will continue for as long as Law and Order, but it looks as if its already made an indelible impact regardless of its duration date.
"The other day a Hispanic baseball team of 17-year-olds chased me down the street and I was worried," she said. "Before Orange Is The New Black they would been calling me a big dyke in a negative way and it would have been scary. But they just wanted to say hello. That is a huge change. So it's all been worth it."
Reuse content