Lena Dunham says that opening up about being date raped at college has helped her recover from the experience.
The Girls creator discusses the incident in her new memoir, Not That Kind Of Girl, although she admits that she had reservations about sharing her account of what happened. Dunham is a graduate of Oberlin College in Ohio.
US colleges have faced scrutiny recently over their handling of sexual assault reports, prompting protests across the country.
The US Justice Department reports that one in five undergraduate women will have experienced sexual assault by graduation, but less than 5 per cent of college rape victims report the assault to law enfocement.
Currently, Columbia University student Emma Sulkowicz is carrying a mattress around college until the man she accuses of raping her is no longer on campus. She calls the performance piece Carry That Weight, a reference to the burden she is being forced to endure.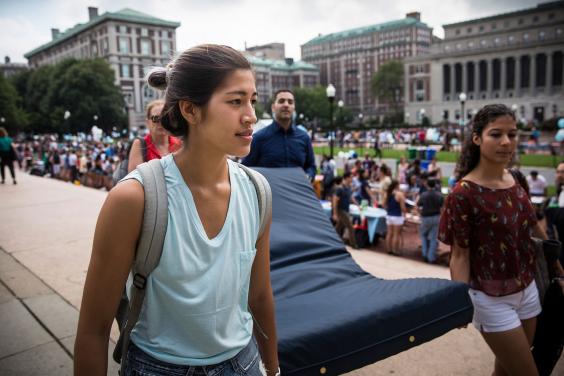 "The chapter about date rape in the book was a really, really terrifying thing for me to put into the world because as important as the topic is - and we are also having this massive moment of cultural awareness about campus assault, which is a very gratifying thing to see and I hope it leads to incredible change - but just sort of honestly, the idea of seeing sort of, you know, the fourth-hand UK Daily Mail headline - Lena Dunham Tells All About Rape - was - it was a nightmare to me," said Dunham on US radio show Fresh Air.
"But at the same time, I think I knew that sharing that experience was - I not only felt it was important because of what I was seeing other young women go through, I felt it was important because of what it was going to give me spiritually to not be hiding that anymore."
Earlier this month, Barack Obama launches a campaign entitled It's On Us, which aims to end and address sexual assault on college campuses
"It was a painful experience physically and emotionally, and one I spent a long time trying to reconcile," Dunham continued. "At the time that it happened, it wasn't something that I was able to be honest about. I was able to share pieces, but I sort of used the lens of humour, which has always been my default mode, to try to talk around it."
Dunham didn't go to the authorities over the incident, but was forced to go to the doctors because she was physically hurt.
"I spent so much time scared. I spent so much time ashamed, I don't feel that way anymore," she said. "And it's not because of my job, it's not because of my boyfriend, it's not because of feminism - though all those things helped  - it's because I told the story. And I still feel like myself and I feel less alone."
Dunham remembers telling a friend about her experience and laughing at her when she told the actress and writer that she had been raped.
"[I] later felt this incredible gratitude for her for giving me that, giving me that gift of that kind of certainty that she had," she said. "I think that a lot of times when I felt at my lowest about it, those words in some way actually lifted me up because I felt that somebody was justifying the pain of my experience."
The incident changed Dunham's remaining experience of college. She stopped going to parties and withdrew from large social situations.
"I really removed myself from that world. I don't know if I would've told you at the time, 'Oh, I'm doing this to keep myself safe,' but obviously in hindsight… I basically removed myself from the social world as I'd known it," she said.