Lindsay Lohan was seen carrying a leather-bound copy of the Koran on her first day of community service - prompting speculation that she'd converted to Islam.
However, this might not be the case.
Despite reading the Muslim text, she is apparently not "fully converting" to Islam.
A spokesperson for Lohan told The Independent: "To my knowledge she is not considering fully converting to Islam, but I know she has been taking a keen interest in the Arabic culture of late."
10 Famous People You Could Date On Tinder
10 Famous People You Could Date On Tinder
1/10 Hilary Duff

A year after splitting from her husband Mike Comrie, the newly single Lizzie McGuire child star has started a profile on Tinder so she can date normal folks, like you or I.

2/10 Leonardo DiCaprio

OK, so the days of Titanic poster boy Leo might be dead in the water, but that hasn't stopped famous lady's man Mr DiCaprio from making himself publicly available. According to "a source" he's been swiping away as a "Leonard".

Getty Images

3/10 Katy Perry

"I'm really deep on Tinder so I don't have a whole lot of time," the pop singer told one radio station following her split from John Mayer for the umpteenth time last year.

Getty

4/10 Shane Warne

Lock up your mothers - Shane Warne is just 13km away, according to his profile. The former cricketer landed himself in hot water via the dating app when a mother-of-two from Adelaide cashed in on their apparently steamy Tinder hookup.

5/10 Lindsay Lohan

Imagine Lindsay Lohan's face when she was happily swiping through Tinder one day and came across her own brother? "Look who I just found on @tinderapp ... hey bro," she tweeted.

6/10 Chris Pine

Whether he's actually on there RIGHT NOW, at this VERY MOMENT, remains unclear. But Chris Pine did tell Cosmopolitan recently: "I have a couple of buddies who use Tinder. Whatever eases the process is great, since it can be awkward or uncomfortable meeting someone."

REUTERS/Stefan Wermuth

7/10 Lily Allen

Is very much married to a builder. But that hasn't stopped her enjoying the contagious swipe action in her spare time. "Just discovered tinder," the singer wrote on Twitter. "*waves goodbye to life*"

8/10 Ed Sheeran

What do you mean you wouldn't want to date pop music's favourite Fraggle, Ed Sheeran? Well you can't. "I got offered the first verified Tinder account," he admitted. However, he added: "I did say no. I haven't got time to go on loads of dates." He wants to play music, or something. No idea.

Getty Images

9/10 Britney Spears

Jimmy Fallon added the singer to the app himself in September 2014 after she split up from David Lucado. Whether she used it or not...

Getty Images

10/10 Samuel Preston

OK, so we've swung down market somewhat. See also Calum Best and the entire cast of Made In Chelsea. They're all on there. Happy swiping.
They added that Lohan had upcoming projects in the Middle East and was keen to learn the language.
"She also spent some time in Dubai earlier this year and became interested in their way of life," the spokesperson said.
Lohan was recently mocked for posting a picture to Instagram mistaking the Arabic words "you're a donkey" for "I'm beautiful".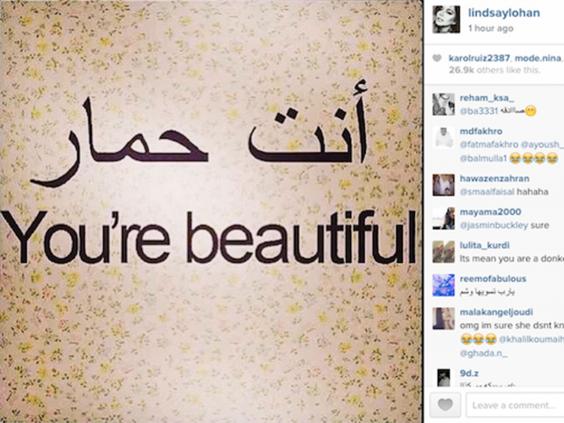 She later explained that the slip-up was an "inside joke" with a friend while she was learning the language, and posts pictures of her efforts to improve her Arabic.
A for #effort pic.twitter.com/ejnDQLyvmE

Lindsay Lohan (@lindsaylohan) April 24, 2015
Lohan was raised a Catholic but is reported to have previously dabbled in Scientology and Kabbalah.
She has described herself as a "very spiritual person" to Oprah Winfrey, and added that she had "become more spiritual as time has gone on."
"I'm really in touch, whether it's prayer or meditation," she said. "There are so many powers greater than me in the world. I've been blessed and lucky enough to have been given a gift to share with other people.'
She was seen wearing the red string bracelet of Kabbalah, and Vanity Fair once named her as a prospective Scientologist bride for Tom Cruise in 2012.
However, Lohan denied any links to the story.
I just want everyone & @TomCruise to know, that I have/had NO part in the VF story.. Nor has anyone in my life, personal and work related.

Lindsay Lohan (@lindsaylohan) September 5, 2012
High-profile converts to Islam include Cat Stevens, Jemima Goldsmith and Mike Tyson.
Lohan has had a difficult few years involving spells in jail and rehab and a well-documented struggle with alcohol.
Islam preaches abstinence from drinking, and the Koran calls alcohol "an abomination".
Reuse content