Former members of Welsh rock band Lostprophets would have killed their former lead singer 'on the spot' if he'd told them about his child sex abuse, the band's guitarist has said.
The musicians have also spoken of how they hoped their former lead singer's child sex abuse allegations were "all a mistake" until he admitted them in court.
The 36-year-old pleaded guilty to a string of sexual offences in November 2013, including two charges of attempting to rape a baby, and was handed a minimum 29-year jail term as well as an additional six years on licence. The judge at Cardiff Crown Court described the singer, from Pontypridd, south Wales, as a "determined and committed paedophile".
Last week, he failed in an attempt to appeal his sentence.
His former bandmates, who he had been close friends with since childhood, are currently touring with their new band No Devotion, which includes former Thursday frontman Geoff Rickly.
Speaking to BBC Newsbeat, bassist Stuart Richardson went into more detail than before about the period before Watkins' guilty plea. "Even though I was completely done with him, I hoped it was all a mistake, he was innocent, he had to be," he said.
"The first time, we knew the band was done. You can't go back from that."
And guitarist Mike Lewis said the band is still struggling to come to terms with what happened to Lostprophets.
He said: "When 15 years of your life is washed down the toilet in that one moment, it's harsh to take in."
The band have in the past accepted that people might wonder if they knew what their bandmate was doing behind closed doors. But they said that - whilst understanding why people might voice suspicion - the idea that they "lived in each other's pockets" is a "cliché".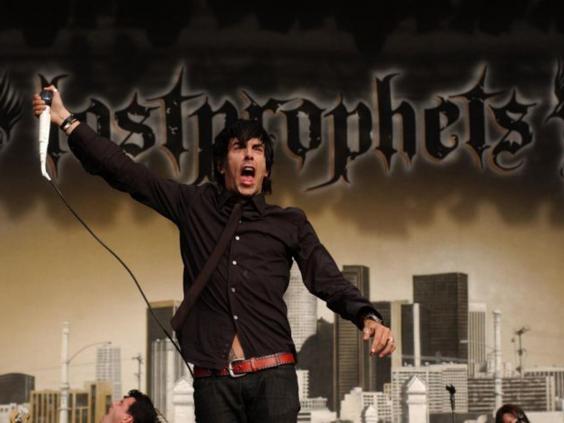 And guitarist Lee Gaze said: "How could you know? How would you know?
"Who would disclose such a thing to five people, who between them have eight children? You just wouldn't because they would be killed on the spot."
But bassist Stuart Richardson said he "expected" suspicion because "People are angry, they needed somewhere to look and there's the target, there we are."
"He was doing his own thing," Gaze said. "That just grew worse over the years, the more he was using drugs.
"He could be in the same city as me and I wouldn't hang out with him, even if we weren't playing shows."
Reuse content