A man who had one of the world's most advanced face transplants after accidentally shooting himself in the face has become the star of American GQ magazine.
Richard Norris, 39, underwent the ground-breaking operation in 2012 after 15 years of wearing a mask and living as a recluse in Hillsville, Virginia, because of his injuries.
The procedure has transformed his life and he is appearing in the August edition of GQ, out now in the US.
He accidentally shot himself in the face aged 22 in 1997, blowing off his nose, cheekbones, lips, teeth and jaw.
After years of skin grafts, Dr Eduardo Rodriguez carried out the 36-hour face transplant with a team of surgeons at the University of Maryland, making his patient an overnight global sensation.
Two years on, Mr Norris said his life is becoming more normal and the transplant has given him the freedom to walk outside and do shopping without fearing the reaction of passers-by.
"When I was disfigured, just walking the sidewalk, I was surprised that more people didn't walk into telephone poles or break their necks to stare at me," he told GQ.
"Now there's no one paying attention. Unless they know me personally, they don't know I am a face transplant patient. That right there is the goal we had."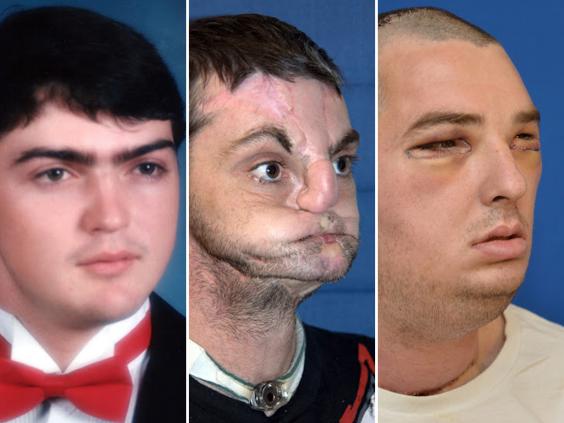 To see the latest pictures of Mr Norris and read the full interview, read the GQ article.
It was only the 23rd face transplant in history, since the first procedure was performed in France in 2005 on a woman who was mauled by her dog.
Mr Norris could have died during procedure, when surgeons removed all previous skin grafts to leave just part of his tongue and minimal protection for his eyes before attaching the new face.
The donor was a man in his 20s who was killed after being knocked down by a van while crossing the road.
Mr Norris has to take medication every day to supress his immune system and stop his body ejecting the face and has to be extremely careful of his health and is not supposed to smoke or drink.
His fame has led to an influx of thousands of letters from around the world from fans including a woman who has become his girlfriend, Melanie.
Dr Rodriguez said that although Mr Norris had a donor's face, it was a "true blend" of the two.
His patient agreed, telling GQ: "When I look in the mirror, I see Richard Norris."
Reuse content