Facebook boss Mark Zuckerberg hosted a Q&A yesterday on his favourite social media platform – Facebook – fielding questions from all over the world, including from A-listers like Stephen Hawking and Arnold Schwarzenegger.
The social network's regular 'Townhall sessions' are usually live events but in this instance Zuckerberg chose to do a Q&A on his own timeline, which gained over 150,000 likes throughout the evening.
He discussed the development of digital publishing, unified theories of gravity, taking his dog for a run and the future of Facebook during the chat.
Former California Governor Arnold Schwarzenegger asked about his workout routine, noting that 'younger generations can probably relate to you more than they can the Pope':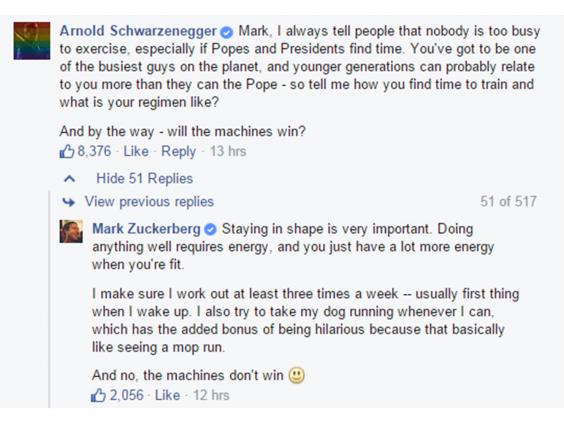 Some queries were serious – Zuckerberg cleared up confusion over the company's 'real name policy' which one commenter said could potentially cause problems in the trans community.
"We should be able to support everyone using their own real names, including everyone in the trans community. We are working on better and more ways for people to show us what their real name is."
While Arianna Huffington was interested in Zuckerberg's thoughts on news organisations working closer with Facebook: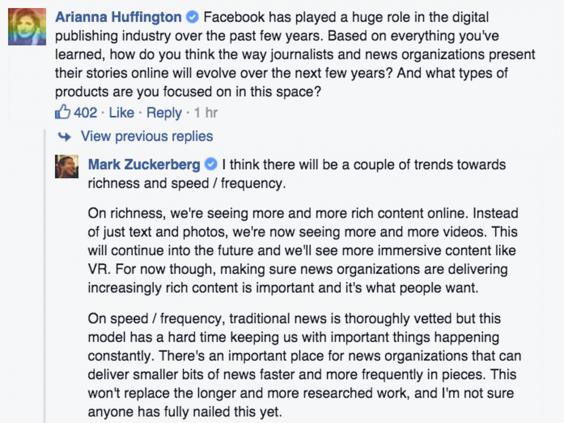 Noted mega-genius Stephen Hawking popped in to ask about the big questions in science, but Zuckerberg's answer about wanting people to live forever came off a bit creepy: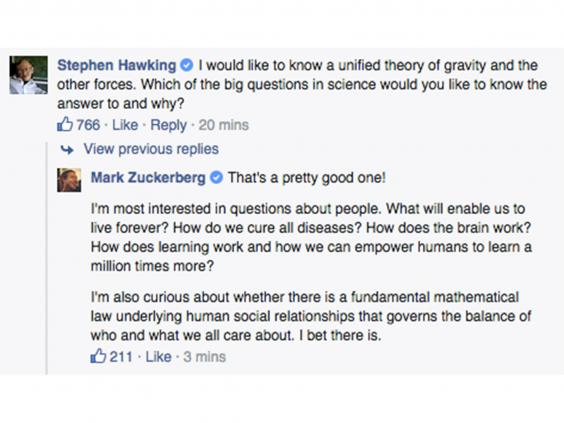 You can read more of the Q&A here.
Reuse content