London is now the global capital of the arts and is "way ahead" of the world's other major cities in terms of the diversity, quantity and quality of its cultural activity, the veteran broadcaster Melvyn Bragg has said.
The 75-year-old, who has profiled 900 leaders in their cultural fields during his 54-year broadcasting career, told The Independent on Sunday that Paris held sway when he was a boy growing up in Cumbria. New York inherited the cultural mantle in the 1950s and held it for "30 to 40 years", but "now it's us".
"In my time it has changed completely," he said. "London, without any question, [is] way ahead. There's nobody really to compare. That is [due to] the diversity, the quantity and the quality. There's no city with as many theatres and venues. And there's no city with as many first-class actors, because they can work in television and film and theatre in the same city."
Lord Bragg has no truck with the golden ageists who would like to suggest that British cultural life is in decline. "I have a reason to be optimistic. Look at the fact that the creative industries in this country have increased every year since 1945 and they are still increasing," he said, tapping his hand for emphasis. These creative industries employ two million people and "they are all in niche jobs", he added. "There's the City [of London], there are one or two biggish manufacturers and then there's the arts." 
The sector is so buoyant that it has helped to change the national character, he suggests. "I think the British personality is more extrovert now, it's more willing to applaud and men hug each other. They didn't when I was young. People are more willing to have a go," he said.
"You can see it on television: people are much more easy about talking about themselves and terrible things that have happened to them, and not as inhibited. Sometimes you regret it and think 'Bring back the stiff upper lip!' "
The South Bank Show presenter is working on the 41st series of the programme, screened on Sky Arts and in 60 countries. His immediate focus is the rough cut of an interview with Benedict Cumberbatch, which may be used for an introduction to next month's National Theatre Live cinema screening of the actor's performance of Hamlet. The South Bank Show profile will be shown the night before. Cumberbatch is "a very thoughtful interesting man and he's extremely good as Hamlet," said the presenter. "The production has been criticised but he hasn't by anybody, he's got five stars all the way." 
The many faces of Benedict Cumberbatch
The many faces of Benedict Cumberbatch
1/11 The many faces of Benedict Cumberbatch

The role that catapulted him to global fame: As a modern-day Sherlock Holmes in BBC drama Sherlock

BBC

2/11 The many faces of Benedict Cumberbatch

Benedict Cumberbatch stars alongside Keira Knightley in Alan Turing biopic The Imitation Game

StudioCanal

3/11 The many faces of Benedict Cumberbatch

Cumberbatch bore an uncanny resemblance to Wikileaks founder Julian Assange in The Fifth Estate (2013)

Frank Connor/DreamWorks

4/11 The many faces of Benedict Cumberbatch

As Stephen Hawking in the 2004 BBC television film following the physicist's early years at Cambridge University

YouTube/BBC

5/11 The many faces of Benedict Cumberbatch

Jonny Lee Miller as the Creature and Cumberbatch as Dr Frankenstein at the National Theatre in 2011

Rex

6/11 The many faces of Benedict Cumberbatch

Cumberbatch took on the role of tortured artist Vincent van Gogh in Alan Yentob's 2011 BBC drama-documentary Van Gogh: Painted With Words

YouTube/BBC

7/11 The many faces of Benedict Cumberbatch

Benedict Cumberbatch as the idealistic Christopher Tietjens in 2012's Parade's End

Rex

8/11 The many faces of Benedict Cumberbatch

Looking sharp as John Harrison in Star Trek Into Darkness (2013)

Zade Rosenthal

9/11 The many faces of Benedict Cumberbatch

With Adelaide Clemens in BBC Edwardian period drama Parade's End

Nick Briggs/BBC

10/11 The many faces of Benedict Cumberbatch

Alongside Chiwetel Ejiofor in Steve McQueen's 12 Years A Slave, which won Best Film at the 2014 Oscars

AP

11/11 The many faces of Benedict Cumberbatch

As confectionery millionaire and rapist Paul Marshall in Atonement (2007); Sherlock creator Steven Moffat said he wanted Cumberbatch for the detective series after watching the film

YouTube/Universal Pictures
He is also working on a programme on the history of black ballet, and talks enthusiastically about his plans to watch a piece of hip-hop dance at Sadler's Wells. Praising the diversity of the English National Ballet, he points out that the company includes "23 nationalities and they all live in London! That's the English National Ballet for you, which is great isn't it? That's a phenomenal thing – 15 years ago they would all have been born in Surrey." 
Just as Lord Bragg is ebullient in his assessment of the British arts scene, the Labour peer with working-class roots refuses to subscribe to the view that school-leavers from poor backgrounds are being denied a route to creative jobs by financial barriers to further education and other obstacles. "I think there are more opportunities. There's more going on," he said.
He speaks as chancellor of Leeds University and a backer of the Sky Academy scheme. The project aims to give more young people the confidence and skills to work in the arts, with some applicants receiving bursaries of £30,000 and being featured in short films on Sky Arts.
"We [Leeds] have more applications from what you might call disadvantaged people than ever before. These things [loans] don't have to be paid back until people are well able to pay, and then the payment back is at a very low level."
More controversially, he claims that there is an official acceptance that not all the loan money will be returned. "I think there's a feeling among a lot of influential people that a lot of it is never going to be paid back, and that's sort of OK." 
Although only around 25 minutes of his Benedict Cumberbatch interview will go on air, the rushes of a conversation that lasted nearly two hours will be made available to a new Leeds University archive of the South Bank Show, which is digitising 8,500 tins of film and will start to make them available to the public next year. "It's a heck of a resource," said the host.
Melvyn Bragg is supporting Sky Academy Confidence Month. Sky Academy is a set of initiatives that use the power of TV, creativity and sport to help young people unlock their potential and since launching in November 2013, has helped over 250,000 young people across the UK and Ireland, with a goal of helping one million by 2020.Go to sky.com/academy
Minister's raid like 'Mafia call'
Culture Secretary John Whittingdale's claim that he is not a threat to the BBC cuts little ice with Lord Bragg, who says of the politician: "I don't trust him for a moment".
Mr Whittingdale recently told the Royal Television Society that he was mystified by the way he had been cast as an enemy of the public broadcaster after launching a Green Paper on its future. "Let me be clear there is no threat to the BBC's status as a world-class broadcaster – let alone an existential threat," he told delegates.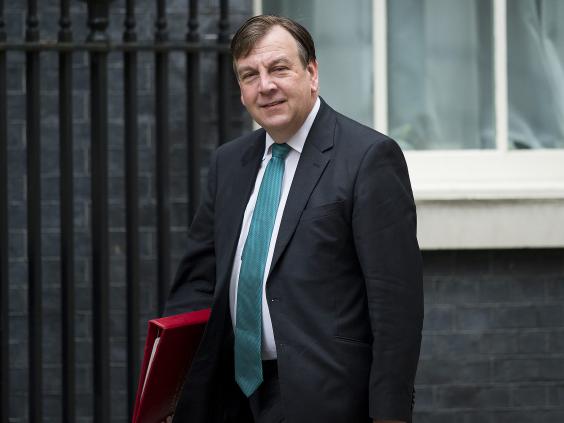 But Lord Bragg, who joined the BBC as a trainee in 1961 and presents the long-running In Our Time on Radio 4, said he had not forgiven Mr Whittingdale for a deal which forced the BBC to take on the £700m cost of free licence fees for the over-75s.
"He made a smash and grab raid on the BBC's licence fee," said Lord Bragg, who described the call to the corporation's director-general Tony Hall, which sealed the deal, as like a "Mafia call". 
"I thought the licence fee was to pay for programmes, not to pay for Government social policy. Having done that I don't see any reason why we should trust him for a second."
Mr Whittingdale also made conciliatory statements in relation  to the BBC during his appearance at the Edinburgh International Television Festival last month, but Lord Bragg is sceptical. "He's already been enemy enough. If you take 20 per cent off the BBC's budget and say I'm not an enemy of the BBC, you've got to swallow hard … the white man speak with forked tongue, wouldn't you say?"