Viewers of the 10th series of the BBC 's Great British Menu may have been surprised by both the appearance and the offering of one contestant last month. Michael O'Hare wasn't anybody's idea of a typical British chef. His cheery face was semi-obscured by a jet-black busby-cum-mullet, the kind of barnet you might associate with Ozzy Osbourne in his Black Sabbath pomp. One of his meaty forearms bore a scribble of tattoos, with a Gibson Flying V guitar curling around his elbow. And the dish he prepared teetered on absurdity: a raw langoustine and melon starter, with lavender purée, salted cucumber, edible flowers, ham fat blowtorched on the plate, and a gin sour cocktail.
O'Hare served it up inside a giant white plastic egg containing a collage of faces; he asked that the studio lighting be dimmed for maximum effect. He even gave it a title, "Everyone I Ever Ate With" – a nod to Tracey Emin's embroidered tent, called Everyone I Have Ever Slept With. Judging the performance with folded arms, a suspicious Marcus Wareing finally broke into a smile. "You really are something else," he told the grinning northerner (to whom Wareing later in the show awarded a perfect 10 for a dish entitled "My Mother is Single and Looking for a Well-Dressed Man").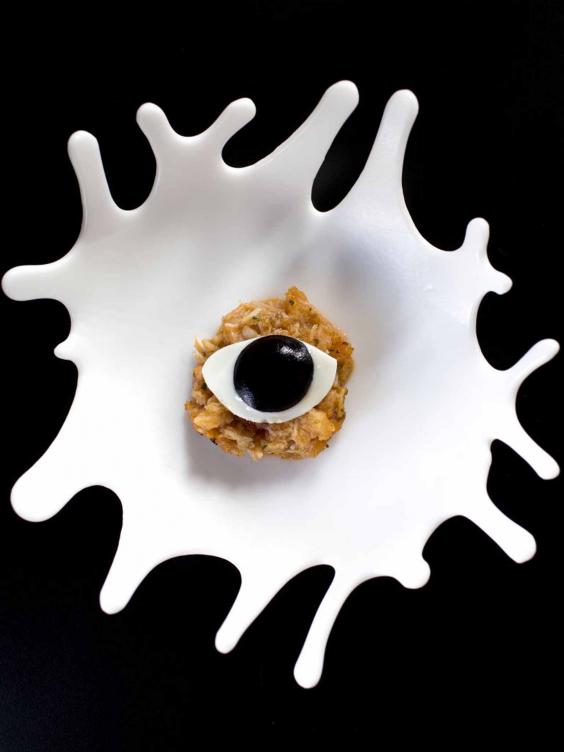 Some might write him off as an attention-seeking ringmaster of special effects, were it not that he makes exceptionally brilliant food. His restaurant, The Man Behind the Curtain (the name is another arty nod, this time to The Wizard of Oz) has just been awarded a Michelin star after only a year in action. Located in a shopping centre in Leeds, on the top floor of a gentlemen's outfitters called Flannels, its walls are covered in graffiti, and an 11-course tasting menu costs £65. Run your eye down the list and you find wildly idiosyncratic flavour combinations: chocolate pudding with potato foam; smoked-mackerel parfait with roasted coffee powder; pork jowl with "cinders" of potato dyed in squid ink to represent an oily beach. I was startled to find a dish involving cascara, a powerful laxative. Had he included it as a kind of accelerated digestif? 
Does he enjoy shocking people? "Not at all," says O'Hare when we meet. "I don't want people to think this is some kind of extreme restaurant. We don't put anything on the menu for shock value. We don't serve kangaroo's dick or anything like that. If we do spider crab, it's because it tastes really good. I just want people to enjoy themselves. I particularly want to attract young people who aren't necessarily into haute cuisine or fine dining."
How many experiments does it take to ensure a new flavour combination works? O'Hare looks puzzled. "Maybe one. It usually happens first time." How did he come up with the violet ice cream with potato-and-vanilla custard and salt-and-vinegar rice? "It's just basic," he says. "The potato custard is more a feeling than a flavour; it's potato as starch rather than mash, because I wanted to have a hot element to go over the ice cream. The salt-and-vinegar puffed wild rice – that's a textural thing, to give it some crunch, but it's no different from Sugar Puffs. Half the nation eats it every morning." 
So he doesn't have some mystical routine for crunching flavours together in a laboratory, as platoons of chefs used to do at El Bulli in Catalonia? "No. We all eat a lot in the kitchen, we all eat out everywhere, so we have a good idea of what might taste good. I don't like sitting in a room with a sketchpad, or wandering around the fields sniffing hedgerows."
Is he an enthusiastic forager? "Noooo," he cries as though in pain. "Death to foraging!! I don't understand the idea of it. I've no objection to anyone grabbing a load of blackberries and making me a pie – that's just picking fruit. But gathering chickweed off a street corner in Leeds, covered in dog piss? I don't do any of that stuff. I think it's horseshit." 
He prefers to rely on butchers and vegetable producers whom he can trust: all his meat comes from Aubrey Allen of Coventry ("the best butcher in the country"), except for the pork, which is flown in from Barcelona, because he likes the way Spanish pigs are reared to a much heavier weight than English sows.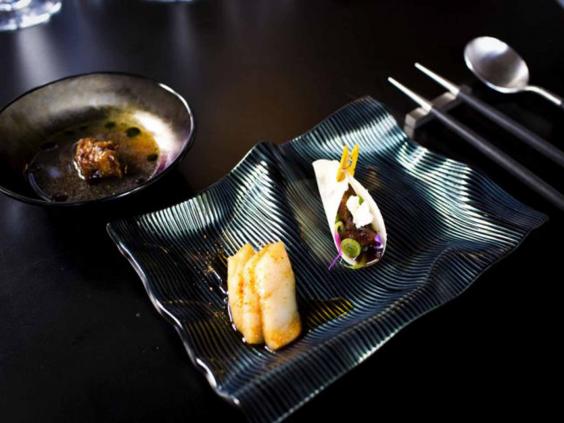 Flying in pork – isn't that a hefty carbon footprint? Couldn't he find good-quality pork in Yorkshire? "If Nando's were importing all their chicken, that would be a carbon-footprint issue. But if we're serving only 200 people a week, a quarter of a chicken breast each… it's such a small restaurant, we're selling delicacies. k I think it's important for restaurants to use local food and produce – if the best carrots in the world are down the road, we'll take them; but if there's better in Sussex, we'll go there. Fine dining should deal in the finest. And," he concludes defensively, "it's not like we have the bloody pigs sat in business class on an Emirates flight. The pork is just couriered over."
Michael O'Hare was born 34 years ago in Eston, Middlesbrough. His father was a welder, his mother a florist. What part of her cooking repertoire did he most enjoy as a kid? "She's not very good at cooking, so I wasn't into it," he says disobligingly. Does he remember his first taste of, say, roast lamb? "I can't remember my first anything, except chilli con carne, which I ate from a cup in the back of the car. I don't go in for all that childhood-memory crap. I only began to like food properly when I went to university." 
At 11, he discovered a taste for dance, and studied classical and modern ballet. It's sobering to contemplate this beefy roustabout as a prototypical Billy Elliot. Had his parents encouraged his balletic ambitions? "I wouldn't say they were disappointed, but, for a man from my dad's background, it probably wasn't what he'd wanted." 
He gave it up at 18 ("I got to an age where girls were more important, and playing football with me mates. I just became a bit of a boy") and studied aerospace engineering at London's Kingston University. He didn't enjoy being a student, and taught himself to cook as a relief from the stoners and drinkers. "I just liked going to the supermarket. I wasn't making sauces and all that. Just buying a bit of fish and grilling it." 
Later, a friend of his got a job as a chef. "He had a girlfriend and a Renault Clio and was earning £13,000 a year," says O'Hare in tones of wonderment. "I thought, 'That's the life for me.'" So he rang a local restaurant and was told he could either go to college and study cookery, or could start in the kitchen. "They offered me a job as first commis chef." He's since worked at Seaham Hall in Durham and John Burton-Race's Landmark Hotel in London, before heading north to The Blind Swine in York.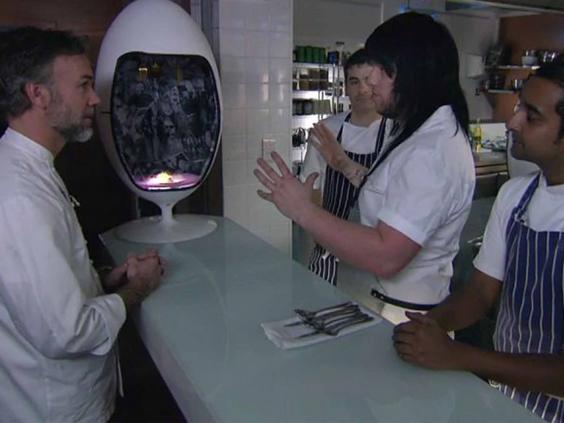 Having won his Michelin star in only a year, and put himself on the humming radar of young chefs to watch, how far do his ambitions now reach? "I don't want to stretch myself too thin," he says. "This is a business, so I want to make as much money as I can. But this restaurant's been successful because it's been done in a happy environment. I'd just like to make this better, without changing too much. I think the Michelin guys want to recommend places that have some individuality and have their own feel. I think we got the star because we have that." 
And the whole heavy metal/Flying V/rocker persona? Is he a huge fan of Iron Maiden and Mötley Crüe? "No," groans O'Hare. "That's not me at all. At school I was into hip-hop. When I left university, I started listening to indie rock, but I also like soul music – Robert Palmer, Hall and Oates. Because of my hair everyone thinks I'm like, 'Grrr,' but I like Erykah Badu, and D'Angelo." 
What does he listen to in the kitchen while cooking? He considers the question. "Björk and PJ Harvey, the XX, Morcheeba. And Bryan Ferry. I love Bryan Ferry." 
Well, well. So Michael O'Hare, the Eston Heston, the rock god of the northern restaurant scene, has a secret fondness for Ferry, the cocktail-hour smoothie. How long before diners at his extraordinary restaurant find themselves tucking into a chilli dish called Both Ends Burning?
The Man Behind the Curtain is at Top Floor Flannels, 68-78 Vicar Lane, Leeds (0113 243 2376, themanbehindthecurtain.co.uk)