The Australian surfer who fought off a shark on live television has returned to the water for the first time since the scare almost a week ago.
Mick Fanning shared a picture of himself facing the waves on a beach in his native Australia today on Instagram, writing: "First surf back. Feels so good."
The three-time world champion said he surfed alone in his hometown of Tweed Heads, New South Wales but was thinking of fellow surfer Andy Irons, who died in 2010 and would have turned 37 yesterday.
Fanning considered giving up the sport after his encounter last Sunday during the J-Bay Open in South Africa.
Fanning, nicknamed White Lightning, was knocked off his board after the shark came up behind him and was seen thrashing around in the water before being hidden from sight by a large wave.
Fanning, 34, told how he punched the shark in the back after it surfaced.
"I was just sitting there and I felt something get stuck in my leg rope, and I instantly jumped away and it kept coming at my board," he said after being rescued.
"I was kicking and screaming. I just saw fins. I was waiting for the teeth."
Marine biologists have since speculated that as the shark did not bite Fanning, the encounter was not an attack and the curious fish was not attempting to kill him.
But horrified spectators and fellow surfers told how they believed their friend was about to be eaten, with rival Julian Wilson risking his life paddling over to help him.
Wilson, who split the J-Bay Open prize and points with Fanning after the event was cancelled over safety concerns, was hailed as a hero for trying to intervene.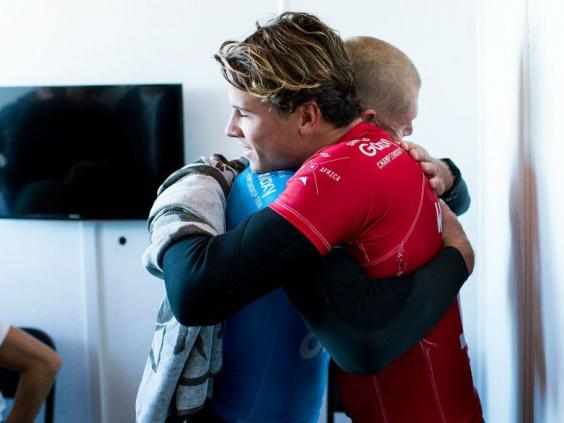 Posting a picture of them hugging after reaching dry land, Fanning wrote on Instagram said his fellow competitor came to his aid "like a warrior".
"It was by far the scariest thing I have ever been through and am still rattled. In our sport we always think about sharks and know we are in their domain," he said.
"Many thanks to all the people that have reached out and sent their wishes.
"Jbay is an incredible place and I will go back one day."
Reuse content