Former England footballer Sol Campbell has become the latest monied public figure to wade into battle over Labour's proposed "mansion tax", claiming it is a levy on aspiration which he cannot afford to pay.
The one-time Premiership defender, whose salary while playing was reportedly £5m a year and who last month put his six-bedroom home in London's Chelsea on the market for £25m, clashed with a Labour shadow minister over the tax and said it was "unfair".
Mr Campbell, 40, who has been building a property portfolio since leaving football, and who owns a country house in Northumberland, follows the singer Myleene Klass and the comedian Griff Rhys Jones in criticising Labour's flagship plans for a tax on properties worth £2m or more if elected next May. Broadcaster and Labour supporter Lord Bragg has also denounced the plan, warning the party would be "wiped out" in Hampstead, the leafy bastion of London liberalism where he has lived for some 40 years.
Under the plan announced by Shadow Chancellor Ed Balls, the levy is expected to raise £1.2bn ring-fenced for spending on the NHS. The party insists the average bill will be about £3,000 for a £2m property.
But Mr Campbell insisted that the likely bill would be "a hell of a lot for me" and he along with others was being punished for "sticking out my neck".
He told BBC2's Daily Politics show: "Over the years I have spent millions in income tax and stamp duty but I am being punished for investing in a property portfolio.
"I don't rely on off-shore tax havens, and I don't want to invest in stocks and shares as we have seen how volatile that game has been since the financial crash. I see this as a tax on aspiration."
The ex-footballer, whose wife Fiona Barratt-Campbell is a granddaughter of new-build housing tycoon Sir Lawrie Barratt, said that his wealth was tied up in his properties and he was not a millionaire "moneywise".
He said: "I can't afford to pay this type of tax. You are penalising me for sticking my neck out and going for it. I could have lost it. And I have paid my fair share."
He added: "This tax is flawed and basically not fair at all."
Labour MP Owen Smith, who is the Shadow Secretary for Wales, ridiculed Mr Campbell's complaints, pointing out that his home now up for sale on Chelsea's Cheyne Walk had once been offered for rent at £75,000 a month. The former Arsenal star denied it had been rented at that price.
Mr Smith said: "I think people in this country who are struggling under this Government will have zero sympathy with millionaires like you pleading poverty.
"It's absolute nonsense to suggest we shouldn't take unearned wealth and try and use that to equalise things."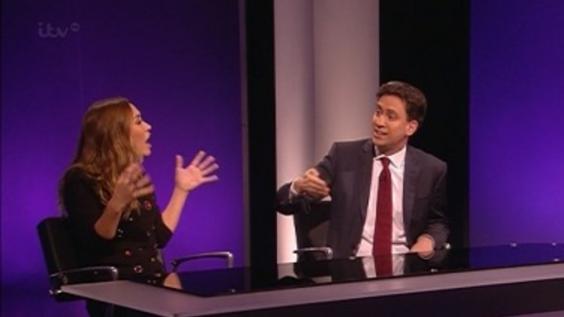 The broadside from Mr Campbell, who has previously suggested he may consider joining the Conservative Party over the issue, is further evidence of the willingness of some celebrities to take Labour to task over its proposal, despite a poll showing that it is supported by more than 70 per cent of the electorate.
Confronting Labour leader Ed Miliband on television earlier this month, Ms Klass said: "You may as well just tax me on this glass of water. In London, which is where 80 per cent of the people who will be paying this tax actually live, have you seen what [£2m] can get you? It's like a garage."
Naturalist and broadcaster Bill Oddie has also appeared to switch allegiances over the tax after he tweeted that he would not be voting Labour "this time" and would instead side with the Greens.
Reuse content