The boyfriend of Miss Honduras' sister has confessed to killing her and the 19-year-old beauty queen, a leading police officer has said.
Two bodies believed to be of Maria Jose Alvarado, who was due to compete in the Miss World Pageant in London in December, and her sister, Sofia, 23, were found buried on a river bank in mountains near Santa Barbara in Honduras on Wednesday.
Police General Ramon Sabillion told the Associated Press that Sofia's boyfriend, Plutarco Ruiz, had admitted shooting the two women dead and taken officers to the burial site. A second man was also in custody.
Ruiz and the two sisters had gone to La Aguagua spa on Thursday last week to celebrate his birthday.
General Sabillon said Ruiz apparently shot Sofia after they argued because she had been dancing with another man. He then shot Maria Jose as she tried to run away, hitting her at least twice in the back.
The sisters were officially classed as missing for six days until the discovery of their bodies. The identities were still to be formally confirmed.

Their mother, Teresa Munoz, told Televicentro: "They were not very astute about assessing the people around them. They were just friendly. They were taken out by people they hadn't known very long."
She added that Ruiz had called her the morning after their disappearance, acting nervously and claiming the women had left the party in a car with some other people.
Ms Alvarado had worked as a model on the TV game show El Show X O da Dinero, run by former presidential candidate Salvador Nasrallah.
"A lot of girls die this way, but because they're not famous, it doesn't get the attention and the crimes go unpunished," he told the Associated Press. "She was a girl of good principles who fell into a trap, a game with guns, and ended up a victim of a violent system."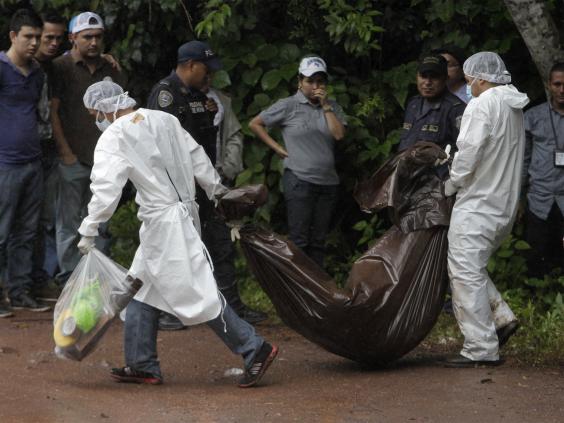 Julia Morley, chairman of the Miss World Organisation, told Reuters that the pageant was "devastated by this terrible loss of two young women who were so full of life".
The group said it would hold a service with the Miss World contestants on Sunday to honour the two women.
The Associated Press and Reuters contributed to this report