Muhammad Ali's daughters have said that his health is not in a near-fatal state, as reported among the international media.
The legendary boxer has been suffering from Parkinson's disease for 30 years, but is not bedridden or close to death, say his daughters, Maryum and Hana Ali. He is also able to communicate well, despite claims made by his brother, Rahman Ali, who said in October that the former sportsman was barely able to talk.
Ali's daughters assert that the false reports come from a misunderstanding of the condition – a disease in which part of the brain becomes progressively damaged over years.
It can cause tremors, slow movement, inflexible muscles and the inability to make speech. Most commonly, it makes the voice quieter.
"Parkinson's is progressive and people don't study enough, so they don't understand that what they're seeing is normal," Hana Ali told The Independent exclusively. "They see him looking tired; he's 73 and has Parkinson's. Usually when they see him like that it's because he's been out the night before. But at home he looks peaceful.
"Every day is different. Some days he's more tired than others so those days he may not talk as much, but he has moments every single day where he communicates fine. He just has a low pitch. He can still talk. We actually have conversations with him in the mornings as that's when he's at his best."
Hana added that her father is mobile and still has his sense of humour. In fact, he's quite pleased by the attention he's attracted out of his alleged near-death experience.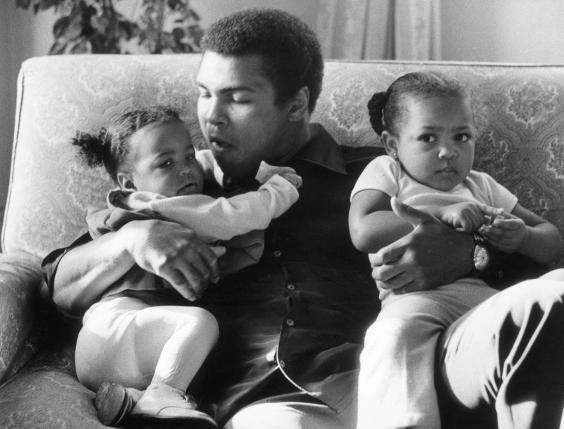 "He still loves being Muhammad Ali," she said. "He's not bedridden. He would never spend the day in bed. He gets up and gets dressed every day and has his day planned. If he's tired it's because he was out the night before at a benefit or a fight night, so he might rest a little longer. But he's never just in the bed.
"My dad loves making the news even if he means he's dying, so he doesn't think it's bad. I've said to him, 'Dad you're in the news, people think you're dying.' He says, 'They do? Did I make the front page?' That's all he wants to know."
The speculation about Ali's ill health came following a Hollywood screening of a new documentary, I Am Ali, made about the boxer's life, with previously unheard bank of recorded conversations with family friends, and colleagues that he kept over many years.
At the screening, Ali's brother Rahman said that his sibling hadn't "been able to talk to my brother about this because he is sick. He doesn't speak too well. But he is proud that we are here for him. He has given this film his blessing."
In January, son Ali Jnr, said that he thought that there was "no chance" his father would live until the end of 2014.
"I just want, hope and pray to God that this awful disease takes my dad sooner rather than later," he said.
But his 46-year-old daughter Maryum – the eldest of his nine children – says that "there hasn't been one story that's been real about his health". She says that while the disease has attacked his speech, that this is common for Parkinson's sufferers and doesn't indicate that he's near death.
She admits that the speculation made her unnecessarily worried about her father's condition.
"There are people who know him, but are not near him a lot today like his brother and our brother, who don't understand Parkinson's," she said, "To me it's  been amazing how negligent reporters have been. But however, we know it sells magazines. He's a big figure, he has an illness. It used to be bad for us. The first time it was reported I panicked and called my stepmother and said, 'Is this true?'. Now when we hear it we don't panic as much."
"I talk to my dad every day so I know it's not true. I know he's fine," added Hana. "They're just trying to find a way of writing about him. Our brother, his brother are not trying to do wrong, it's just that they don't see him a lot. When they do see him, they might tell an interviewer what they think and the reporter will take that and run with it. They're not trying to be malicious, they're talking the truth as they know it, but it's not coming from the facts."
I Am Ali is released in UK cinemas on 28 November.
Reuse content