The cool reception Myleene Klass received at the school gates this week is about to be re-painted a startling shade of green.
The business-minded mother boasted on Instagram that sales of her new lingerie line for Littlewoods were up 200 per cent following a public row over birthday gift donations at her daughter's private establishment.
Parents at the £5,000-a-term school had suggested that Klass deliberately tweeted their private emails in a bid to drum up publicity.
Klass then uploaded the following to her social media platform alongside the caption: "O.M.G.!!!!! Girls!!! Sales of my lingerie are up by 200%!!! Please get in quick to ensure you get your order. Xx #littlewoodslovesmyleene @littlewoodsonline"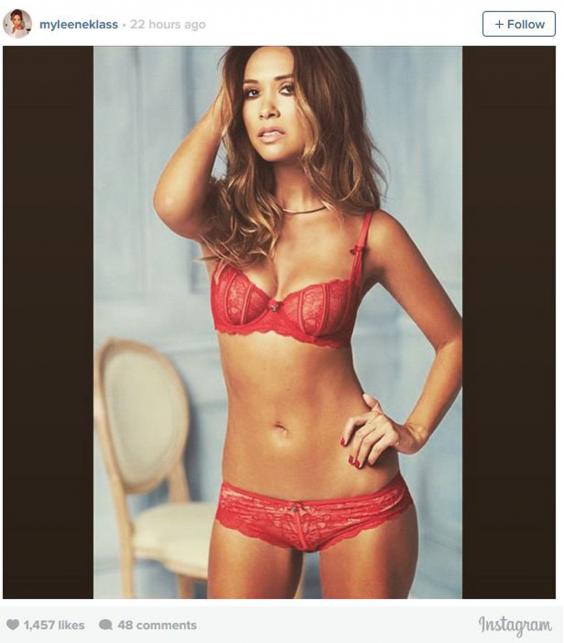 Earlier this week, her social media complaint inspired a particularly strongly-worded email from the head teacher of the school, who declared: "If you can't tweet anything nice, don't tweet anything at all."
The letter read: "It was not my intention to use the [newsletter] this week as a soap box, but here it comes… how I wish I could focus on your daughters' education and not on responding to media trivia.
"How many times this week have I been asked to comment/act/intervene/reprimand/ … do something! Mutual respect and tolerance. FBV. We actively promote them – do you?"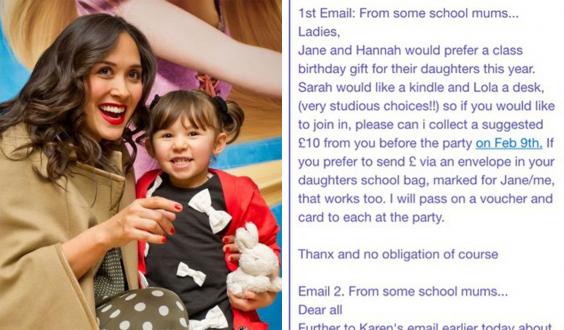 It continues: "I needed to get that off my chest. Now, on with the week's round up of [school] news. No more parking on zig zags. No more blocking in the neighbours. No more unicorns. And as my granny would've said, if you can't tweet anything nice, don't tweet anything at all."
The birthday furore first started when Klass decided to share an email she received from two parents at the school last week. However, it has since been claimed that original email was over a year old.
The message asked mothers to give £10 to go towards a joint class gift of a "kindle and a desk" for their children.
She posted a screengrab of the emails alongside her own joke response.
It read: "Dear all
For Ava's birthday, she has requested a real, live Unicorn.
I will be collecting Unicorn money via her book bag, in the playground or at www.getwhatyouregivenandendthismadness.com.
(Additionally I'd like a Ferrari and Leonardo DiCaprio, so by all means, do feel obligated to contribute to this too).
If you don't wish to, please don't feel any pressure from the countless emails I intend to follow this up with and clog your inbox.
Love and thanks!!"
She has since admitted there were a "few hard feelings" at the school gates last week.
"My intention was to stop all these serious, money-focused exchanges and remind parents, all of us under pressure to do the very best for our children, of what birthdays should be about," she told the Telegraph.
"Though they were old exchanges, I've received countless emails like this since."
Klass, who launches her new lingerie line for Littlewoods this week, has since been accused of using the emails as an ill-fitting "publicity stunt".
Reuse content