Naomi Campbell managed to get Malaria trending on Twitter after an autocorrect fail saw her congratulating the disease instead of Malala Yousafzai for winning the Nobel Peace Prize.
Pakistani campaigner Malala, who was jointly awarded the Prize with Kailash Satyarthi, became the youngest ever Nobel Peace Prize laureate on Friday. The committee honoured both for their struggle against the suppression of children and young people and for fighting for the right of all children to education.
The supermodel took to social media to congratulate the 17-year-old, but her well-intentioned message included a crucial error. It read: "Congratulations malaria on your #noblepeaceprize #2014 #Respect #joy #ithalljuststarted."
Her post saw 'malaria' trending on Twitter, with many users wondering if she would apologise for her mistake. Campbell has yet to comment on the error, which can still be seen on Twitter.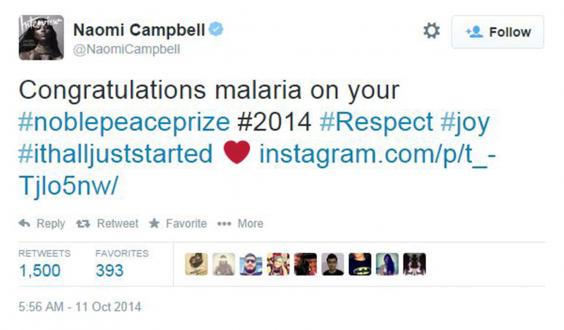 Malala was attacked for writing an anonymous blog while the Swat valley was still under the control of the Taliban.
She was shot by the Taliban in October 2012 while she and class mates were making their way to school in Pakistan's Swat Valley. She was flown to the UK for further medical care and is currently studying in Britain.
Malala has won the European Union's human rights award, was named one of Time magazine's most influential person in 2013, and was nominated for the Nobel Peace Prize last year.
Reuse content