Justin Bieber's manager Scooter Braun had one "hell of a day" yesterday.
The pop star under his care was arrested in the early hours of Thursday morning for driving under the influence of drugs and alcohol, driving with an expired license and resisting arrest.
Police are apparently still investigating whether he had also been drag racing in his rented yellow Lamborghini.
According to the Miami Herald, Bieber's entourage had used large, black SUVs to block traffic on Pine Tree Drive, turning the street into a drag strip and allowing him to burn rubber against Def-Jam signing Khalil, who was driving a red Ferrari. Khalil was also arrested at the scene.
The star has admitted to authorities that he had been drinking alcohol, had taken anti-depressants and had been smoking marijuana all day, the police report indicates.
Justin Bieber's biggest controversies and mishaps
Justin Bieber's biggest controversies and mishaps
1/17 Biebs gets arrested for DUI and drag racing

The singer appeared dishevelled, but in high spirits, as he smiled for his police mugshot following the arrest for drag racing under the influence of alcohol and drugs

2/17 Biebs assaults a limo driver

Fresh from his arrest in the US, Biebs headed back to his native Canada where he proceeded to get arrested and charged again... this time for assaulting a limo driver

3/17 Biebs lashes out at a photographer

When in London on tour in March, Bieber attacked the paparazzi in an angry rage and tried to grab one photographer's camera. 'I'll f***ing beat the f*** out of you,' he said, before being forced into a car by his bodyguard. Nice.

4/17 Biebs claims Anne Frank was a Belieber

This wildly inappropriate blunder took place in April, in the unlikely setting of the Anne Frank House in Amsterdam. After touring the museum for an hour, Bieber wrote in the guestbook that he hoped the Jewish teenager (who died in 1945 at Bergen-Belsen aged 15 from typhus and malnutrition after hiding from the Nazis with her family for two years) 'would have been a Belieber' - a fan of his.

Getty Images

5/17 Biebs gets done for drugs

The 'Boyfriend' singer was detained at Brisbane airport in Australia in May after customs officials found weed on one of Justin's friends. Bieber was released after a stern warning for 'inappropriate language'. Wash your mouth out Biebs.

6/17 Biebs brawls in Southampton

Who do you think he is? Bieber was reportedly involved in a fight at a Southampton nightclub last spring after taking over the VIP section. His bodyguards were investigated for using heavy-handed tactics to detour fans trying to reach him.

7/17 Biebs tries and fails to own a pet monkey

Justin Bieber's former pet monkey Mally was moved from quarantine into a German zoo in June after the six-month-old capuchin was seized by customs officials. Bieber was given several weeks to produce the health papers required to get him back, but failed to do so. Auf wiedersehen, pet.

8/17 Biebs spits on fans

The singer was accused of spitting on a crowd of adoring fans gathered under his hotel room balcony in Toronto. The July incident was brushed aside by Bieber, however, who denied doing anything so horrible. His representative said that the star had in fact bought fans hot chocolate and played them some new music instead.

9/17 Biebs splits from Selena Gomez

After a three year on-off relationship with Disney star Selena, teenage heartthrob Bieber has officially been back on the singletons market since July. 'Egos turn me off big time,' Selena said when asked about the split. Awkward.

10/17 Biebs hits the brothel

Bieber was filmed by a Brazilian girl in bed after a supposed brothel scandal in the summer. He was then pictured trying to leave, draped in a white sheet and surrounded by male minders. The singer allegedly did the same thing again in Rio de Janeiro in November.

11/17 Biebs pretends to have been cast in a blockbuster

In September, the pop star posted an Instagram picture of the script for the new Batman movie. Watermarked with his name, rumours that he could be the Robin to Ben Affleck's lead began to fly. Bieber has previously expressed his love of the superhero, going as far as having a custom-built Batmobile made for him. Fear not though, Biebs will be nowhere near the film set.

12/17 Biebs wees in a bucket

When a Bieber's got to go, a Bieber's got to go. The singer urinated in a restaurant mop bucket while laughing when in New York in October. He yelled 'F*** Bill Clinton' too, as apparently he has political views.

13/17 Biebs vandalises Australia

The singer was asked to clean up graffiti he spray-painted while on tour in Australia last November. He painted some images of cartoon characters onto a Gold Coast hotel wall,to the disgust of the local mayor. Bieber was visiting the famous beach strip following his 'Believe' world tour shows in Brisbane.

14/17 Biebs takes a paternity test

A lady called Mariah Yeater claimed that Bieber had fathered her 3-month-old son Trystan after a backstage tryst. She later dropped a paternity suit but the singer took a test in November to prove the allegations were false.

15/17 Biebs hit by a bottle in Brazil

Also in November, the Canadian pop star was struck by a bottle and stormed off stage in Brazil. Bieber upset hundreds of devoted fans when he did not return to sing his hit track 'Baby'. Teenagers were left waiting 30 minutes for the 19-year-old's return, but had to leave when his entourage started packing the equipment away.

16/17 Biebs leaves the stage early again

The singer left a performance in Buenos Aires early again, soon after he stormed off in Brazil. This time, he blamed food poisoning for his premature exit, offering an olive branch of evidence in the form of a selfie posted on Twitter showing him lying in a hospital bed hooked up to an intravenous drip.

17/17 Biebs gets shunned by Aussie fans

Twitter followers mean little when you can't shift tickets down-under. Biebs found this out the hard way when he was forced to sell many tickets for his eight-show Australian tour for half their original price. Haters gonna hate Biebs, America still loves you.
He has since left jail after being bailed for $2,500 on the aforementioned charges. The bail was set by a judge, who the star appeared before via video link yesterday.
Critics have lambasted the arrogance of the star, who was photographed triumphantly waving to fans as he left the jail shrouded in an oversized black hoodie and a pair of dark sunglasses.
Others have called into question who should be held responsible for the teen, who, at 19, is still considered a minor in need of adult supervision in the United States.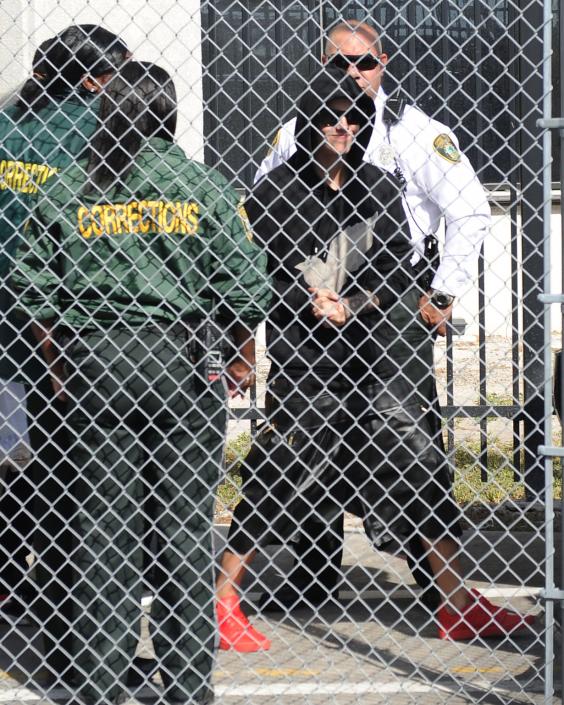 TMZ reports that Bieber is barely speaking to his mother Pattie, and that company executives have been trying to haul him into rehabilitation for psychotherapy for some time. It suggests that while the star appeared cocky via the video link to the judge, he broke down in fits of anxious tears as soon as he returned back to his cell.
 Now his manager, Scooter Braun, has offered to take charge.
"@justinbieber love you and i will act in the manner of someone who truly cares," he posted on Twitter.
"That is all I have to say. thanks for all those concerned."
He later posted the following, before "calling it a night":
Been a long day. Bottom line is we are defined by how we handle adversity. Be there when it counts. Love fully in good times and bad.

— Scooter Braun (@scooterbraun) January 24, 2014
He also posted this quote via his Instagram account, but later deleted it: "What defines us is how well we rise after falling."
Meanwhile, one Canadian radio station has decided to take a hardline approach to coaxing the singer into rehabilitation.
Hot 89.9 in Ottawa is refusing to play any of his music until he makes the commitment to get help. They broadcast a message to their listeners on Thursday to announce the campaign and were photographed demonstrating outside the prison with Hot 89.9 placards.
However, not everyone has been so supportive of the star's recovery.
Comedy actor Seth Rogen echoed the sentiments of several Twitter users who couldn't care less about the entire ordeal when he posted this last night:

All jokes aside, Justin Bieber is a piece of shit.

— Seth Rogen (@Sethrogen) January 23, 2014