Rose McGowan was so enraged by the A-list audience at this year's Academy Awards, so took to Twitter vent her anger.
The actress called the entire crowd "self-obsessed" after they failed to give 81-year-old actress Kim Novak (famed for her role in Hitchcock's Vertigo, among others) a standing ovation when she took to the stage to present alongside Matthew McConaughey at the show.
"Kim Novak! No standing ovation?! Self-obsessed and disrespectful, that sums up the Oscar audience," she wrote, before posting a series of images of the Hollywood icon via her Instagram page with some equally riled up captions.
Retweeting herself, she posted: "You are all lucky that she graced you with her presence RT @rosemcgowan: Disgusted by the uneducated twits that make up the audience at this year's oscars. Gross. It's Kim Novak, a—holes. #EDUCATEYOURSELVES."
Oscars 2014: Red carpet in pictures
Oscars 2014: Red carpet in pictures
1/31 Lupita Nyong'o

Lupita Nyong'o stuns in a plunging pale blue dress at the 86th Academy Awards

2/31 Jennifer Lawrence

Jennifer Lawrence arrives in a shocking orange dress as she hopes to take home the Best Supporting Actress award

3/31 Amy Adams

Amy Adams ditched the American Hustle glam for a classic navy dress

4/31 Anne Hathaway

Anne Hathaway

Getty Images

5/31 Emma Watson

Emma Watson

Getty Images

6/31 Pharrell Williams

Pharrell Williams leaves the Grammy Awards hat at home in favour of a suit...with shorts

7/31 Jennifer Garner

Jennifer Garner

Getty Images

8/31 Liza Minnelli

No-one's going to forget Liza Minnelli in a hurry after this electric blue sack shocker

9/31 Steve McQueen

British director Steve McQueen will be hoping for success for 12 Years a Slave

10/31 Jared Leto

Dallas Buyers Club's Jared Leto gives a double thumbs up on the red carpet

11/31 Naomi Watts

Naomi Watts at The Oscars 2014

Getty Images

12/31 Benedict Cumberbatch

Sherlock star Benedict Cumberbatch appears in a suave suit ready to present an award

13/31 Louise Roe

Louise Roe at the Oscars 2014

Getty Images

14/31 Jason Sudeikis

Jason Sudeikis wears a sleak blue tux

15/31 Shaun Robinson

Shaun Robinson at The Oscars 2014

Getty Images

16/31 Christoph Waltz

Christoph Waltz

Getty Images

17/31 Brooke Anderson

Brooke Anderson at The Oscars 2014

Getty Images

18/31 Lady Gaga

Lady Gaga

Getty Images

19/31 Joseph Gordon-Levitt

Joseph Gordon-Levitt

Getty Images

20/31 Jenna Dewan Tatu

Jenna Dewan Tatu

Getty Images

21/31 Tara Lipinski

Tara Lipinski at The Oscars 2014

Getty Images

22/31 Rocsi Diaz

Rocsi Diaz at The Oscars 2014

Getty Images

23/31 Bill Murray

Bill Murray

Getty Images

24/31 Sally Hawkins

Sally Hawkins

Getty Images

25/31 Elsa Pataky and Chris Hemsworth

Elsa Pataky and Chris Hemsworth

Getty Images

26/31 Jeremy Renner

Jeremy Renner

Getty Images

27/31 Jessica Biel

Jessica Biel

Getty Images

28/31 Christine Teigen

Christine Teigen

Getty Images

29/31 Brad Pitt and Angelina Jolie

Brad Pitt and Angelina Jolie

Getty Images

30/31 Brad Pitt

Brad Pitt

Getty Images

31/31 Karen O of the Yeah Yeah Yeah's

Karen O of the Yeah Yeah Yeah's

Getty Images
Her embittered post sparked some backlash from McGowan fans.
One tweeted her, writing: "I usually love you but calm down! It's an actor not Jesus."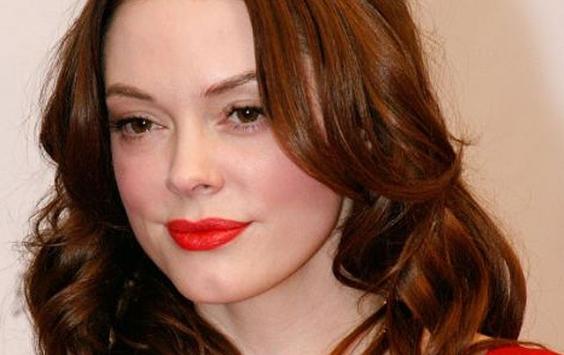 "It's called Hollywood history, their occupation," she responded.
"Okay, I feel better now having gotten that off if my chest. Little tantrum over," she ended the rant with.