Having lectured world leaders about greed and told US politicians they must bridge their differences, Pope Francis has now solved an even trickier problem – coming up with perfect Christmas gift for the person who has everything.
With an clear eye on the Christmas charts, Pope Francis has let it been known that he is releasing a pop album - Wake Up! - and let people hear a first track ahead of an official launch later in the year.


Believe Digital, the label releasing the album, announced on Friday that Wake Up! will be available on November 27 and will feature extracts from Pope Francis' speeches in various languages that have been set to music. The extracts are in English, Italian, Spanish and Portuguese.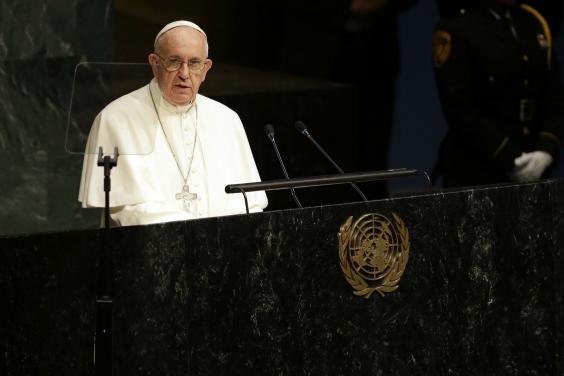 Pope Francis, who is currently on a six-day visit to the US and on Friday addressed the UN General Assembly, premiered the first single called Wake Up! Go! Go! Forward! on Rolling Stone's website.
The musical styles on the album, which is is available for pre-order on iTunes, range from pop-rock to Gregorian chant.
"Wake Up! Go! Go! Forward! finds Pope Francis addressing a South Korean audience in English last year amid atmospheric synths, trumpeting horns and sky-scraping electric guitars," said the magazine.
The 11 tracks address issues such as peace, dignity, environmental concerns and helping those most in need.
Listen to the track "Wake Up! Go! Go! Forward!" here
It is not the first time a pope has released a recording. In 2009, Benedict XVI released an album for Christmas that featured him singing litanies and chants in honour of the Virgin Mary, as well as reciting passages and prayers in Latin, Italian, Portuguese, French and German.
Pope Francis' album was produced by Don Giulio Neroni.
"For many years, I've been the producer and the artistic director of albums by the Pope," he said. "I had the honour to work with John Paul II, Benedict XVI and now Pope Francis."
Reuse content